Are Hare Krishnas a Cult–PLEASE COMMENT ON THIS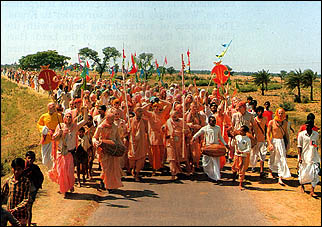 Another thing which makes me think that this is a cult is the number of white people I see following you. How is this possible? Born Christian (most likely), how were they all converted? I'm sure most of them came from Russia but I do not know why. If you want, can you please publish this story? A lot of people have this same question about Hari Krishna being a corrupted
Dear harikrishna.org,
Here is an excellent story to print on your site. Hundreds of hindus can find out the truth!
I am a 19 yr old Hindu student and follower of the Swaminarayan faith as well as all other major Hindu gods/goddesses. You could consider me a 'normal' hindu in that sense. I have seen your Hari Krishna parade once and was told by my father that you were a cult. Generally, I know that cults are bad in a sense that there is corruption or something involving improper finance handling or any illegal crimes. Is this true about HariKrishna? If it is a cult, I would stay away from it.
Another thing which makes me think that this is a cult is the number of white people I see following you. How is this possible? Born Christian (most likely), how were they all converted? I'm sure most of them came from Russia but I do not know why. If you want, can you please publish this story? A lot of people have this same question about Hari Krishna being a corrupted cult.
Thank you.