Research Findings Establish Reincarnation as a Scientific Fact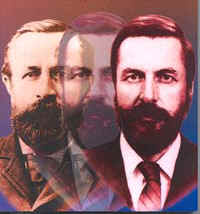 This controversial statement is backed by thirty five years of research by an engineer who focused on assembling physical evidence to verify Plato's ancient hypothesis by using a scientific approach and the tools furnished by modern technology. It was easy to do and any scientific mind can duplicate my findings, says Joseph R Myers, P.E., a professional engineer with more than 40 years of consulting experience and a W.W.II rank of
"The turning point was finding an hypothesis to use to make an investigation that hinged upon finding physical evidence, rather than examining mythology, religious or superstitious beliefs, children's stories or hypnotic trances," according to Myers.
The hypothesis requires the coordination and comparison of a vast number of elements, which could not possibly occur by chance or be produced or duplicated fraudulently.
Possibly the most amazing aspect regarding this reincarnation hypothesis is that it dates around four hundred years B.C., and is very specific. However, it could not be demonstrated conclusively until modern technology brought the development of photography and the ability to draw upon centuries of historical data regarding individual lives.
Very Briefly, the hypothesis simply states that the soul-entity returns in a body similar to its last one and has the same inclinations, natural abilities and talents. Of course, this means that not uncommonly outstanding individuals reappear by reincarnation and distinguish themselves again in the field in which they excel. It is also true that the soul-entity is inclined to re-associate with family members, friends, and others from its past. "I am my own grandpa" is not uncommonly true!
Because he believes his findings convey a wonderfully hopeful understanding of life and provide the incentive on a scientific basis to practice the Golden Rule, he is dedicated to promoting worldwide dissemination of his findings. He has lectured and shown slides to many groups, including universities, clubs, churches, done nationally syndicated TV and radio programs and newspaper interviews for which he often furnishes pictures and handwriting samples of a few case studies. He has the background to do an excellent interview and respond to diverse questions.
See the website www.reincarnation2002.com for more details.