Devotees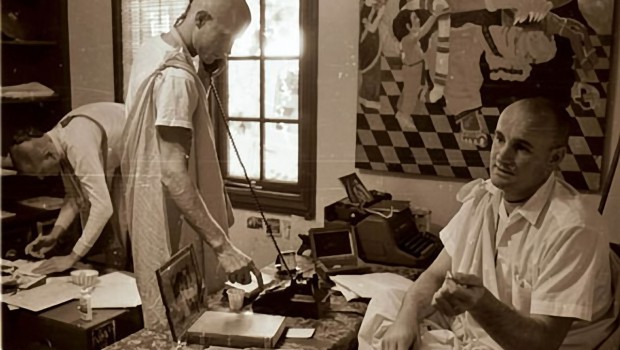 Published on April 6th, 2022 | by
2
Announcing–new website and New Book on Jayananda.
108 reasons to liberate Laksmi points for a Jayananda book
Suppose you're hopelessly addicted to the Internet, waking up at all hours just to stare into the screen at the endless highway of information. Give your bloodshot eyes a break! Let your Jayananda book read you blissfully to sleep and drift off into transcendental dreams.
Suppose your house is besieged with ghosts and hobgoblins and evil spirits, just post your Jayananda book [or books] at the doorways, and the ghosts will become enchanted with Jayananda's pastimes and photos and forget to enter.
Suppose you like to go to chat rooms and stir up controversy – tell them that a saint came out of the 60's and get them going, and then when they ask for proof you can sell them Jayananda books online.
Suppose you're a 90 lb weakling and there's a big bully who kicks sand in your face at the beach all the time, just pull out your Jayananda book and let him see the cover and read a little, his heart will be melted.
Suppose you're a hopeless mayavadi, well, Laksmi points in your pocket, or Laksmi points liberated for a Jayananda book, it's all one! So at least, while you're being all one, you can feel some transcendental bliss while reading your Jayananda book.
Suppose you're a hopeless sahajiya, always looking for that blissful rasa with no effort, thinking that Krishna owes you a free ticket back home, well, just read in your Jayananda book how Jayananda was blissfully working hard to serve Krishna, oh well, it just might rub off on ya, who knows?
Must go to http://www.jayanandathakur.com to read the rest of 108 reasons-
So liberate those Laksmi points! Laksmidevi is chanchala, She does not like to stay in one place! She wants to be liberated for the glorification of Jayananda!
Jayananda is loved by all, old devotees and young devotees. The beautiful cover and 12 photos are worth the small price of $10 by themselves, what to speak of the wonderful stories of Jayananda inside. Wholesale orders- 10 or more, each.
[or negotiate for less than 10] $3 postage for multiple.
Go to http://www.jayanandathakur.com and follow the information for ordering, can order online by paypal. Or mail a check or money order, made out to-Tom Clothier
Hoping this finds you in blissful service.
Your servant, Visoka Dasa