Devotees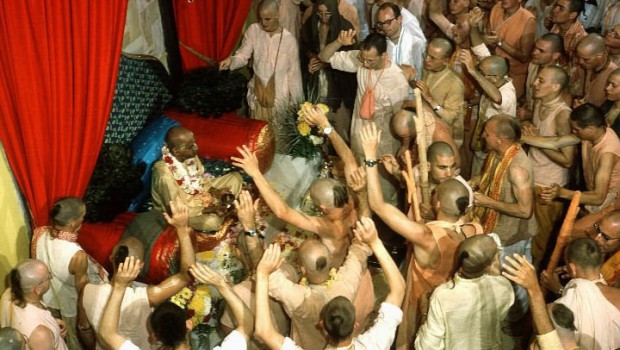 Published on January 2nd, 2023 | by
41
Ekadasi Vrata
To observe Ekadasi-vrata and Dvadasi-vrata means to please the Supreme Personality of Godhead. Those interested in advancing in krsna consciousness must observe ekadasi-vrata regularly.
SB 4.28.35-36
We can definitely see that to advance in Krsna consciousness one must control his bodily weight. If one becomes too fat, it is to be assumed that he is not advancing spiritually. Srila Bhaktisiddhanta Sarasvati Thakura severely criticized his fat disciples. The idea is that one who intends to advance in Krsna consciousness must not eat very much. Devotees used to go to forests, high hills or mountains on pilgrimages, but such severe austerities are not possible in these days. One should instead eat only prasada and no more than required. ACCORDING TO THE VAISNAVA CALENDAR, THERE ARE MANY FASTS, SUCH AS EKADASI AND THE APPEARANCE AND DISAPPEARANCE DAYS OF GOD AND HIS DEVOTEES. ALL OF THESE ARE MEANT TO DECREASE THE FAT WITHIN THE BODY SO THAT ONE WILL NOT SLEEP MORE THAN DESIRED AND WILL NOT BECOME INACTIVE AND LAZY. Overindulgence in food will cause a man to sleep more than required. This human form of life is meant for austerity, and austerity means controlling sex, food intake, etc. In this way time can be saved for spiritual activity, and one can purify himself both externally and internally. Thus both body and mind can be cleansed.
SB 7.14.20-23
Visuva, or Visuva-sankranti, means Mesa-sankranti, or the day on which the sun enters the sign Aries. Tula-sankranti is the day on which the sun enters the sign Libra. Both of these days occur only once within a year. The word yoga refers to a certain relationship between the sun and moon as they move in the sky. There are twenty-seven different degrees of yoga, of which the seventeenth is called Vyatipata. On the day when this occurs, one should perform the sraddha ceremony. A TITHI, OR LUNAR DAY, CONSISTS OF THE DISTANCE BETWEEN THE LONGITUDE OF THE SUN AND THAT OF THE MOON. SOMETIMES A TITHI IS LESS THAN TWENTY-FOUR HOURS. WHEN IT STARTS AFTER SUNRISE ON A CERTAIN DAY AND ENDS BEFORE THE SUNRISE OF THE FOLLOWING DAY, THE PREVIOUS TITHI AND THE FOLLOWING TITHI BOTH "TOUCH" THE TWENTY-FOUR-HOUR DAY BETWEEN THE SUNRISES. THIS IS CALLED TRYAHA-SPARSA, OR A DAY TOUCHED BY SOME PORTION OF THREE TITHIS.
Srila Jiva Gosvami has given quotations from many sastras stating that the sraddha ceremony of oblations to the forefathers should not be performed on Ekadasi tithi. WHEN THE TITHI OF THE DEATH ANNIVERSARY FALLS ON THE EKADASI DAY, THE SRADDHA CEREMONY SHOULD BE HELD NOT ON EKADASI BUT ON THE NEXT DAY, OR DVADASI. In the Brahma-vaivarta purana it is said:
ye kurvanti mahipala
sraddham caikadasi-dine
trayas te narakam yanti
data bhokta ca prerakah
IF ONE PERFORMS THE SRADDHA CEREMONY OF OBLATIONS TO THE FOREFATHERS ON THE EKADASI TITHI, THEN THE PERFORMER, THE FOREFATHERS FOR WHOM THE SRADDHA IS OBSERVED, AND THE PUROHITA, OR THE FAMILY PRIEST WHO ENCOURAGES THE CEREMONY, ALL GO TO HELL.
69-09-30. Letter: Madhudvisa
REGARDING YOU FIRST QUESTION, WE OBSERVE EKADASI FROM SUNRISE TO SUNRISE. THE 12 MIDNIGHT IS WESTERN ASTRONOMICAL CALCULATION, BUT THE VEDIC ASTRONOMICAL CALCULATION BEGINS EITHER FROM THE SUNRISE OR THE MOONRISE. GENERALLY IT IS SUNRISE. OUR CALCULATION IS LIKE THIS: WHEN THE SUNRISE IS THERE, EKADASI TITHI (DATE) MUST BE THERE. IF EKADASI TITHI IS NOT IN THE SUNRISE AND THE TITHI BEGINS, SAY AFTER A FEW MINUTES AFTER THE SUNRISE, THEN WE ACCEPT THAT DAY AS PREVIOUS TO EKADASI. ALL OUR CEREMONIES ARE CALCULATED IN THAT WAY. THIS MEANS WE MUST SEE THE TITHI DURING SUNRISE. THEREFORE, SOMETIMES OUR DATES OF CEREMONIES DO NOT EXACTLY COINCIDE LIKE THE WESTERN CALCULATIONS. JUST LIKE CHRISTMAS DAY THEY HAVE FIXED UP ON THE 25TH DECEMBER, BUT OUR JANMASTAMI TITHI IS NOT FIXED UP LIKE THAT. MY BIRTHDAY IS ON THE 1ST SEPTEMBER, 1896, BUT THIS YEAR THE TITHI OF MY BIRTHDAY WAS FIXED FOR THE 4TH SEPTEMBER. SO IT IS VERY DIFFICULT TO CALCULATE, THEREFORE WE HAVE TO TAKE HELP FROM THE INDIAN EXPERT ALMANAC ASTRONOMERS.
70-04-29. Letter: Pradyumna
2. WHEN THERE IS AN IMPORTANT DVADASI, THE EKADASI FASTING IS TRANSFERRED ON THE DVADASI, AND THIS IS CALLED MAHADVADASI. THE 26TH OCTOBER, 1970, IS ACTUALLY DVADASI, SO THE FASTING IS OBSERVED TOGETHER, OR EKADASI FASTING IS DISREGARDED, AND THE DVADASI (MAHADVADASI) FASTING IS TAKEN AS IMPORTANT.
You were give this old Panjika just to consult the names and spelling only. The dates are different, so whatever date I have given, that is correct. WHY YOU ARE SEARCHING BYANJALI DVADASI IN THIS LAST YEAR'S PANJIKA? WHAT I HAVE GIVEN IS FROM THIS YEAR'S PANJIKA, SO EVERYTHING WILL NOT COLLABORATE.
5. 7th February, 1971–Varaha-Dvadasi, I have explained the position in regard to #2.
6. SO FAR DETERMINING EKADASI IT IS COUNTED 11 DAYS AFTER THE FULL MOON AND 11 DAYS AFTER THE NEW MOON, BUT SOMETIMES IT SO HAPPENS AS YOU HAVE NOTED ONE DAY LATER. HOWEVER, WHAT I HAVE GIVEN IS CORRECT.
SB 8.16.25
AS WE GENERALLY PERFORM DEVOTIONAL SERVICE ON EKADASI BY NOT EATING GRAINS, IT IS GENERALLY RECOMMENDED THAT ON DVADASI ONE NOT CONSUME ANYTHING BUT MILK.
SB 9.4 Summary Ambarisa Maharaja Offended by Durvasa Muni
Once Maharaja Ambarisa was worshiping the Supreme Personality of Godhead in Vrndavana, observing the vow of Dvadasi. ON DVADASI, THE DAY AFTER EKADASI, WHEN HE WAS ABOUT TO BREAK HIS EKADASI FAST, the great mystic yogi Durvasa appeared in his house and became his guest. King Ambarisa respectfully received Durvasa Muni, and Durvasa Muni, after accepting his invitation to eat there, went to bathe in the Yamuna River at noontime. Because he was absorbed in samadhi, he did not come back very soon. Maharaja Ambarisa, however, upon SEEING THAT THE TIME TO BREAK THE FAST WAS PASSING, DRANK A LITTLE WATER, IN ACCORDANCE WITH THE ADVICE OF LEARNED BRAHMANAS, JUST TO OBSERVE THE FORMALITY OF BREAKING THE FAST.
SB 9.4.29
TO OBSERVE EKADASI-VRATA AND DVADASI-VRATA MEANS TO PLEASE THE SUPREME PERSONALITY OF GODHEAD. THOSE INTERESTED IN ADVANCING IN KRSNA CONSCIOUSNESS MUST OBSERVE EKADASI-VRATA REGULARLY.
Adi 10.71
In their two houses Lord Caitanya Mahaprabhu begged food on the Ekadasi day and personally ate it.
Adi 10.71
THE INJUNCTION TO FAST ON EKADASI IS ESPECIALLY MEANT FOR DEVOTEES; ON EKADASI THERE ARE NO RESTRICTIONS REGARDING FOOD THAT MAY BE OFFERED TO THE LORD. LORD SRI CAITANYA MAHAPRABHU TOOK THE FOOD OF LORD VISNU IN HIS ECSTASY AS VISNU-TATTVA.
Adi 14.39
The Caitanya-bhagavata, Adi-lila, Chapter Six, fully describes the Lord's accepting visnu-prasada on the Ekadasi day at the house of Jagadisa and Hiranya. REGULAR PRASADA IS OFFERED TO LORD VISNU ON EKADASI BECAUSE, WHILE FASTING IS RECOMMENDED FOR DEVOTEES ON EKADASI, IT IS NOT RECOMMENDED FOR LORD VISNU.
Adi 15.9
From the very beginning of His childhood life Sri Caitanya Mahaprabhu introduced the system of observing a fast on the Ekadasi day. IN THE BHAKTI-SANDARBHA, BY SRILA JIVA GOSVAMI, THERE IS A QUOTATION FROM THE SKANDA PURANA ADMONISHING THAT A PERSON WHO EATS GRAINS ON EKADASI BECOMES A MURDERER OF HIS MOTHER, FATHER, BROTHER AND SPIRITUAL MASTER, AND EVEN IF HE IS ELEVATED TO A VAIKUNTHA PLANET, HE FALLS DOWN. ON EKADASI, EVERYTHING IS COOKED FOR VISNU, INCLUDING REGULAR GRAINS AND DAHI, BUT IT IS ENJOINED THAT A VAISNAVA SHOULD NOT EVEN TAKE VISNU-PRASADA ON EKADASI. IT IS SAID THAT A VAISNAVA DOES NOT ACCEPT ANYTHING EATABLE THAT IS NOT OFFERED TO LORD VISNU, BUT ON EKADASI A VAISNAVA SHOULD NOT TOUCH EVEN MAHA-PRASADA OFFERED TO VISNU, ALTHOUGH SUCH PRASADA MAY BE KEPT FOR BEING EATEN THE NEXT DAY. IT IS STRICTLY FORBIDDEN FOR ONE TO ACCEPT ANY KIND OF GRAIN ON EKADASI, EVEN IF IT IS OFFERED TO LORD VISNU.
Adi 15.10
It is a PREJUDICE AMONGST SMARTA-BRAHMANAS that a widow must observe fasting on Ekadasi but a woman who has her husband should not. It appears that before the request of Lord Caitanya Sacimata was not observing Ekadasi because of her being sa-dhava, which means that her husband was living. SRI CAITANYA MAHAPRABHU, HOWEVER, INTRODUCED THE SYSTEM THAT A WOMAN, EVEN IF NOT A WIDOW, MUST OBSERVE THE EKADASI DAY AND MUST NOT TOUCH ANY KIND OF GRAINS, EVEN THOSE OFFERED TO THE DEITY OF VISNU.
Adi 15.16
BETEL NUTS ARE AN INTOXICANT, and therefore the regulative principles prohibit eating them. Sri Caitanya Mahaprabhu's pastime of fainting after eating betel nuts is a solid instruction to all of us that ONE SHOULD NOT TOUCH BETEL NUTS, EVEN THOSE OFFERED TO VISNU, JUST AS ONE SHOULD NOT TOUCH GRAINS ON THE EKADASI DAY.
Madhya 4.169
THE CATURMASYA PERIOD BEGINS IN THE MONTH OF ASADHA (JUNE-JULY) FROM THE DAY OF EKADASI CALLED SAYANA-EKADASI, IN THE FORTNIGHT OF THE WAXING MOON. THE PERIOD ENDS IN THE MONTH OF KARTIKA (OCTOBER-NOVEMBER) ON THE EKADASI DAY KNOWN AS UTTHANA-EKADASI, IN THE FORTNIGHT OF THE WAXING MOON. THIS FOUR-MONTH PERIOD IS KNOWN AS CATURMASYA. Some Vaisnavas also observe it from the full-moon day of Asadha until the full-moon day of Kartika. That is also a period of four months. This period, calculated by the lunar months, is called Caturmasya, but others also observe Caturmasya according to the solar month from Sravana to Kartika. The whole period, either lunar or solar, takes place during the rainy season. Caturmasya should be observed by all sections of the population. It does not matter whether one is a grhastha or a sannyasi. The observance is obligatory for all asramas. The real purpose behind the vow taken during these four months is to minimize the quantity of sense gratification. This is not very difficult. In the month of Sravana one should not eat spinach, in the month of Bhadra one should not eat yogurt, and in the month of Asvina one should not drink milk. One should not eat fish or other nonvegetarian food during the month of Kartika. A nonvegetarian diet means fish and meat. Similarly, masura dal and urad dal are also considered nonvegetarian. These two dals contain a great amount of protein, and food rich in protein is considered nonvegetarian. On the whole, during the four-month period of Caturmasya one should practice giving up all food intended for sense enjoyment.
Madhya 24.342
"YOU SHOULD RECOMMEND THE AVOIDANCE OF MIXED EKADASI AND THE PERFORMANCE OF PURE EKADASI. YOU SHOULD ALSO DESCRIBE THE FAULT IN NOT OBSERVING THIS. One should be very careful as far as these items are concerned. If one is not careful, one will be negligent in executing devotional service.
CAITANYA-CARITAMRTA CONCLUDING WORDS
TODAY, SUNDAY, NOVEMBER 10, 1974–CORRESPONDING TO THE 10TH OF KARTIKKA, CAITANYA ERA 488, THE ELEVENTH DAY OF THE DARK FORTNIGHT, THE RAMA-EKADASI–we have now finished the English translation of Sri Krsnadasa Kaviraja Gosvami' s Sri Caitanya-caritamrta in accordance with the authorised order of His Divine Grace Bhaktisiddhanta Sarasvati Thakur Gosvami Maharaja, my beloved eternal spiritual master, guide and friend.
TLC12
However, one should generally accept the following principles to properly execute devotional service: (1) take shelter of a bona fide spiritual master, (2) receive initiation from the spiritual master, (3) serve the spiritual master, (4) inquire and learn love from the spiritual master, (5) follow in the footsteps of holy persons devoted to the transcendental loving service of the Lord, (6) prepare to give up all kinds of enjoyment and miseries for the satisfaction of Krsna, (7) live in a place where Krsna had His pastimes, (8) be satisfied by whatever is sent by Krsna for the maintenance of the body and hanker for no more, (9) OBSERVE FASTING ON EKADASI DAY (THIS OCCURS ON THE ELEVENTH DAY AFTER THE FULL MOON AND THE ELEVENTH DAY AFTER THE NEW MOON. ON SUCH DAYS NO GRAINS, CEREALS OR BEANS ARE EATEN; SIMPLY VEGETABLES AND MILK ARE MODERATELY TAKEN, AND CHANTING HARE KRSNA AND READING SCRIPTURES ARE INCREASED.),
TLC 16
Lord Caitanya also explained the symptoms of a holy man and the process of satisfying the sage and rejecting the society of undesirable persons. The Lord also advised that one should hear Srimad-Bhagavatam constantly. Also to be followed are duties of the day and duties of the fortnight, as well as fasting on Ekadasi day. ONE MUST ALSO FOLLOW THE DUTIES OF THE MONTH AND OBSERVE CEREMONIES LIKE THE BIRTHDAY OF THE LORD, THE THREE SPECIFIC DATES OF FASTING EKADASI, JANMASTAMI, VAMANADVADASI, SRI RAMANAVAMI AND NRSIMHACATURDASI. WHEN THE FAST DAYS OVERLAP WITH OTHER DAYS (VIDDHA), THEY ARE HELPFUL IN THE ADVANCEMENT OF DEVOTIONAL SERVICE.
NoD 7
IN THE BRAHMA-VAIVARTA PURANA IT IS SAID THAT ONE WHO OBSERVES FASTING ON EKADASI DAY IS FREED FROM ALL KINDS OF REACTIONS TO SINFUL ACTIVITIES AND ADVANCES IN PIOUS LIFE. THE BASIC PRINCIPLE IS NOT JUST TO FAST, BUT TO INCREASE ONE'S FAITH AND LOVE FOR GOVINDA, OR KRSNA. THE REAL REASON FOR OBSERVING FASTING ON EKADASI IS TO MINIMIZE THE DEMANDS OF THE BODY AND TO ENGAGE OUR TIME IN THE SERVICE OF THE LORD BY CHANTING OR PERFORMING SIMILAR SERVICE. THE BEST THING TO DO ON FASTING DAYS IS TO REMEMBER THE PASTIMES OF GOVINDA AND TO HEAR HIS HOLY NAME CONSTANTLY.
NoD 26 Stimulation for Ecstatic Love
Some things which give impetus or stimulation to ecstatic love of Krsna are His transcendental qualities, His uncommon activities, His smiling features, His apparel and garlands, His flute, His buffalo horn, His leg bells, His conchshell, His footprints, His places of pastimes (such as Vrndavana), His favorite plant (tulasi), His devotee and the periodical occasions for remembering Him. ONE SUCH OCCASION FOR REMEMBRANCE IS EKADASI, WHICH COMES TWICE A MONTH ON THE ELEVENTH DAY OF THE MOON, BOTH WANING AND WAXING. ON THAT DAY ALL THE DEVOTEES REMAIN FASTING THROUGHOUT THE NIGHT AND CONTINUOUSLY CHANT THE GLORIES OF THE LORD.
KB 28
The Govardhana ceremony took place on the new-moon day. After this, there were torrents of rain and hailstorms imposed by King Indra for seven days. Nine days of the waxing moon having passed, on the tenth day King Indra worshiped Lord Krsna, and thus the matter was satisfactorily settled. After this, on the eleventh day of the full moon, there was Ekadasi. MAHARAJA NANDA OBSERVED FASTING FOR THE WHOLE DAY, AND JUST EARLY IN THE MORNING OF THE DVADASI, THE DAY AFTER EKADASI, HE WENT TO TAKE BATH IN THE RIVER YAMUNA. HE ENTERED DEEP INTO THE WATER OF THE RIVER, BUT HE WAS ARRESTED IMMEDIATELY BY ONE OF THE SERVANTS OF VARUNADEVA. THIS SERVANT BROUGHT NANDA MAHARAJA BEFORE THE DEMIGOD VARUNA AND ACCUSED HIM OF TAKING A BATH IN THE RIVER AT THE WRONG TIME. ACCORDING TO ASTRONOMICAL CALCULATIONS, THE TIME IN WHICH HE TOOK BATH WAS CONSIDERED DEMONIAC. THE FACT WAS, NANDA MAHARAJA WANTED TO TAKE A BATH IN THE RIVER YAMUNA EARLY IN THE MORNING BEFORE THE SUNRISE, BUT SOMEHOW OR OTHER HE WAS A LITTLE TOO EARLY, AND HE BATHED AT AN INAUSPICIOUS TIME. CONSEQUENTLY HE WAS ARRESTED.
690523SB.NV
So, paravare brahmani dharmato vrataih. So one should execute Krsna consciousness, dharmatah, in right path, and vrataih. Bhajante mam drdha-vratah. Just like today, ekadasi-vrata. Vrataih. This ekadasi-vrata is required. Just see. Here it is that "You have performed all the vratas." The purpose of ekadasi-vrata is that today we should not eat much usual food, grains. The actual prescription is fasting. Nirjala-ekadasi. Nirjala means there are many devotees who does not take even water. Water, drinking water, according to sastra, it is taking food… It is drinking of food or no food. We can take both ways. So sometimes drinking of water is excused as upavasa also. BUT THERE ARE MANY DEVOTEES WHO EVEN…, DRINK EVEN A DROP OF WATER. WHOLE DAY AND NIGHT THEY FAST AND OBSERVE EKADASI-VRATA. AND THE NIGHT IS CALLED HARIVASARA. HARIVASARA MEANS THE WHOLE NIGHT THEY WOULD CHANT HARE KRSNA, HARE KRSNA, KRSNA KRSNA, HARE HARE. HARE RAMA, HARE RAMA… THIS IS CALLED VRATA. DRDHA-VRATA. DRDHA-VRATA. DRDHA MEANS VERY FIRM, STEADY.
730422SB.LA
Just like… The, everything is described in the Bhagavad-gita. Just like in hospital. IN HOSPITAL THERE ARE MANY PATIENTS, THEY ARE NOT EATING ANYTHING ON THE EKADASI DAY. DOES IT MEAN THAT IS OBSERVING EKADASI? HE IS SIMPLY HANKERING AFTER, "WHEN I SHALL EAT, WHEN I SHALL EAT, WHEN I SHALL EAT?." BUT THESE STUDENTS, THEY VOLUNTARILY DON'T EAT ANYTHING. WE, WE DON'T SAY THAT YOU DON'T EAT ANYTHING. SOME FRUITS, SOME FLOWERS. THAT'S ALL. SO PARAM DRSTVA NIVARTATE. JUST LIKE A CHILD. HE HAS GOT IN HIS HAND SOMETHING HE'S EATING. AND IF YOU GIVE HIM BETTER THING, HE WILL THROW AWAY THE INFERIOR THING AND WILL TAKE THAT BETTER THING.
750303SB.DAL
But if you want to realize God, as it is said here, tapasaiva, only by tapasya, only by penance, one can realize. Otherwise not. Otherwise it is not possible. Therefore this word is used, tapasaiva. Tapasa eva: "only by tapasya." There is no other means. Tapasa eva param. Param means the Supreme. If you want to realize the Supreme, the Absolute, then you must agree to certain type of tapasya. Otherwise it is not possible. THE PRELIMINARY LITTLE TAPASYA. JUST LIKE EKADASI. THAT IS ALSO ITEM OF THE TAPASYA. ACTUALLY ON THE EKADASI DAYS WE SHALL NOT TAKE ANY FOOD, EVEN DRINK WATER. BUT IN OUR SOCIETY WE ARE NOT DOING SO MUCH STRICTLY. WE SAY, "EKADASI, YOU DON'T TAKE FOOD GRAINS. TAKE LITTLE FRUIT, MILK." THIS IS TAPASYA.
750913SB.VRN
So one day he came to Ambarisa Maharaja on the dvadasi day with sixty thousand disciples and ordered the Maharaja, "Maharaja, today we have come to take prasadam in your palace. Please arrange for this." SO THAT WAS DVADASI DAY. YOU KNOW, ON THE DVADASI THERE WAS… THAT IS A REGULATIVE PRINCIPLE, THAT IN THE MORNING AT ABOUT NINE O'CLOCK ONE HAS TO TAKE SOMETHING, PRASADAM, TO BREAK THE VOWS, BREAK FAST. So this Durvasa Muni along with disciples, they went to the river Ganges to take bath, but they were willfully not coming back. So Ambarisa Maharaja asked the priest that "Durvasa Muni is my guest. I cannot take anything without offering him. So what shall I do? Now I have to observe the dvadasi breakfast." SO THE BRAHMANA PRIEST ORDERED HIM THAT "MAHARAJA, YOU CAN TAKE LITTLE CARANAMRTA," THE WATER. SO ACCORDING TO SASTRA, DRINKING LITTLE WATER IS NOT BREAKING FAST, SO IT WILL BE NOT TAKEN VERY… SO WITH THE ADVICE OF THE BRAHMANA… FORMERLY THE KINGS, THEY WERE GUIDED BY THE INSTRUCTION OF THE BRAHMANAS AND GREAT SAINTLY PERSONS. THEY WERE NOT DOING ANYTHING WHIMSICALLY. THAT IS NOT THE FACT. SO WITH THE INSTRUCTION OF THE BRAHMANAS, HE TOOK LITTLE CARANAMRTA.
81021SB.SEA
Tamala Krsna: How do we enter into the modes of goodness?
Prabhupada: Just try to follow the four principles as we have prescribed: no intoxication, no gambling, no illicit sex, and no meat-eating. That's all. This is goodness. This is goodness. These prohibitions are there. Why? Just to keep you in goodness. In every religion… Now, in the Ten Commandments also, I see that "Thou shall not kill." The same thing is there, but people are not obeying. That is a different thing. No religious person… Nobody can be religious unless he is situated in the modes of goodness. A passionate person or a person in ignorance, they cannot be elevated to the religious platform. Religious platform means in goodness. Then you can understand. On the platform of goodness, you can understand the All-good. If you are in ignorance platform, if you are in the passionate platform, how you can understand the All-good? That is not possible. So one has to keep himself in goodness, and that goodness means one should follow the prohibitions. Either you follow the Ten Commandments or these four commandments, the same thing. That means you have to keep yourself in goodness. The balance must be in goodness. In the Bhagavad-gita it is stated, param brahma param dhama pavitram paramam bhavan. Arjuna accepted Krsna as the supermost pure. How you can approach the supermost pure without becoming yourself pure? So this is the steppingstone to become pure, because we are contaminated. So to become pure… THE EKADASI, WHY WE OBSERVE? TO BECOME PURE. BRAHMACARYA TAPASYA, AUSTERITY, PENANCE, CELIBACY, KEEPING THE MIND ALWAYS IN KRSNA CONSCIOUSNESS, KEEPING THE BODY ALWAYS CLEANSED–THESE THINGS WILL HELP US TO KEEP US IN GOODNESS. Without goodness, it is not possible. But Krsna consciousness is so nice that even one is in the modes of passion and ignorance, at once he'll be elevated on the platform of goodness, provided he agrees to follow the rules and regulations and chants Hare Krsna. This chanting of Hare Krsna and following the rules and regulation will keep you intact in goodness. Rest assured. Without failure.
710407LE.BOM
So this process should be adopted, how to become sukrtina. Sukrti means yajna-dana-tapa-kriya. One must perform sacrifices as prescribed in the sastras, and they must give in charity their hard-earned money for Krsna's cause. That is called dana. Yajna, dana, and tapasya. Tapasya. Just like tomorrow is Sri Rama-navami. The tapasya will be that all the devotees will observe fasting from morning till evening. This is called tapasya. JUST LIKE EKADASI DAY–THERE IS NO EATING SUMPTUOUSLY. SIMPLY YOU TAKE LITTLE FRUITS AND FLOWERS. TRY TO AVOID THAT ALSO. YOU DON'T TAKE EVEN WATER. THAT IS REALLY EKADASI. BUT BECAUSE WE CANNOT DO IT–IN THE KALI-YUGA THE TIME IS DIFFERENT–THEREFORE WE ARE ALLOWED TO TAKE LITTLE FRUIT AND MILK, WHICH IS CALLED ANUKALPA.
55-01-01.spl BROTHERS
(21) Initiated members shall observe the "Ekadasi Brata" twice in a month and on that day he will be allowed to take only fruits & none of the cereals.
68-02-01 Letter: Madhusudana
Ekadasi is observed for increasing the strength of devotion.
68-04-21 Letter: Malati
Yes, here everything is very joyous, because so many nice boys and girls have joined the society, and they are joyfully dancing and chanting. You can let Syamasundara. know that the calculation of Rathayatra was made one month ahead. The actual date is the 28th of June; beginning of Rathayatra is on the 28th, and it will continue till 8 days, and the general festival may be observed on the 7th of July, Sunday (BECAUSE SATURDAY IS EKADASI).
69-10-27 Letter: Govinda
I have duly received the bananas you sent, and you can send me these dried bananas tons and tons. It is very useful and can be nicely used for OUR EKADASI FOODSTUFFS. AFTER DRYING THE BANANAS YOU CAN MAKE POWDER, JUST LIKE FLOUR, AND OUT OF THIS YOU CAN PREPARE PURIS, HALAVA, PAKORAS AND OTHER FRUIT PRODUCTS.
69-11-11 Letter: Rudra
Regarding the vows and chanting method you have adopted, it is very nice. BUT DO NOT IMPOSE SOMETHING WHICH WILL BE DIFFICULT TO EXECUTE. THERE IS NO NEED OF FASTING ONCE VERY WEEK. TWO DAYS FASTING PER MONTH ON EKADASI IS SUFFICIENT. BESIDES THAT THERE ARE OTHER SPECIAL FASTING DAYS. SPIRITUAL REALIZATION DEPENDS ON AUSTERITIES AND VOWS, BUT IN THIS AGE, BY THE MERCY OF KRISHNA AND LORD CAITANYA, WE NEED NOT UNDERGO VERY SEVERE PENANCES, AS WE ARE UNABLE TO DO IT. THE RULES AND REGULATIONS WHICH WE HAVE ALREADY PRESCRIBED, THAT IS SUFFICIENT FOR ORDINARY MEN. But as you have increased the chanting of beads to 25 rounds daily, that is very nice
69-11-20. Letter: Gaurasundara
Srimati Jayasri Dasi sent me SOME DRIED BANANA CHIPS AND THEY ARE VERY NICE FOR MY EKADASI FOOD. Is it possible to send us in large quantity this foodstuff? If not, please try to send me at least one small packet like that every fortnight.
71-07-09 Letter: Jadurani
Why just 25 rounds? You should chant as many as possible. Real Ekadasi means fasting and chanting and no other business. When one observes fasting, the chanting becomes easier. SO ON EKADASI OTHER BUSINESS CAN BE SUSPENDED AS FAR AS POSSIBLE UNLESS THERE IS SOME URGENT BUSINESS.
76-11-26. Letter: Ramesvara
Because there is a little leniency, immediately faulty things are creeping in. So we should be known as shaven-headed, not hair-headed. This is discrepancy. AT LEAST ONCE IN A MONTH YOU MUST BE CLEARLY SHAVEN-HEADED. ON THE BRIGHT FORTNIGHT, ON THE DAY OF PURNIMA, FOUR DAYS AFTER EKADASI. ONCE IN A MONTH, IN THE BRIGHT FORTNIGHT we must be shaven-headed. It is not desirable that in grown up age also, you be chastised. that is not desirable-that is also difficult because when the disciple or son is grown up, if he is chastised, then he breaks. So before being chastised we should be conscious that this is our rules and regulations, we must observe. Therefore it is advised by Canakya Pandit (Sanskrit) After the 16th year of the disciple or son, he should be treated as friend because if you chastise when he is grown up then he will break up- that is also another risk. So our request is that instead of chastising, with folded hands I request you, don't you become hippies again by growing hair. Keep your head cleansed at least once in a month.
720422r2.tok
Devotee: On ekadasi, we can offer the Deity grains?
Prabhupada: Oh yes. BUT NOT GURU. EKADASI OBSERVED BY JIVA-TATTVA, NOT BY VISNU-TATTVA. WE ARE FASTING FOR CLEARING OUR MATERIAL DISEASE, BUT RADHA-KRSNA, CAITANYA MAHAPRABHU… CAITANYA MAHAPRABHU ALSO MAY NOT BE OFFERED GRAINS BECAUSE HE IS PLAYING THE PART OF A DEVOTEE. ONLY RADHA-KRSNA, JAGANNATHA CAN BE OFFERED GRAINS. OTHERWISE, GURU-GAURANGA, NO. AND THE PRASADAM SHOULD NOT BE TAKEN BY ANYONE. IT SHOULD BE KEPT FOR NEXT DAY.
750508mw.per
Prabhupada: Huh? What do you mean by machine. First of all define what is your idea of machine. Just like the other day we saw, we saw the Thompson place, being printed, being collected, and so many things are being done. It is like this. By machine the seasonal changes are going on, the sun is rising, the moon is rising, the water in the ocean, the waves are there. Everything, machine working. It is machine. EVERYTHING BEING SYSTEMATICALLY DONE. Such a big ocean, vast water, it is just on the brink, no more. It is so organized. The sun is rising exactly in time, astronomically. The astronomical watch is one ten-thousandth part of a second. It is so accurate. You'll find everything is going on. (break) Today is ekadasi, eleventh day of the moon, the moon shall be like this. THERE ONE CAN SEE THE MOON AND HE CAN CALCULATE. "TODAY IS EKADASI." THIS IS NOT MACHINE? IT IS EXACTLY, MACHINE.
750705mw.chi
Tamala Krsna: Sometimes we have heard that ekadasi is a inauspicious alignment of the planets and therefore one has to counteract this inauspiciousness by more chanting.
Prabhupada: (laughs) No, no. IT IS THE MOST AUSPICIOUS. AND CHANTING IS MORE EFFECTIVE. (break) Yes.
Tamala Krsna: I remember you were instructing once that all of your initiated disciples should chant twenty-five rounds…
Prabhupada: MINIMUM.
Tamala Krsna: Minimum on this day. Is that a rule that we should all follow in our temples?
Prabhupada: We are sixteen rounds.
Tamala Krsna: No, I mean on ekadasi.
Prabhupada: OH YES. EKADASI, SIMPLY YOU SHOULD CHANT. NO OTHER BUSINESS. NIRJALA.
Tamala Krsna: No preaching work? Should they go out for preaching?
Prabhupada: NO, THOSE WHO ARE PREACHING, NOT FOR THEM. THOSE WHO ARE SITTING IDLE, OR THEY… (LAUGHTER) (BREAK) …HAS NO OTHER REGULATION, SIMPLY PREACHING. A PREACHER IS SO EXALTED. HE HASN'T GOT TO FOLLOW ANY REGULATION. BUT DON'T TAKE IT. (LAUGHTER) AND ACTUALLY IF ONE IS BUSY IN PREACHING WORK, THAT IS FIRST-CLASS. (BREAK) …NOT MY MANUFACTURED WORD, MY GURU MAHARAJA, THAT THE… THAT MADHAVA MAHARAJA, WHEN HE WAS A BRAHMACARI, HIS NAME WAS HAYAGRIVA. SO HE WAS TO GO SOMEWHERE. SO BUT HE WAS SICK. GURU MAHARAJA WAS INFORMED THAT HE WAS SICK AND "TODAY IS EKADASI. HE CANNOT TAKE HIS REGULAR MEALS." SO GURU MAHARAJA SAID, "NO. LET HIM TAKE IMMEDIATELY MEALS AND GO."
760211mw.may
Tamala Krsna: We should always chant twenty-five rounds on ekadasi if initiated.
Prabhupada: INITIATED? EVERYONE. WHY INITIATED?
Tamala Krsna: So that should be standard for our movement on ekadasi day?
Prabhupada: Standard is sixteen, but if one can chant more, then he is welcome.
Tamala Krsna: It's not mandatory for ekadasi.
Jayapataka: Recommended.
Prabhupada: No. EKADASI MEANS THAT, FASTING AND CHANTING.
Tamala Krsna: Sometimes I'm wondering, because our men have to go out on BOOK DISTRIBUTION.
Prabhupada: NO, NO. THAT IS ALSO PREACHING WORK. FOR THAT PURPOSE YOU CAN STOP THIS, BUT GENERALLY, ONE WHO HAS NO PREACHING WORK, HE CAN CHANT.
760607mw.la
Ramesvara: So I've been told that if one fasts on Bhima-ekadasi, that it is like fasting on all the ekadasis. Is that true?
Prabhupada: Yes. Ekadasi is meant for fasting, either Bhima or Arjuna. But we cannot fast, therefore we have to take little fruits and…. Otherwise, ekadasi means fasting.
Tamala Krsna: If it is possible, should we go without eating at all?
Prabhupada: Yes. But don't lie down and sleep.
Mahendra: Eating maha-prasadam is also fasting.
Prabhupada: Who says?
Mahendra: You said that to Paramahamsa Swami once.
Prabhupada: And you heard from Paramahamsa.
Mahendra: No, I was in the room. It was when he was trying to observe Caturmasya.
Prabhupada: I NEVER SAID THAT.
Mahendra: Oh, okay, I must have heard wrong.
Prabhupada: IF THERE IS SERVICE AND, ON MY FASTING, SERVICE WILL BE STOPPED, THEN I CAN TAKE. FIRST CONSIDERATION, SERVICE. NOW IF SOMEBODY FEELS WEAK, HE CAN TAKE MAHA-PRASADA, RENDER SERVICE.
760628bj.nv
To advance in spiritual life these things are essential, tapasya. TAPASYA MEANS VOLUNTARILY ACCEPTING SOMETHING WHICH MAY BE PAINFUL. Just like we are recommending no illicit sex, no gambling, no meat-eating. So those who are accustomed to these bad habits, for them, in he beginning it may be a little difficult. But in spite of becoming difficult, one has to do it. That is called tapasya. To rise early in the morning, those who are not practiced, it is a little painful, but one has to do it. So this is called tapasya. So according to the Vedic injunction, there are some tapasyas that must be done. It is not, "I may do it or not do it." It must be done. Just like in the Mundaka Upanisad it is ordered that one must go to the spiritual master. Tad-vijnanartham sa gurum evabhigacchet. So there is no question of voluntarily, but it must be. And one must carry out by the order of a spiritual master and the order of the sastra. That is called tapasya. JUST LIKE IN OUR LINE EKADASI IS COMPULSORY. ONE MAY FEEL SOME INCONVENIENCE FASTING OR SIMPLY EATING FRUITS. NO. IT MUST BE DONE. THERE ARE SO MANY RULES AND REGULATIONS WHICH IS ESSENTIAL. IT MUST BE DONE. THAT IS CALLED TAPASYA. Without consideration whether it is convenient or inconvenient for you, which is, must be done, that is called tapasya. Tapah, divyam… JUST LIKE RSABHADEVA ORDERS THAT THIS HUMAN LIFE IS MEANT FOR TAPASYA.
770125rc.pur
Prabhupada: Yes, that must be. Why Mayapura? Vrndavana, they are accustomed. Ya devi sarva-bhutesu nidra… This sleeping is the maya's influence. It is stated in the… Ya devi sarva-bhutesu nidra-rupena samsthitah.(?) The Devi, this material energy, has captured everyone, and she is there… The more one sleeps, that means he's under the control of maya. And the more he is not sleeping, he's free from maya. Nidrahara-viharakadi-vijitau. THE GOSVAMIS, THEY CONQUERED OVER THREE THINGS: NIDRA, SLEEPING; AHARA, EATING; AND MATING. THESE THINGS ARE THE CLUTCHES OF MAYA. More we have sex, more we have eating, more we have sleeping, that means I am entangled. THE MORE WE CONQUER OVER IT, WE ARE FREE. THAT WE HAVE TO TRY. Whether I am in the clutches of maya or not CAN BE TESTED–whether I am sleeping more, whether I am eating more, whether I am more sexually inclined. He can test himself. And bhakti means vairagya-vidya, to conquer over these three things. So practice this. They are… To rise early in the morning and attend mangala-arati is compulsory. It is part of this education, spiritual education. AND NOT TO EAT MORE THAN NECESSARY. THEN YOU'LL NOT SLEEP MORE. YOU'LL FIND, IF YOU OBSERVE FAST, YOU WON'T FEEL SLEEPY. HAVE YOU TESTED THIS?
Gargamuni: Yes. I can remember.
Prabhupada: THEREFORE EKADASI. ONE DAY OR TWO DAYS IN THE MONTH HE SHOULD PRACTICE FASTING, AND THEN HE'LL BE ABLE TO CONQUER OVER THESE THINGS. THESE ARE ALL PRACTICAL. SO WE SHOULD PRACTICE OURSELF AND TEACH OTHERS. THIS IS KRSNA CONSCIOUSNESS MOVEMENT. AND IF HE THINKS THAT HE'S QUITE ALL RIGHT IN THIS MATERIAL ATMOSPHERE, THEN HE'S DOOMED. MUDHAH NABHIJANATI. THAT MEANS APRAPYA MAM–WITHOUT ACHIEVING KRSNA–NIVARTANTE–AGAIN HE GOES BACK–MRTYU-SAMSARA-VARTMANI–THE CYCLE OF BIRTH AND DEATH. TAKE ONE BIRTH, SUFFER, AGAIN TAKE ANOTHER BODY, AGAIN TAKE ANOTHER BODY, ANOTHER BODY.