Devotees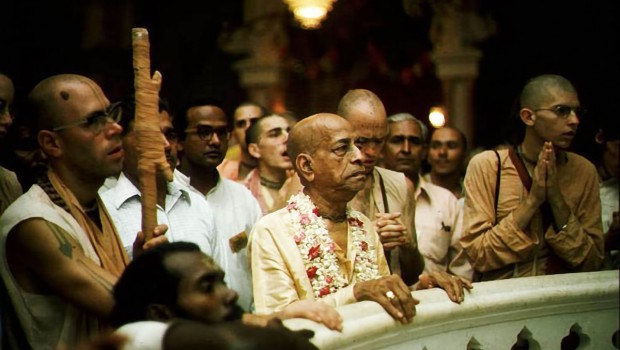 Published on January 18th, 2001 | by
1
Hare Krishna Youth New Year's Eve Unites Devotees, Young and Old
The Hare Krishna Youth Project is dedicated to engaging second generation devotees, gurukulis, and Vaisnava youth in devotional service to Krishna. It's aim is to unite all of the youth to work together under the guidance of its eternal father, His Divine Grace AC Bhaktivedanta Swami Prabhupada.
The H.K.Y. is an enthusiastic group of second generation devotees. Its activities include: organizing and maintaining festivals, which consist of puppet shows, traditional dances, plays, cooking, etc.; starting a temple Sunday School for children; orgnizing Harinamas; starting a newsletter, and many other activities. The H.K.Y's primary concern is to fulfill Srila Prabhupada's vision of his children being the future preachers of Krishna Consciousness. The H.K.Y. is preparing and encouraging second generation devotees into taking responsibility in Srila Prabhupada's movement.
Hare Krishna Youth's enthusiasm for glorifying Lord Krishna and Srila Prabhupada blossomed during the New Year's Eve 2001 festival. Although not a traditional Vaisnava holiday, the H.K.Y. saw it as a grand opportuinity to unite devotees, both young and old, in the safe and spiritually uplifiting environment of New Jagganath Puri in Berkeley. It was an evening in which the H.K.Y. offered a great variety of opportunities for devotees to serve Lord Krishna.
The Youth's preparation for this festival was indeed impressive. The term 'fired up' is an understatement. This event became their life and soul, as they even stayed up all night decorating the temple, Srila Prabhupada's Vyasasana, Gaura Nitai's float, altar, and preparing for the transcendental rock concert and play. Nakula's whole family namely Vrndavan and Abhay, as well as Rasapriya Dasi, Lalita Dasi, Radha Dasi, Bhakin Rupali, and Harichakra Das were responsible for making the temple room look festive and opulent with balloons, streamers, and Christmas lights. They even managed to set up a balloon drop consisting of hundreds of balloons. The H.K.Y. would like to thank senior devotees such as Bahushira Das and Narmada Devi Dasi for their help and encouragement during the decorating.
The festival began with the regular Sunday Feast program. A fired-up Vishnu managed to fulfill his vision of having three pujaris during Sandya Aarti. The kirtan, led by Sudhanini Das, was one of the best I have heard in a long time. Many guests were filling the temple, which was encouraging for the H.K.Y. as the night was just beginning.
All glories to Gadadhara Das for contributing his exceptional talent to the evening. He managed to coordinate a transcendental rock concert and a play. So, after an enchanting shadow puppet show by Lokanath Das, the musicians were ready to take the stage. The band consisted of Gadadhara Das on guitar and vocals, Viswambara Das on drums, Damodara Das on guitar, Lokanath Das on bass, and Sudhanini Das on keyboards. Radha made a special appearence as guest vocalist, and knocked everyone's socks off! The prasadam hall was reminisent of the classic mantra rock concerts just across the bay in San Francisco in the 1960's. These guys rocked away our Maya blues!
Next were some ecstatic bhajans led by Lokanath Das. We all converged in the temple room to sing the glories of Krishna. As I looked around, I noticed so many guests that I have not seen before. Indeed, devotees came from all over California for our program.

Some came from Badger, Arcata, Los Angeles, and even Seattle, Washington. I also met some who were coming to a Hare Krishna temple for the first time. One college student from San Francisco said he received a flier for the program during our Harinam on World Enlightenment Day. He came because he wanted to escape all of the nonsense that most of the country was engaged in that night, and wanted to start off the new year on a positive note. He was very impressed with the program, as were other new-comers. Another college student named Maria said that her uncle used to be a devotee in Berkeley, and that this was her first time coming to the temple in fourteen years! I believe Lord Krishna was guiding all of these great souls to His shelter on an evening of intoxication and madness.
Next up on the program was a trascendental play, again directed by Gadadhara Das. Again, the H.K.Y.'s talent shown so brightly. The first skit was The Brahmana and the Cobbler. Bhakta William, who has impressed everyone with his devotional mood after only one month in the movement, played the cobbler. One of the movement's most famous gurukuli, Dwarkadish Das, played Narada Muni. Vishnu received a round of applause for his performance of Lord Vishnu, bedecked with crown and other paraphernalia. Nakula Das added humor with his performance of the brahmana.

The next skit was the Boatman and the Scholar.

Lalita Dasi played the boatman, and Rasapriya, adorned with a thick mustache, played the scholar. It provided laughter to the audience, both young and old.
Finally, with midnight almost upon us, we gathered for Srila Prabupada's Guru Puja. We then continued the ecstacy by dancing around our Gaura-Nitai float, the one that we use during Ratha Yatra. Bahushira Das finally pulled the cord on the balloon drop, setting free hundreds of balloons. The children screamed with joy at the spectacle. We then all relaxed in a family atmosphere and had prasadam prepared by Haripada Das and his family.
Overall, New Year's Eve at New Jagannath Puri was an ecstatic success. It was such a joy to me to see such a display of devotion and talent by the Hare Krishna Youth. I am positive that Srila Prabhupada was proud of his grandchildren, and gave them his blessing for future successful preaching activities. Of course, we must thank the management of New Jagannath Puri for authorizing the festival, as well as all of the senior devotees who gave their love and support, especially Hrdaya Govinda Das, Narmada Devi Dasi, Kritakarma Das, Bahushira Das, Haripada Das, Mother Shyama dasi, Bhaktin Susan, and many more. The H.K.Y. asks for the support of all the Vaisnavas in order to continue its success.
Hare Krishna Youth Ki Jaya!!!