Art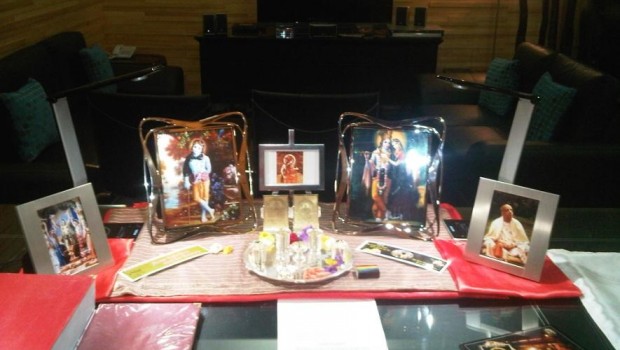 Published on November 23rd, 2021 | by Shyam das
5
Krishna Art – "Windows to the Spiritual World"
Krishna Art
During the earlier years of the Krishna Consciousness movement in the west, many devotees of Krishna were artists. Some of them used their talents to make extraordinary paintings of Krishna and his pastimes, as well as paintings depicting other stories from the Srimad Bhagavatam.
There is a quote by Srila Prabhupada about these Krishna Art paintings. He referred to them as "Windows to the Spiritual World." Much of this art is featured as illustrations in his books.
'Krishna Art,' while it can refer to the above paintings, or to any artwork depicting Krishna, is also a book. It's a beautiful compilation by the Bhaktivedanta Book Trust of high-quality images of many the paintings mentioned above. It is an oversized 'coffee-table' book, with the exquisite art displayed as large page-sized or double-foldout-page-sized images. The pictures are accompanied by descriptions, as shown below
More information about the Krishna Art book can be found at the following link: Krishna Art Book
Krishna Art Prints
Throughout daily life nowadays, as humans, we encounter many things which could stress us out or get us caught up in negative feelings about circumstances and people. It can help to have a reminder that there may be more to life than the challenging circumstances we may be facing in the material world. Looking through the "Windows to the Spiritual World" can serve to do just that. It can help remind you to look at life from a different perspective. In this way Krishna Art serves to be a wonderful light in peoples' lives.
You can bring these "Windows" into your life and home with Krishna Art Posters and Prints, which are available as either paper or canvas prints in a variety of sizes.
At KrishnaStore, the paper prints range from 4"x6" to 20"x30", and the canvas prints range from 8"x10" to 30"x45". There are currently 173 different Krishna Art pictures available as prints at Krishna Store's Krishna Art Prints section.
Larger Krishna Art Prints
The bigger sized prints make excellent wall decorations, especially when framed. Here are some pictures of some framed Krishna Art canvas prints: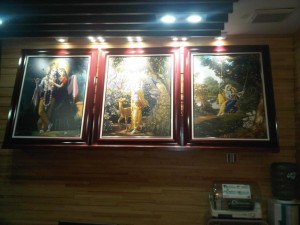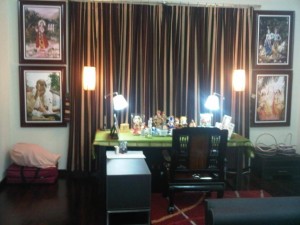 Smaller Krishna Art Prints
The smaller prints can make excellent table- or desk-top pictures, when put in a little frame, as shown below. They can also be made into a nice altar, or put on your work desk. For portability, you can get a collection of 4"x6" prints and travel with them, putting them up on the wall with pieces of scotch tape or sticky tack.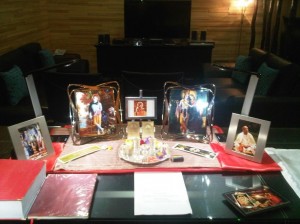 Krishna Art Reviews
People have enjoyed their experience getting prints from Krishna Store. The prints they sell are very nice quality, printed on top-notch commercial printing equipment.
Here is what some of these people have to say:
Author: Parimal Shah
Items: Mother Yasoda Feeding a Young Lord Krishna in Vrindavan, Krishna the Butter Thief
Subject: HIGHLY IMPRESSIVE PRODUCT QUALITY!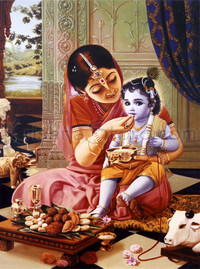 Testimonial Text: I ordered the Print Size posters of Mother Yashoda feeding Baby Krishna in 3 different sizes and also baby Krishna eating butter in 2 different sizes. I was expecting just some normal photograph poster print as the price that i paid was hardly anything … but the product that i received was extremely impressive and very High Quality. The photos were shipped from US to Mumbai, India and they were printed from one of the top of the line HP printing houses in the US. It is really very impressive and inspiring to see how much effort is being placed on Quality at this web-site. I have purchased a few products in the past also and have always noted that product quality, price, shipping speed and packaging are really top notch. The overall service is probably as good as international shopping web-sites like [amazon.com], if not better. Really excellent Job guys! Please keep it up! Thank you very much Krishnastore.com! i really love these Krishna paintings and will continue shopping from your site! HARE KRISHNA!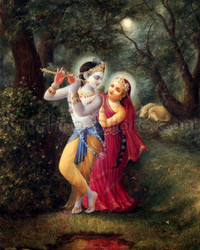 Author: Saraswati Sivakumar
Item: Radha and Krishna in the Vrindavan Forest at Night
Rating: 5 Stars
Review Text:
Very happy with the picture and service offered by the store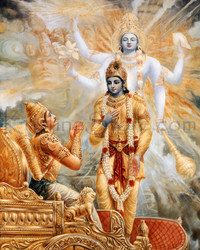 Author: Heather Williams
Item: Krishna Reveals His Four-Armed Form
Rating: 5 Stars
Review Text:
Very beautiful picture, the detail is stunning. Very pleased with this purchase!

Chant Hare Krishna and be happy!