Prabhuapda's Godbrothers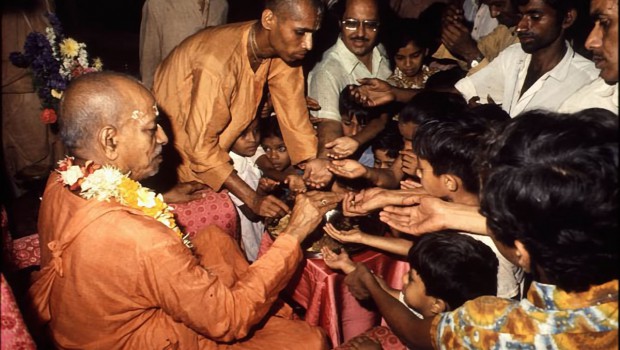 Published on April 29th, 2003 | by
3
Srila Prabhupada and Narayana Maharaja Brothers?
Thankyou for sending me your propaganda that Srila Prabhupada and Narayana Maharaj are looked upon by yourself as "like god brothers". Unfortunately you cannot see the 'wood for the trees'.Srila Prabhupada's position is not only far superior to Narayana Maharaj's position, but he is the radiant moonshine that is pervading the entire three worlds compared to Narayana Maharaj who is just a star and a shadow in the path of Srila Prabhupada and his ISKCON mission!
Dear Prabhus,
pamho, agtsp.
Thankyou for sending me your propaganda that Srila Prabhupada and Narayana Maharaj are looked upon by your self as "like god brothers". Unfortunately you cannot see the 'wood for the trees'. Far from it being true to what you claim, Srila Prabhupada's position is not only far superior to Narayana Maharaj's position, but he is the radiant moonshine that is pervading the entire three worlds compared to Narayana Maharaj who is just a star and a shadow in the path of Srila Prabhupada and his ISKCON mission!
The proof is in the pudding which I invite you to read below from a Prabhupadanuga!  Narayana maharaja and his followers are only interested in stealing Srila Prabhupada's disciples, his opulence and his prestige! Only a blind fool will not be able to see what his camp is up to all these years.  That is why you are equating and promoting Srila Prabhupada with him rather than putting forward Narayana Maharaja's spiritual Master.
So please stop fooling around your nonsense and offensive comparison of Narayana Maharaj as equal and successor to the most exalted saviour of the whole world, Jagat Guru A C Bhaktivedanta Srila Prabhupada!  You are barking up the wrong tree.
ys
Revatinandana Das
How The Current Acarya Srila Prabhupada Gives Diksa
Note: Srila Prabhupada is IDENTICAL with his PURPORTS.
SB 1.2.18 P Divinity and Divine Service
Bhagavata book and person are identical.
Adi 1.99 T The Spiritual Masters
eka bhagavata bada—-bhagavata-sastra
ara bhagavata—-bhakta bhakti-rasa-patra
SYNONYMS
eka–one; bhagavata–in relation to the Supreme Lord; bada–great; bhagavata-sastra–Srimad-Bhagavatam; ara–the other; bhagavata–in relation to the Supreme Lord; bhakta–pure devotee; bhakti-rasa–of the mellow of devotion; patra–the recipient.
TRANSLATION
One of the bhagavatas is the great scripture Srimad-Bhagavatam, and the other is the pure devotee absorbed in the mellows of loving devotion.
TEXT 100
TEXT
dui bhagavata dvara diya bhakti-rasa
tanhara hrdaye tanra preme haya vasa
SYNONYMS
dui–two; bhagavata–the bhagavatas; dvara–by; diya–giving; bhakti-rasa–devotional inspiration; tanhara–of His devotee; hrdaye–in the heart; tanra–his; preme–by the love; haya–becomes; vasa–under control.
TRANSLATION
Through the actions of these TWO bhagavatas the Lord instills the mellows of transcendental loving service into the heart of a living being, and thus the Lord, in the heart of His devotee, comes under the control of the devotee's love.
---
SB 1.7.22 P The Son of Drona Punished
The spiritual master, BY HIS WORDS, CAN PENETRATE INTO THE HEART OF THE SUFFERING PERSON AND INJECT KNOWLEDGE TRANSCENDENTAL, which alone can extinguish the fire of material existence.
SB 2.9.8 P Answers by Citing the Lord' s Version
THE POTENCY OF TRANSCENDENTAL SOUND IS NEVER MINIMIZED BECAUSE THE VIBRATOR IS APPARENTLY ABSENT. Therefore SRIMAD-BHAGAVATAM or Bhagavad-gita or any revealed scripture in the world is never to be accepted as an ordinary mundane sound without transcendental potency.
Adi 1.35 The Spiritual Masters
THERE IS NO DIFFERENCE BETWEEN THE SPIRITUAL MASTER'S INSTRUCTIONS AND THE SPIRITUAL MASTER HIMSELF. In his absence, therefore, his words of direction should be the pride of the disciple.
SRILA PRABHUPADA OUR JAGAD DIKSA GURU: LIVING STILL—- IN SOUND! AND IN THIS SOUND HE GIVES DIKSA
750716pc.sf Conversations
Reporter (2): What will happen to the movement in the United States when
you die?
Prabhupada: I WILL NEVER DIE.
Prabhupada: I SHALL LIVE FROM MY BOOKS, AND YOU WILL UTILIZE.
Note: Srila Prabhupada and his words are on the transcendental platform therefore his PURPORTS TO THE SRIMAD-BHAGAVATAM IS THE CURRENT LINK. AS LONG AS WE HAVE PRABHUPADA'S PURPORTS TO THE SRIMAD-BHAGAVATAM HE WILL BE OUR CURRENT LINK BECAUSE **THE REAL** MESSAGE OF SRIMAD-BHAGAVATAM ARE **HIS** PURPORTS.
SB 2.9.7
As already stated, Brahmä is the original spiritual master for the
universe, and since he was initiated by the Lord Himself, the MESSAGE OF SRIMAD-BHAGAVATAM IS COMING DOWN BY DISCIPLIC SUCCESSION, and in order to receive THE REAL MESSAGE OF SRIMAD-BHAGAVATAM one should approach THE CURRENT LINK, or spiritual master, in the chain of disciplic succession.

690113LE.LA Lectures
…vani and vapu, and vapu means the physical body, and vani means the
vibration. So we are not concerned about the physical body. Not concerned means… We are concerned, of course, because the spiritual master, those who are acaryas, their body is not considered as materiel. Arcye sila-dhir gurusu nara-matir. Just like the statue of Krsna, to consider that "This is a stone…" Similarly, arcye sila-dhir gurusu na… Gurusu means those who are acaryas, to accept their body as ordinary man's body, this is denied in the sastras. SO ALTHOUGH A PHYSICAL BODY IS NOT PRESENT, THE VIBRATION SHOULD BE ACCEPTED AS THE PRESENCE OF THE SPIRITUAL MASTER, VIBRATION. WHAT WE HAVE HEARD FROM THE SPIRITUAL MASTER, THAT IS LIVING.

DIKSA THE PROCESS of revealation thru Prabhupada's books.
74-11-22 Letter: Bahurupa
IN MY BOOKS the philosophy of Krishna Consciousness is EXPLAINED FULLY so if there is anything which you do not understand, then you simply have to read again and again. By reading daily THE KNOWLEDGE WILL BE REVEALED TO YOU AND BY THIS PROCESS YOUR SPIRITUAL LIFE WILL DEVELOP.
75-03-14 Letter: Sivani
To take SHELTER of the Spiritual Master MEANS TO FOLLOW HIS INSTRUCTIONS.
Note: read Srila Prabhupada's books associate with him directly
721020ND.VRN Lectures
But in this life, if we develop Krsna consciousness by association of devotees… As Narottama dasa Thakura has sung, tandera carana-sevi-bhakta-sane vasa. One's aim of life should be to serve the acaryas. Acarya upasanam. So our acarya in the Gaudiya Vaisnava Sampradaya, the sri-rupa sanatana bhatta-raghunatha, sri-jiva gopala-bhatta dasa-raghunatha, the Six Gosvamins, and if we associate with them… this book, Nectar of Devotion, Bhakti-rasamrta-sindhu, if you read regularly, try to understand, this means you are associating with Srila Rupa Gosvami directly. And if you act accordingly, then you are serving their lotus feet.
SB 4.31.2
One desiring perfection or liberation SHOULD ASSOCIATE WITH A PERSON WHO IS ALREADY LIBERATED. THIS IS CALLED SADHU-SANGA, ASSOCIATING WITH A PERFECT DEVOTEE.
EK 4
There are two conceptions of presence–the physical conception and the
vibrational conception. The physical conception is temporary, whereas the vibrational conception is eternal. When we enjoy or relish the vibration of Krsna's teachings in Bhagavad-gita, or when we chant Hare Krsna, we should know that by those vibrations He is immediately present. He is absolute, and because of this His vibration is just as important as His physical presence. WHEN WE FEEL SEPARATION FROM KRSNA OR THE SPIRITUAL MASTER, WE SHOULD JUST TRY TO REMEMBER THEIR WORDS OF INSTRUCTIONS, AND WE WILL NO LONGER FEEL THAT SEPARATION. SUCH ASSOCIATION WITH KRSNA AND THE SPIRITUAL MASTER SHOULD BE ASSOCIATION BY VIBRATION, NOT PHYSICAL PRESENCE. THAT IS REAL ASSOCIATION. We put so much stress on seeing, but when Krsna was present on this earth, so many people saw Him and did not realize that He is God; so what is the advantage of seeing? By seeing Krsna, we will not understand Him, but by listening carefully to His teachings, we can come to the platform of understanding. We can touch Krsna immediately by sound vibration; therefore we should give more stress to the sound vibration of Krsna and of the spiritual master–then we'll feel happy and won't feel separation.
680818SB.MON Lectures
Prabhupada: Oh, that you should not think. If… The words… There are two conceptions: the physical conception and the vibration conception. So physical conception is temporary. The vibration conception is eternal. Just like we are enjoying or we are relishing the vibration of Krsna's teachings. So by vibration He is present. As soon as we chant Hare Krsna or chant Bhagavad-gita or Bhagavata, so He is present immediately by His vibration. He's absolute. Therefore try to remember His words of instruction; you'll not feel separation. You'll feel that He is with you. So we should associate by the vibration, and not by the physical presence. That is real association. Sabdad anavrtti. By sound. Just like we are touching Krsna immediately by sound. Sound vibration. SO WE SHOULD GIVE MORE STRESS ON THE SOUND VIBRATION, EITHER OF KRSNA OR OF THE SPIRITUAL MASTER. THEN WE'LL FEEL HAPPY AND NO SEPARATION.
CC Concluding Words
Today, Sunday, November 10, 1974–corresponding to the 10th of Kartikka, Caitanya Era 488, the eleventh day of the dark fortnight, the Rama-ekadasi–we have now finished the English translation of Sri Krsnadasa Kaviraja Gosvami' s Sri Caitanya-caritamrta in accordance with the authorised order of His Divine Grace Bhaktisiddhanta Sarasvati Thakur Gosvami Maharaja, my beloved eternal spiritual master, guide and friend.
Although according to material vision His Divine Grace Srila
Bhaktisiddhanta Sarasvati Thakura Prabhupada passed away from this material world on the last day of December, 1936, I still consider His Divine Grace to be always present with me by his vani, his words. There are two ways of association–by vani and by vapu. Vani means words, and vapu means physical presence. PHYSICAL PRESENCE IS SOMETIMES APPRECIABLE AND SOMETIMES NOT, BUT VANI CONTINUES TO EXIST ETERNALLY. THEREFORE WE MUST TAKE ADVANTAGE OF THE VANI, NOT THE PHYSICAL PRESENCE. Bhagavad-gita, for example, is the vani of Lord Krsna. Although Krsna was personally present five thousand years ago and is no longer physically present from the materialistic point of view, Bhagavad-gita continues.
75-11-04 Letter: Suci
You have rightly said that the best way to associate with the spiritual master is to follow his instructions. There are two ways of associating, by vani and by vapu. Vani means words and vapu means physical presence. PHYSICAL PRESENCE IS SOMETIMES APPRECIABLE AND SOMETIMES NOT. THEREFORE WE SHOULD TAKE ADVANTAGE OF THE VANI, NOT THE PHYSICAL PRESENCE, BECAUSE THE VANI CONTINUES TO EXIST ETERNALLY. Bhagavad-gita for example is the vani of Lord Krishna. Although Krishna was personally present 5,000 years ago and is no longer present physically from the materialistic viewpoint, still Bhagavad-gita continues. So you have correctly concluded.
70-06-22 Letter: Hamsaduta
WE ARE NOT SEPARATED ACTUALLY. There are two–vani or vapu. So vapu is physical presence and vani is presence by the vibration, but they are all the same. So Krsna when He was physically present before Arjuna is the same when He is present before us by His vani of Bhagavad-gita. So far I am concerned, I do not factually feel any separation from my Spiritual Master because I am trying to serve Him according to His desire. That should be the motto. IF YOU KINDLY TRY TO FULFILL MY MISSION FOR WHICH YOU HAVE BEEN SENT THERE, THAT WILL BE OUR CONSTANT ASSOCIATION.
Note: gold is gold it does not change to iron BONA FIDE means genuine it does NOT lose its genuine feature otherwise it's a FAKE no falldowns. Time eternal (NITYA SIDDHA). Eternal includes past present and future THIS is Srila Prabhupada. Srila Prabhupada IS our BONA FIDE spiritual master. This is Srila Prabhupada. And those who reject him are deviants who are after PERSONAL AGGRANDIZEMENT personal worship, money, followers.
Bg 4.42 P Transcendental Knowledge
A BONA FIDE spiritual master is in the disciplic succession from TIME ETERNAL, and he does not deviate at all from the instructions of the Supreme Lord as they were imparted millions of years ago to the sun-god, from whom the instructions of Bhagavad-gita have come down to the earthly kingdom. One should, therefore, follow the path of Bhagavad-gita as it is expressed in the Gita itself and BEWARE OF SELF-INTERESTED PEOPLE AFTER PERSONAL AGGRANDIZEMENT WHO DEVIATE OTHERS FROM THE ACTUAL PATH.
Note: deviants say (Acarya) Srila Prabhupada is not able to give diksa now.
SB 3.29.17
It is recommended herewith that all the acaryas be given the highest respect. It is stated, gurusu nara-matih. GURUSU MEANS "UNTO THE ACARYAS," and nara-matih means "thinking like a common man." To think of the Vaisnavas, the devotees, as belonging to a particular caste or community, to think of the acaryas as ordinary men or to think of the Deity in the temple as being made of stone, wood or metal, IS CONDEMNED.
Adi 7.115
In this connection the Padma Purana states, arcye visnau sila-dhir gurusu nara-matir vaisnave jati-buddhih: "One who considers the arca-murti, the worshipable Deity of Lord Visnu, to be stone, THE SPIRITUAL MASTER TO BE AN ORDINARY HUMAN BEING, and a Vaisnava to belong to a particular caste or creed, is possessed of HELLISH INTELLIGENCE." One who follows such conclusions is doomed.
Note: formality was to be conducted by representatives of acarya.
Madhya 24.330
Similarly, a disciple's qualifications must be observed by the spiritual master before he is accepted as a disciple. In our Krsna consciousness movement, the requirement is that one must be prepared to give up the four pillars of sinful life-illicit sex, meat-eating, intoxication and gambling. In Western countries especially, we first observe whether a potential disciple is prepared to follow the regulative principles. Then he is given the name of a Vaisnava servant and initiated to chant the Hare Krsna maha-mantra, at least sixteen rounds daily. In this way the disciple renders devotional service under the guidance of the spiritual master OR HIS REPRESENTATIVE FOR AT LEAST SIX MONTHS TO A YEAR. He is then recommended for a second initiation, during which a sacred thread is offered and the disciple is accepted as a bona fide brahmana.
Note: Formality of Initiation by representatives as per Madhya 24.330 was to create brahmana's by Pancaratriki-vidhi process. Then gradually develop to the stage of ACTUAL qualifications of a QUALIFIED brahmana then Vaisnava.
710329BG.BOM Lectures
Our Sanatana Gosvami gives direction in the Hari-bhakti-vilasa that one man can become a brahmana by the regular process of diksa. Diksa, this initiation, cannot be offered to a sudra. Diksa cannot be offered to a sudra. But in this age, Kali-yuga, it is the statement of the sastras that in the Kali-yuga most of the population are sudras. Kalau sudra sambhavah. How they can be initiated? THIS INITIATION IS OFFERED NOT ACCORDING TO THE VEDIC RULES, BECAUSE IT IS VERY DIFFICULT TO FIND OUT A QUALIFIED BRAHMANA. DIKSA IS OFFERED TO A QUALIFIED BRAHMANA. THEREFORE THIS DIKSA IS OFFERED ACCORDING TO PANCARATRIKI-VIDHI. THAT IS RECOMMENDED IN THIS AGE. My spiritual master inaugurated this Pancaratriki-vidhi, and we are following his footsteps. Anyone who is inclined to devote his life for Krsna, he should be accepted as brahmana.
75-08-04. Letter: Madhudvisa:
Regarding Sydney, that the President has left, if one does not follow the regulative principles, then he will leave. That is a fact. Has somebody else been elected? This is the function of the GBC, to see that one may not be taken away by maya. The GBC should all be the instructor gurus. I AM IN THE INITIATOR GURU, and you should be the instructor guru by teaching what I am teaching and doing what I am doing. This is not a title, but you must actually come to this platform. This I want.
Note: this formality was the the function of Ritviks representatives of Acarya (Srila Prabhupada) as per July 9th 1977 letter knowledge DIKSA is given by ACARYA Srila Prabhupada. Even according to Srila Prabhupada's books front cover it is said ISKCON FOUNDER-ACARYA HIS DIVINE GRACE A C BHAKTIVEDANTA SWAMI PRABHUPADA Please note carefully founder HYPEN acarya means Srila Prabhupada is not simply ISKCON's founder BUT also Its ACARYA **also** –FACT!
761016iv.cha Conversations
Interviewer: What is the procedure of the movement? Do you initiate yourself all the disciples or do your other disciples also do that?
Prabhupada: Well, initiation or no initiation, first thing is knowledge. (break) …knowledge. Initiation is formality. Just like you go to a school for knowledge, and admission is formality. That is not very important thing.
Note: Tamal Krsna ADMITS they are CONDITIONED souls in 22 APRIL 1977 and Srila Prabhupada appointed them RITVIK ONLY.
NOTE: in JULY 9th 1977 this is 3 months must be BIG disappointment they were NOT ACARYA but Ritvik acarya representatives of ACARYA (Srila Prabhupada). The letter was UNREVOKED. So HOW is it Just AFTER Srila Prabhupada passed (IN 4 months November) they appointed themselves "as good as God" Guru (acarya)?.
Simple answer conditioned souls CHEAT.
770422r3.bom Conversations
Tamala Krsna: Well, I have studied myself and all of your disciples, and it's clear fact that we are all conditioned souls, so we cannot be guru. Maybe one day it may be possible…
Prabhupada: Hm.
Tamala Krsna: …but not now.
Prabhupada: Yes. I shall choose some guru. I shall say, "Now you become acarya. You become authorized." I am waiting for that. You become all acarya. I retire completely. But the training must be complete.
Tamala Krsna: The process of purification must be there.
Prabhupada: Oh, yes, must be there. Caitanya Mahaprabhu wants that. Amara ajnaya guru hana. "You become guru." (laughs) But be qualified. Little thing, strictly follower…
Tamala Krsna: Not rubber stamp.
Prabhupada: Then you'll not be effective. You can cheat, but it will not be effective. Just see our Gaudiya Matha. Everyone wanted to become guru, and a small temple and "guru." What kind of guru? No publication, no preaching, simply bring some foodstuff… My Guru Maharaja used to say, "Joint mess," a place for eating and sleeping. Amar amar ara takana (?)(Bengali): "Joint mess." He said this.
Note:If the 2/3 majority votes "gurus" or Gaudiya maths present "gurus" were Acarya "His Divine Graces" (Krishna speaks through them) Why nobody except some sentimental followers are quoting them. This means they are NOT accepted as authority. Everybody QUOTES Srila Prabhupada because everybody knows Krishna speaks through him—-this is why he is **ACCEPTED AS AUTHORITY**. Note all the acaryas are QUOTED by all sections of society Bhaktivinode Thakura , Srila Bhaktisiddhanta sarasvati Thakura, His Divine Grace Srila Prabhupada because Lord Krsna MANIFESTS in their WORDS. Their words are SCRIPTURE. Others can but talk parrot fashion with no impact. Professional Bhagavatam reciters—bas!
Srila Prabhupada is the PROMINENT acarya as HE is the one who's books are LAWBOOKS NOW! He is quoted NOW!
68-04-12. Letter: Dayananda
Regarding parampara system: there is nothing to wonder for big gaps. Just like we belong to the Brahma Sampradaya, so we accept it from Krishna to Brahma, Brahma to Narada, Narada to Vyasadeva, Vyasadeva to Madhva, and between Vyasadeva and Madhva there is a big gap. But it is sometimes said that Vyasadeva is still living, and Madhva was fortunate enough to meet him directly. In a similar way, we find in the Bhagavad-gita that the Gita was taught to the sungod, some millions of years ago, but Krishna has mentioned only three names in this parampara system–namely, Vivasvan, Manu, and Iksvaku; and so these gaps do not hamper from understanding the parampara system. WE HAVE TO PICK UP THE PROMINENT ACARYAS, AND FOLLOW FROM HIM. There are many branches also from the parampara system, and it is not possible to record all the branches and sub-branches in the disciplic succession. We have to pick up from the authority of the acharya in whatever sampradaya we belong to.
Srila Prabhupada is the
SB 3.29.17 P Explanation of Devotional Service by Lord Kapila
In Bhagavad-gita, Thirteenth Chapter, it is clearly stated that one should execute devotional service and advance on the path of spiritual knowledge by accepting the acarya. Acaryopasanam: one should worship an acarya, a spiritual master who knows things as they are. The spiritual master must be in the disciplic succession from Krsna. The predecessors of the spiritual master are his spiritual master, his grand spiritual master, his great-grand spiritual master and so on, who form the disciplic succession of acaryas.
Note : Srila Prabhupada KNEW of the dangers "THERE IS VERY GREAT UNDERCURRENT" he forbade his disciples from his Godbrothers THIS was the MAIN danger because they were clearly after his disciples,property,reputation and money. He called his Godbrothers KANISTHA ADHIKARI. Srila Prabhupada KNEW they were IMITATING the role of ACARYA. Srila Prabhupada wanted to protect his disciples and the movement from these sahajiyas.
770527vg.vrn Conversations
Prabhupada: You should be very much determined, strong-minded. Otherwise it will slip. Such huge property…
Tamala Krsna: Actually these properties are the envy of all of India. They're the best properties in each place.
Prabhupada: Not only property. Our prestige, our position… Everything is envied. Everywhere we are first class.
Tamala Krsna: Yes. There's no rival.
Bhavananda: THERE WILL BE MEN, I KNOW. THERE WILL BE MEN WHO WANT TO TRY AND POSE THEMSELVES AS GURU.
Tamala Krsna: That was going on many years ago. YOUR GODBROTHERS WERE THINKING LIKE THAT. MADHAVA MAHARAJA…
Bhavananda: Oh, yes. Oh, ready to jump.
Prabhupada: Very strong management required and vigilant observation. (background whispering, Tamala Krsna and Bhavananda) So you are foreign…
Gopala Krsna: Beg your pardon?
Prabhupada: You are foreign trained up. And you also idea how to protect our interest.
Gopala Krsna: Yes, Srila Prabhupada, I'm always…
Prabhupada: THERE IS VERY GREAT UNDERCURRENT.
Gopala Krsna: I never trusted them much. I know those things. (background whispering, Bhavananda)

75-11-09. Letter: Visvakarma
Please accept my blessings. I am in due receipt of your letter dated September 3, 1975 with the enclosed statement about Van Maharaja. So I have now issued orders that all my disciples should avoid all of my godbrothers. THEY SHOULD NOT HAVE ANY DEALINGS WITH THEM NOR EVEN CORRESPONDENCE, NOR SHOULD THEY GIVE THEM ANY OF MY BOOKS OR SHOULD THEY PURCHASE ANY OF THEIR BOOKS, NEITHER SHOULD YOU VISIT ANY OF THEIR TEMPLES. PLEASE AVOID THEM.
74-04-28. Letter: Rupanuga
You are right about Sridhara Maharaja's genuineness. But in my opinion he is the best of the lot. He is my old friend, AT LEAST HE EXECUTES THE REGULATIVE PRINCIPLES OF DEVOTIONAL SERVICE. I do not wish to discuss about activities of my Godbrothers but it is a fact they have no life for preaching work. All are satisfied with a place for residence in the name of a temple, they engage disciples to get foodstuff by transcendental devices and eat and sleep. They have no idea or brain how to broacast the cult of Sri Caitanya Mahaprabhu. My Guru Maharaja used to lament many times for this reason and he thought if one man at least had understood the principle of preaching then his mission would achieve success. In the latter days of my Guru Maharaja he was very disgusted. Actually, he left this world earlier, otherwise he would have continued to live for more years. Still he requested his disciples to form a strong Governing body for preaching the cult of Caitanya Mahaprabhu. HE NEVER RECOMMENDED ANYONE TO BE ACARYA OF THE GAUDIYA MATH. BUT SRIDHARA MAHARAJA IS RESPONSIBLE FOR DISOBEYING THIS ORDER OF GURU MAHARAJA, AND HE AND OTHERS WHO ARE ALREADY DEAD UNNECESSARILY THOUGHT THAT THERE MUST BE ONE ACARYA. If Guru Maharaja could have seen someone who was qualified at that time to be acarya he would have mentioned. Because on the night before he passed away he talked of so many things, but never mentioned an acarya. His idea was acarya was not to be nominated amongst the governing body. He said openly you make a GBC and conduct the mission. So his idea was amongst the members of GBC who would come out successful and self effulgent acarya would be automatically selected. So Sridhara Maharaja and his two associate gentlemen unauthorizedly selected one acarya and later it proved a failure. THE RESULT IS NOW EVERYONE IS CLAIMING TO BE ACARYA EVEN THOUGH THEY MAY BE KANISTHA ADHIKARI WITH NO ABILITY TO PREACH. IN SOME OF THE CAMPS THE ACARYA IS BEING CHANGED THREE TIMES A YEAR. THEREFORE WE MAY NOT COMMIT THE SAME MISTAKE IN OUR ISKCON CAMP. ACTUALLY AMONGST MY GODBROTHERS NO ONE IS QUALIFIED TO BECOME ACARYA. SO IT IS BETTER NOT TO MIX WITH MY GODBROTHERS VERY INTIMATELY BECAUSE INSTEAD OF INSPIRING OUR STUDENTS AND DISCIPLES THEY MAY SOMETIMES POLLUTE THEM. This attempt was made previously by them, especially Madhava Maharaja and Tirtha Maharaja and Bon Maharaja but somehow or other I saved the situation. This is going on. We shall be very careful about them and not mix with them. This is my instruction to you all. They cannot help us in our movement, but they are very competent to harm our natural progress. So we must be very careful about them.
Note: the sad part of ISKCON history is Srila Prabhupada's deviant "disciples" did not listen to him and were polluted: accepted the acarya disease lured by money, followers, adoration the following result awaits their destiny:
Iso 12
The Lord states that as soon as one reaches Him by devotional service–which is the one and only way to approach the Personality of Godhead–one attains complete freedom from the bondage of birth and death. In other words, the path of salvation from the material clutches fully depends on the principles of knowledge and detachment gained from serving the Lord. THE PSEUDO RELIGIONISTS HAVE NEITHER KNOWLEDGE NOR DETACHMENT FROM MATERIAL AFFAIRS, FOR MOST OF THEM WANT TO LIVE IN THE GOLDEN SHACKLES OF MATERIAL BONDAGE UNDER THE SHADOW OF PHILANTHROPIC ACTIVITIES DISGUISED AS RELIGIOUS PRINCIPLES. BY A FALSE DISPLAY OF RELIGIOUS SENTIMENTS, THEY PRESENT A SHOW OF DEVOTIONAL SERVICE WHILE INDULGING IN ALL SORTS OF IMMORAL ACTIVITIES. IN THIS WAY THEY PASS AS SPIRITUAL MASTERS AND DEVOTEES OF GOD. SUCH VIOLATORS OF RELIGIOUS PRINCIPLES HAVE NO RESPECT FOR THE AUTHORITATIVE ACARYAS, THE HOLY TEACHERS IN THE STRICT DISCIPLIC SUCCESSION. THEY IGNORE THE VEDIC INJUNCTION ACARYOPASANA–"ONE MUST WORSHIP THE ACARYA"–AND KRSNA'S STATEMENT IN THE BHAGAVAD-GITA (4.2) EVAM PARAMPARA-PRAPTAM, "THIS SUPREME SCIENCE OF GOD IS RECEIVED THROUGH THE DISCIPLIC SUCCESSION." INSTEAD, TO MISLEAD THE PEOPLE IN GENERAL THEY THEMSELVES BECOME SO-CALLED ACARYAS, BUT THEY DO NOT EVEN FOLLOW THE PRINCIPLES OF THE ACARYAS.
THESE ROGUES ARE THE MOST DANGEROUS ELEMENTS IN HUMAN SOCIETY. BECAUSE THERE IS NO RELIGIOUS GOVERNMENT, THEY ESCAPE PUNISHMENT BY THE LAW OF THE STATE. THEY CANNOT, HOWEVER, ESCAPE THE LAW OF THE SUPREME, WHO HAS CLEARLY DECLARED IN THE BHAGAVAD-GITA THAT ENVIOUS DEMONS IN THE GARB OF RELIGIOUS PROPAGANDISTS SHALL BE THROWN INTO THE DARKEST REGIONS OF HELL (BG. 16.19-20). SRI ISOPANISAD CONFIRMS THAT THESE PSEUDO RELIGIONISTS ARE HEADING TOWARD THE MOST OBNOXIOUS PLACE IN THE UNIVERSE AFTER THE COMPLETION OF THEIR SPIRITUAL MASTER BUSINESS, WHICH THEY CONDUCT SIMPLY FOR SENSE GRATIFICATION.
Note: becoming Vaisnava is not so cheap.
770214r2.may Conversations
Prabhupada: Kanistha-adhikari means he must be a brahmana. That is kanistha-adhikari. The spiritual life, kanistha-adhikari, means he must be a QUALIFIED brahmana. That is kanistha. What is esteemed as very high position in the material world, brahmana, that is kanistha-adhikari.
arcayam eva haraye
pujam yah sraddhayehate
na tad-bhaktesu canyesu
sa bhaktah prakrtah smrtah
The brahmana means from the material stage gradually he is elevated to the spiritual stage. AND BELOW THE BRAHMANA THERE IS NO QUESTION OF VAISNAVA.
Note: For those who do NOT wish to play at being " as good as God" acarya then there is ample opportunity to QUALIFY as a Brahmana then as Vaisnava to achieve going back to Godhead back home. It is a question of being truthful where we are and progressing onwards march.
SB 1.2.20 P Divinity and Divine Service
The very same thing is confirmed herein in the above words. No ordinary man, or even one who has attained success in human life, can know scientifically or perfectly the Personality of Godhead. Perfection of human life is attained when one can understand that he is not the product of matter but is in fact spirit. And as soon as one understands that he has nothing to do with matter, he at once ceases his material hankerings and becomes enlivened as a spiritual being. This attainment of success is possible when one is above the modes of passion and ignorance, or, in other words, when one is actually a brahmana by qualification. A BRAHMANA IS THE SYMBOL OF SATTVA-GUNA, OR THE MODE OF GOODNESS. AND OTHERS, WHO ARE NOT IN THE MODE OF GOODNESS, ARE EITHER KSATRIYAS, VAISYAS, SUDRAS OR LESS THAN THE SUDRAS. THE BRAHMINICAL STAGE IS THE HIGHEST STAGE OF HUMAN LIFE BECAUSE OF ITS GOOD QUALITIES. SO ONE CANNOT BE A DEVOTEE UNLESS ONE AT LEAST QUALIFIES AS A BRAHMANA. The devotee is already a brahmana by action. But that is not the end of it. AS REFERRED TO ABOVE, SUCH A BRAHMANA HAS TO BECOME A VAISNAVA IN FACT TO BE ACTUALLY IN THE TRANSCENDENTAL STAGE. A PURE VAISNAVA IS A LIBERATED SOUL AND IS TRANSCENDENTAL EVEN TO THE POSITION OF A BRAHMANA. IN THE MATERIAL STAGE EVEN A BRAHMANA IS ALSO A CONDITIONED SOUL BECAUSE ALTHOUGH IN THE BRAHMINICAL STAGE THE CONCEPTION OF BRAHMAN OR TRANSCENDENCE IS REALIZED, SCIENTIFIC KNOWLEDGE OF THE SUPREME LORD IS LACKING. ONE HAS TO SURPASS THE BRAHMINICAL STAGE AND REACH THE VASUDEVA STAGE TO UNDERSTAND THE PERSONALITY OF GODHEAD KRSNA.
Note: Krsna is the benefactor of the TRUTHFUL devotee means Brahmana quality so if one WANTS to achieve Krsna then Krsna helps. Man is the architect of his fortune and misfortune so either one can accept Srila Prabhupada as DIKSA guru or refuse him this is the choice. Why did the soul come to this material world? because of iccha and the soul can also compete with the acarya Srila Prabhupada (Krsna's Representative) on equal level thus he is captured in material bondage again.
SB 3.27.20 P Understanding Material Nature
Material bondage is caused by putting oneself under the control of matter because of the false ego of lording it over material nature. Bhagavad-gita (7.27) states, iccha-dvesa-samutthena. Two kinds of propensities arise in the living entity. One propensity is iccha, which means desire to lord it over material nature or to be as great as the Supreme Lord. Everyone desires to be the greatest personality in this material world. Dvesa means "envy." When one becomes envious of Krsna, or the Supreme Personality of Godhead, one thinks, "Why should Krsna be the all and all? I'm as good as Krsna."
SB 1.2.17 T Divinity and Divine Service
srnvatam sva-kathah krsnah
punya-sravana-kirtanah
hrdy antah stho hy abhadrani
vidhunoti suhrt satam
SYNONYMS
srnvatam–those who have developed the urge to hear the message of; sva-kathah–His own words; krsnah–the Personality of Godhead; punya–virtues; sravana–hearing; kirtanah–chanting; hrdi antah sthah–within one's heart; hi–certainly; abhadrani–desire to enjoy matter; VIDHUNOTI–CLEANSES; SUHRT–BENEFACTOR; SATAM–OF THE TRUTHFUL.
TRANSLATION
Sri Krsna, the Personality of Godhead, who is the Paramatma [Supersoul] in everyone's heart and the BENEFACTOR OF THE TRUTHFUL DEVOTEE, cleanses desire for material enjoyment from the heart of the devotee who has developed the urge to hear His messages, which are in themselves virtuous when properly heard and chanted.
Note: We are fully aware of Srila Prabhupada's potency to give diksa thru his books so pretenders especially from the bogus Gaudiya camp and GBC's IS_CON camp are offenders. The offense described is maryada-vyatikrama.
SB 3.4.26 Vidura Approaches Maitreya
Sri Uddhava said: You may take lessons from the great learned sage Maitreya, who is nearby and who is worshipable for reception of transcendental knowledge. He was directly instructed by the Personality of Godhead while He was about to quit this mortal world.
PURPORT
Although one may be well versed in the transcendental science, one should be careful about the offense of maryada-vyatikrama, or impertinently surpassing a greater personality. According to scriptural injunction one should be very careful of transgressing the law of maryada-vyatikrama because by so doing one loses his duration of life, his opulence, fame and piety and the blessings of all the world. To be well versed in the transcendental science necessitates awareness of the techniques of spiritual science. Uddhava, being well aware of all these technicalities of transcendental science, advised Vidura to approach Maitreya Rsi to receive transcendental knowledge. Vidura wanted to accept Uddhava as his spiritual master, but Uddhava did not accept the post because Vidura was as old as Uddhava's father and therefore Uddhava could not accept him as his disciple, especially when Maitreya was present nearby. The rule is that in the presence of a higher personality one should not be very eager to impart instructions, even if one is competent and well versed. So Uddhava decided to send an elderly person like Vidura to Maitreya, another elderly person, but he was well versed also because he was directly instructed by the Lord while He was about to quit this mortal world. Since both Uddhava and Maitreya were directly instructed by the Lord, both had the authority to become the spiritual master of Vidura or anyone else, but Maitreya, being elderly, had the first claim to becoming the spiritual master, especially for Vidura, who was much older than Uddhava. One should not be eager to become a spiritual master cheaply for the sake of profit and fame, but should become a spiritual master only for the service of the Lord. The Lord never tolerates the impertinence of maryada-vyatikrama. One should never pass over the honor due to an elderly spiritual master in the interests of one's own personal gain and fame. Impertinence on the part of the pseudo spiritual master is very risky to progressive spiritual realization.
Note: there are two main offender classes who are envious of Srila Prabhupada's success and they want to REPLACE Srila Prabhupada with themselves as guru.
GBC voted false gurus offenders have rejected Srila Prabhupada's direct UNREVOKED order of July 9th 1977.Thus they are automatically rejected.

"ACTUALLY AMONGST MY GODBROTHERS NO ONE IS QUALIFIED TO BECOME ACARYA." These are Srila Prabhupada's own words. This means both this classes are rejected then what remains of their so called disciples!

Narayana Maharaja superficially claims to be Srila Prabhupada's siksa (Instruction) disciple but ignores Srila Prabhupada's even the most basic instruction of shaving his beard. Srila Prabhupada never approved of this and it is well known. Besides this it is also a fact that Narayana maharaja has been hunting and changing Srila Prabhupada's disciples names (reinitiation).
NARAYANA MAHARAJA AND SRIDHARA MAHARAJA INSULTED SRILA PRABHUPADA.
From the letter below one can see that history repeats itself because they are conditioned souls they ventured to initiate Srila Prabhupada's disciples. Thus, they were caught out as Srila Prabhupada clearly says of the action "SO IT IS DELIBERATE TRANSGRESSION OF VAISNAVA ETIQUETTES AND OTHERWISE A DELIBERATE INSULT TO ME. I DO NOT KNOW WHY HE HAS DONE LIKE THIS BUT NO VAISNAVA WILL APPROVE OF THIS OFFENSIVE ACTION."
68-03-26. Letter: Mukunda
In meantime, I have also received one letter which is very depressing from Hrsikesa. I understand that he has been induced by Bon Maharaja to be initiated by him for giving him shelter, and this foolish boy has accepted his inducement. This isn't very happy news, and I have replied Hrsikesa's letter in the following words, which please take note, and in the future, we shall be very cautious about them. "My Dear Hrsikesa, Please accept my blessings. I am in due receipt of your letter of March 14, 1968, and I am greatly surprised. I AM GREATLY SURPRISED FOR BON MAHARAJA'S INITIATING YOU IN SPITE OF HIS KNOWING THAT YOU ARE ALREADY INITIATED BY ME. SO IT IS DELIBERATE TRANSGRESSION OF VAISNAVA ETIQUETTES AND OTHERWISE A DELIBERATE INSULT TO ME. I DO NOT KNOW WHY HE HAS DONE LIKE THIS BUT NO VAISNAVA WILL APPROVE OF THIS OFFENSIVE ACTION. I very much appreciate your acknowledgement of my service unto you and you will always have my blessings, BUT YOU MUST KNOW THAT YOU HAVE COMMITTEE. A GREAT BLUNDER. I do not wish to discuss on this point more elaborately now, but if you are desirous to know further about it, I shall be glad to give you more enlightenment. Mukunda is not here. He has gone to L.A. Hope you are well." If Hrsikesa writes you letter I think you may avoid reply. I DO NOT APPROVE BOTH HRSIKESA'S AND BON MAHARAJA'S THIS OFFENSIVE ACTION. Hoping you are both well.
Note: In venturing to initiate Srila Prabhupada's disciples —they could not even have understood the philosophy properly. As It is clearly stated: A DEVOTEE MUST HAVE ONLY ONE INITIATING SPIRITUAL MASTER BECAUSE IN THE SCRIPTURES ACCEPTANCE OF MORE THAN ONE IS ALWAYS FORBIDDEN. For them to Initiate Srila Prabhupada's disciples they would be falling into a trap of REJECTING Srila Prabhupada as the Initiating Guru—DIRECT INSULT—committed BOTH by the so-called disciple of Srila Prabhupada and their conditioned soul guides (Narayana Maharaja or Sridhara Maharaja).
Adi 1.35 The Spiritual Masters
The expert spiritual master knows well how to engage his disciple's energy in the transcendental loving service of the Lord, and thus he engages a devotee in a specific devotional service according to his special tendency. A DEVOTEE MUST HAVE ONLY ONE INITIATING SPIRITUAL MASTER BECAUSE IN THE SCRIPTURES ACCEPTANCE OF MORE THAN ONE IS ALWAYS FORBIDDEN.
GUIDE FOR THE SRILA PRABHUPADA'S SAMADHI CEREMONY—-ONLY!!
77100R2.VRN
Prabhupada: Do you think in this stage is it possible?
Tamala Krsna: I think it would be difficult. Better that we go parikram-ing around our temple, Krsna-Balarama Mandira. That's a little easier. Don't you think that's better? If you get a little stronger, then it may be possible. That will depend on Krsna. So Krsna dasa, we should bring him here. Anyone else you want to see? NARAYANA MAHARAJA? YES. WE WENT TO SEE HIM JUST TO INQUIRE ABOUT THE NECESSARY CEREMONY, and he gave us instruction. I sent Bhakti-caru Maharaja and Bhakti-prema Maharaja, and they wrote down everything. But Narayana Maharaja was very concerned. He said he's going to try to come to see you tomorrow. That's all right, isn't it? So Krsna dasa can be called for. Anytime? Okay. He stays at Radha-kunda? We'll inquire… Does he stay at the Gaudiya Matha here?
Prabhupada: Hm.
Tamala Krsna: He does. In Vrndavana. Okay.
Prabhupada: Narayana Maharaja comes; then everything is all right.
Tamala Krsna: So if I call Narayana Maharaja, is there any need for Krsna dasa to come?
Prabhupada: He can arrange.
Tamala Krsna: Narayana Maharaja. Yes, actually he wanted to do that. He gave us instructions, but he also wanted to take part. So better I call Narayana Maharaja than Krsna dasa? Okay. I'll send a car for him tomorrow morning. He was saying he was thinking to come tomorrow, so I'll send a car and say "Prabhupada requests if it's convenient that you can come this morning." That'll be all right? Jaya Srila Prabhupada. (break)
Prabhupada: When you have come back?
Bhagavata: I just came just now, a half hour before, from America.
Upendra: And he's real skinny, Srila Prabhupada. He's skinny.
Prabhupada: Why?
Bhagavata: Because I am following caturmasya. I have reduced to 160 pounds. Before I was 260. Now I am 160.
Prabhupada: Very nice.
Bhagavata: Shall I chant?
Prabhupada: Yes. (kirtana begins) (Bengali conversation) Who is here?
Tamala Krsna: Tamala Krsna.
Prabhupada: Have kirtana. (pause) So after my passing away, these, all the temples, they should receive some money for holding utsava.
Tamala Krsna: In your honor.
Prabhupada: Yes, in the temple.
Tamala Krsna: Yes, Prabhupada.
Gurukrpa: Jaya Prabhupada.
Prabhupada: Who is he?
Tamala Krsna: Gurukrpa Swami.
Prabhupada: Go on kirtana. (kirtana begins)
Tamala Krsna: Closed? Open? (break)
Prabhupada: (Bengali)
Bhakti-caru: (Bengali) (break)
Hari-sauri: Bhavananda? Prabhupada said that somebody was saying that Bhavananda was coming.
Tamala Krsna: Yes. Bhakti-caru telegrammed to Bhavananda and Jayapataka and Satadhanya Swami to come immediately. That all right? (break)
Bhakti-caru: (Bengali)
Prabhupada: (Bengali conversation)
Tamala Krsna: He wants to see a panditaji from there. So can you get that panditaji? You want to see him tonight, Srila Prabhupada?
Prabhupada: (Bengali) And Narayana Maharaja, he'll come tomorrow?
Tamala Krsna: He'll come when we… Tonight could he come? You think that's too late?
Bhakti-caru: I think he'll come, if we go and pick him up.
Tamala Krsna: If we pick him up, he might come tonight.
Prabhupada: Hm?
Tamala Krsna: If we go just now with the car, Bhakti-caru goes just now with the car, he may come tonight, Narayana Maharaja.
Prabhupada: Hm. Go on, kirtana. (break)
Tamala Krsna: Yes, Srila Prabhupada. Shall we put a little fan on? Little bit? (break)
Prabhupada: (Bengali) (Bengali conversation with Godbrothers, followed by kirtana, Sri Rupa Manjari Pada) Where is Tamala?
Hari-sauri: Get Tamala Krsna. He's just coming, Srila Prabhupada. He's in the other room.
Prabhupada: (Bengali conversation)
Hari-sauri: Jaya Srila Prabhupada. Tamala Krsna.
Prabhupada: You have consulted with Narayana Maharaja?
Tamala Krsna: YES. THIS MORNING BHAKTI-CARU SWAMI, BHAKTI-PREMA SWAMI AND SRIDHARA SWAMI WENT TO SEE HIM, AND NARAYANA MAHARAJA DESCRIBED THE CEREMONY FOR THE DEPARTURE OF A VAISNAVA, GREAT VAISNAVA SOUL.
Narayana Maharaja: (Bengali)
Prabhupada: (Bengali) …entrance right side?
Tamala Krsna: The entrance on the left side entering… Looking towards the Deity, it's the left side. In other words, when you come into the temple it's on left side. There's a big open area. (Bengali)
Tamala Krsna: It's on the same side as the vyasasana.
Prabhupada: Ah, yes.
Tamala Krsna: Faces east.
Prabhupada: Puspa, Mayapure, flower.
Tamala Krsna: To Mayapura.
Prabhupada: (Bengali)
Narayana Maharaja: You should call me, and I will come.
Tamala Krsna: Yes. He described the entire ceremony in detail, Srila Prabhupada.
Prabhupada: So he knows. When you are ready(?), let him have it. (Bengali)
Narayana Maharaja: (Bengali) You have fulfilled all, everything. (Bengali)
Prabhupada: Don't fight amongst yourselves. I HAVE GIVEN THE EXPLANATION, MY WILL. EXECUTE LIKE THAT.
Tamala Krsna: Yes, Srila Prabhupada.
Prabhupada: And then everything will be. They'll guide. Then what there is. (Bengali) Ekadasi?
Narayana Maharaja: Ekadasi.
Prabhupada: (Bengali) (Hamsaduta chants) (end)
Note: Sometimes the sahajiyas try and CHEAT devotees to make them think Srila Prabhupada invited the Gaudiya math offenders to guide ISKCON. They MANIPULATE by using such a statement of Srila Prabhupada like "They'll guide". But –take a LOOK at the WHOLE CONTEXT. This guidance is in reference to SRILA PRABHUPADA'S SAMADHI ARRANGEMENTS CEREMONY—NOTHING MORE!
Note : if the July 9th 1977 letter was followed then the WILL would STILL BE IN FORCE.  Because Srila Prabhupada's disciples would NOT exhaust say after 100 years . But Narayan Maharaja wants to steal Srila Prabhupada's disciples and render the WILL defunct. As the July 9th 1977 letter was NEVER revoked by Srila Prabhupada and therefore ALL the disciples CONTINUE to be Srila Prabhupada's for AS LONG AS ISKCON EXISTS. WHY Narayana maharaja is completely opposed to it and even rejects it? Simple answer: Narayana maharaja wants to steal Srila Prabhupada's disciples! He has also been changing the disciples names (reinitiation) but will not admit it. VERY devious.
Srila Prabhupada's Will
The executive directors who have herein been designated are appointed for life. In the event of death or failure to act for any reason of any of the said directors, a successor director or directors may be appointed by the remaining directors, PROVIDED THE NEW DIRECTOR IS MY INITIATED DISCIPLE FOLLOWING STRICTLY ALL THE RULES AND REGULATIONS OF THE INTERNATIONAL SOCIETY FOR KRISHNA CONSCIOUSNESS AS DETAILED IN MY BOOKS, and provided that there are never less than three (3) or more than five (5) exeutive directors acting at one time.
SRILA PRABHUPADA ONLY APPOINTED NARAYANA MAHARAJA AND OTHER GAUDIYA MATHA OFFENDERS AS SAMADHI CEREMONY GUIDE—BAS! (IT APPEARS SRILA PRABHUPADA KNEW THIS IS ONE CEREMONY THEY WOULD JOYOUSLY PERFORM —BECAUSE OF THEIR ENVY TOWARDS HIM). THEY WERE JUST WAITING TO CAPTURE ISKCON.
—   OM TAT SAT  —