Free PDF Downloads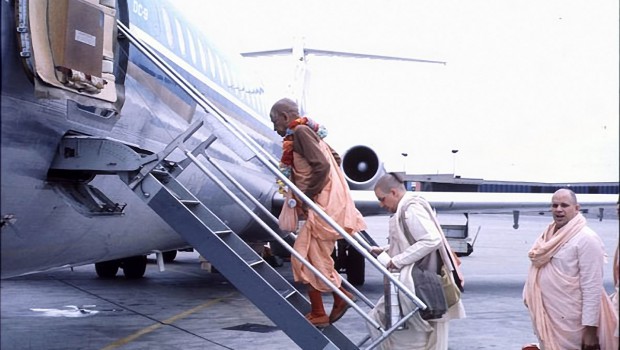 Published on March 26th, 2022 | by
29
Srila Prabhupada Lilamrta As It Is PDF Download
If you want to know me, then you must know about me from me. You can not speculate about me. [Srila Prabhupada]
The Pastimes of His Divine Grace A.C. Bhaktivedanta Swami Prabhupada.
Dear Prabhu's, please accept my humble obeisance's. All glories to Srila Prabhupada.
I have available Srila Prabhupada's AUTHORIZED AUTOBIOGRAPHY, which was
completed by the mercy of His Divine Grace on his disappearance day, the 18th of November 2001.
If you want to know me, then you must know about me from me. You can not speculate about me.
[S.P. Room Conversation with Reporter June 4, 1976, Los Angeles]
So that means, anyway, if you want to know about me, then you must know from me. That is authentic.
That is authentic. [Bhagavad-gita Lecture, 3.17-20, New York, May 27, 1966]
(Back cover)
The book is softbound, with full colour cover (inside and out). It has 400 pages of Srila Prabhupada quotes with some black and white pictures and 16 full colour plates. For more details on ordering and prices for bulk purchases see the section
ORDERING INFORMATION at the end of this e-mail.
For more information about the book please see the Contents page, Foreword and Introduction below.
Your servant Mukunda dasa.
P.S. Please put this advertisement on your web site or forward it to friends and discussion groups. Thank you.
Acknowledgements
I would like to thank Sulocana Prabhu for sacrificing his life to reveal Srila Prabhupada's previously hidden letters to everyone, along with his ownwonderful realizations in his book Guru Business. Chapter seven of your book, where you exposed the pseudo Iskcon leaders offensive biography of Srila Prabhupada's life, was such an essential service for the future of the mission.You uprooted that most poisonous weed and planted the seed for Srila Prabhupada's authentic life story, with the following words "He left us his own autobiography, as it is." I feel very fortunate to be able to hold the watering can for a short time, and help this seed grow. I pray this book helps in fulfilling the first purpose of your book. "It must be revealed to the world exactly who Srila Prabhupada is and how he has nothing whatsoever to do with the corruption going on amongst ISKCON's leaders today."; Thanks to George Harrison Prabhu for humbly assisting Srila Prabhupada in spreading the Hare Krishna Mantra throughout the world and for bringing so many souls including myself to His Divine Grace's shelter. In your passing from this world you have profoundly awakened Krishna Consciousness in the innocent public and purified the whole atmosphere which has become so polluted due to sinful activity, particularly the blasphemy of Srila Prabhupada. You are no ordinary soul, as Srila Prabhupada said "I think George does not require to become my formal disciple because he is already more than my disciple…this good boy George Harrison, we must give him all glories."; Thanks to Sanat Prabhu for risking his life, exposing thedemons crime of poisoning Srila Prabhupada and for striving for several years to wake up the false reform, so called Prabhupada followers, (Pada, Nityananda das et al) that Srila Prabhupada himself had clearly indicated he was being tortured and poisoned "unto death". He and his family have fearlessly defended Srila Prabhupada's honor, mission and his devotees, especially Mother Cow; Thanks to Mahesh Prabhu for helping me understand the importance of quoting from Srila Prabhupada in 1992 when we first met and also for lending me the pictures for this book; Thanks to Alan Lifeson for spending lots of his time teaching me the ABC's of the computer; Thanks to Mothers Gangamayee and Annada Prabhu's for generating Laxmi for this book by purchasing 2,000 original Sri Isopanisad's from us; Thanks to Sudarshan Prabhu and Karnamrta Prabhu for their kind donations; Thanks to my wife's parents Jagadish Chandra and Valli Mataji for their unknown financial help (ajnata sukrti); Thanks to Bhakta Gavin, Bhakta Steve and Mother Shelia Prabhu's for transcribing Srila Prabhupada's conversations andlectures which were not on the Veda Base. Thank you to my wife Indira devi dasi and my daughter Vrndavani devi dasi for their tolerance and support during some testing times. Jai Srila Prabhupada !!!
Contents
Foreword ………………………………………………………………………… 3
Introduction ………………………………………………………………………. 4
Adi-lila – The Early Pastimes
Srila Prabhupada's Appearance …………………………………………………… 5
Srila Prabhupada's Childhood ……………………………………………………. 11
Srila Prabhupada's Marriage ……………………………………………………… 48
Srila Prabhupada Meets Srila Bhaktisiddhanta Sarasvati Thakura ………………….. 54
Srila Prabhupada Gives Up Family Life To Take Sannyasa ………………………… 96
Madhya-lila – The Middle Pastimes
Srila Prabhupada Sets Sail For America Aboard The Jaladuta ……………………. 124
Srila Prabhupada's Early Years In America ……………………………………… 139
Srila Prabhupada The Powerful Preacher And Spiritual Master …………………… 176
Srila Prabhupada Said …………………………………………………………… 194
Antya-lila – The Final Pastimes
Srila Prabhupada's Disappearance ………………………………………………. 212
Srila Prabhupada Lives Forever ………………………………………………….. 248
Srila Prabhupada's Character And Qualities ……………………………………… 254
Srila Prabhupada's Aprakata-lila ………………………………………………… 272
Srila Prabhupada's Summary-lila ………………………………………………… 278
Appendixes …………………………………………………………………….. 341
Foreword
Dear Prabhu's, please accept my humble obeisance's.
All glories to Srila Prabhupada's
I hope that this book Srila Prabhupada Lilamrta As It Is, will bring everyone who reads it closer to our ever well-wisher His Divine Grace A.C. Bhaktivedanta Swami Prabhupada.
Due to my present situation I have only being instrumental in compiling this small book of Srila Prabhupada quotes describing his wonderful pastimes. I am sure that in the future this book will be made more complete and relishable by the addition of many more beautiful words from the lotus mouth of His Divine Grace.
The book is divided into three main sections namely Adi-lila (the early pastimes) Madhya-lila (the middle pastimes) and Antya-lila (the final pastimes) Within these three main categories are various sections and some of the quotes therein could have been used in other sections also.
In the back of the book there is a section called Srila Prabhupada's Summary-lila which contains some nice quotes wherein Srila Prabhupada gives a description of long periods of his life. I felt it was best to leave these quotes as they were and not divide them up into small sections throughout the whole book.
Srila Prabhupada's letters on the Veda Base didn't contain the diacritic marks. I have tried to correct as many words as I could but there are still many without the correct markings, sorry.
Your fallen servant Mukunda dasa. (26th September 2001)
Introduction
Dear Srila Prabhupada, please accept my fallen obeisance's at your lotus feet.
I desired to compile a book, in order to give everyone an opportunity to hear, glorify and remember some of your transcendental qualities and activities. Now you are mercifully manifesting it to me.
So offering respect to the spiritual master means to remember some of his activities. Some of his activities. Just like you offer respect to your spiritual master, namas te sarasvate deve gaura-vani-pracarine. This is the activity of your spiritual master, that he is preaching the message of Lord Caitanya Mahaprabhu and he's a disciple of Sarasvati Thakura. Namas te sarasvate. You should pronounce it sarasvate, not sarasvati. Sarasvati is the, my spiritual master. So his disciple is sarasvate. Sarasvate deve gaura-vani-pracarine. These are the activities. What is the activities of your spiritual master?
He's simply preaching the message of Lord Caitanya. That is his business. [Srimad-Bhagavatam Lecture, 1.2.2 London, August 10, 1971]

When we offer respect to the spiritual master or anyone, we glorify his transcendental qualities. That is glorification. Just like we offer respect to Krsna, glorify Him. So this is very important process, glorify the spiritual master by his activities, what he is actually doing. That is glorification. [Srimad-Bhagavatam Lecture, 1.2.3 Rome, May 27, 1974]

Thank you for allowing such an offensive person as myself to be yourinstrument. Please accept this small offering of submission to you most kind and loving will. I pray that I can always hear your message, even though I may be suffering the reactions of my sinful life in various demoniac species.
Your fallen servant Mukunda dasa. (27th of September 2001)
————————————————————-
JAYA PRABHUPADA !!  

HARE KRISHNA !!