Prabhupada Memories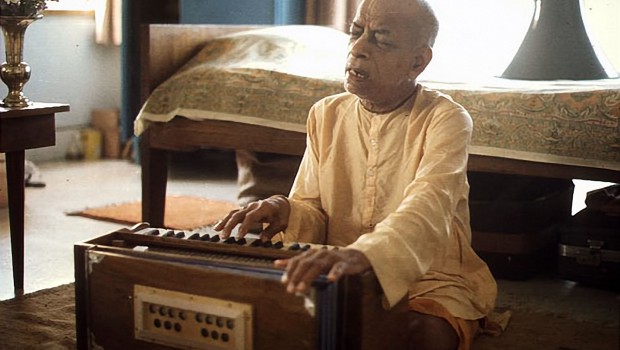 Published on August 20th, 2003 | by
1
Srila Prabhupada Vyasa-puja Offering
Over the years, our family has been struggling in your personal absence. Some of us have had difficulties and sometimes there have been harsh words spoken amongst us. In your personal presence, these things could always be resolved…
nama om visnu-padaya krsna-presthaya bhutale
srimate bhaktivedanta-swamin iti namine
namaste sarasvate deve gaura-vani-pracarine
nirvisesa-sunyavadi-pacatya-desa-tarine
om ajnana-timirandhasya jnanajnana-salakaya
caksur unmilitam yena tasmai sri-gurave namah
Dear Beloved Srila Prabhupada,
Please accept my humble obeisances in the dust of your lotus feet. All glories to Your Divine Grace.
Thank you for coming to this world to save us in spite of the tremendous difficulties and obstacles which you had to face alone, depending solely on the mercy of the Supreme Lord Krsna and your eternal spiritual master, Srila Bhaktisiddhanta Sarasvati Thakura.

You are the Supreme Personality of Servitor Godhead, freely bestowing your causeless mercy upon the unqualified and ungrateful souls of kali-yuga. I am amongst the most fallen of living entities and yet, by your unlimited compassion, you have glanced in my direction and now my life has become successful. Who can properly describe the glories of Your Divine Grace?
Thirty years have passed since the day I walked into your Los Angeles temple room and was so mercifully blessed with your divine association. Somehow or other you allowed me to join your happy family of loving devotees and it changed my life forever.

You saved me, Srila Prabhupada, and I am eternally thankful and indebted to you.
Over the years, our family has been struggling in your personal absence. Some of us have had difficulties and sometimes there have been harsh words spoken amongst us. In your personal presence, these things could always be resolved by your firm hand and loving guidance. But now we find everything more difficult.
Although I have no qualifications whatsoever, today I come before you with a humble prayer in my heart. Please help us to heal the rifts between us and to come together as a family once again at your lotus feet. There is so much service to be done in executing your blessed mission of delivering the conditioned souls in this world and therefore we need to work together in a spirit of love and co-operation to be truly effective in the way that you desired. But without your blessings, it will never come to pass. So I humbly pray at your lotus feet that you will so kindly enter our hearts and inspire us to find the ways and means of fulfilling your beautiful transcendental vision of a happy and unified world movement under your leadership and direction. Kindly help us to please you in this way.
Thank you very much, Srila Prabhupada. All glories to your lotus feet.

Your servant,
Padmapani das
http://www.prabhupadaconnect.com/