Spiritual World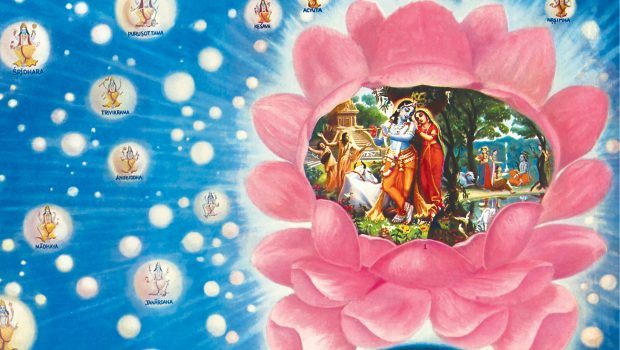 Published on February 22nd, 2017 | by Madhudvisa dasa
59
There is Another World!
There is Another World!
"Yet there is another nature, which is eternal and is transcendental to this manifested and unmanifested matter. It is supreme and is never annihilated. When all in this world is annihilated, that part remains as it is."  Bhagavad-gita (8.20)
So this is very interesting information. It means the world we find ourselves in at the moment is not the only place we can live.
There is another world that is eternal and transcendental and if we want we can go to that world and live there. It sounds like it might be a nice place to live. Bhagavad-gita (8.15) also confirms that the world we are in is not a very good place:
"After attaining Me, the great souls, who are yogis in devotion, never return to this temporary world, which is full of miseries, because they have attained the highest perfection."
Here Krishna is informing us that this eternal and transcendental world is the place
mahatmas
, great souls who have attained the highest perfection, go to. He is also informing us that this world is temporary and full of miseries. What does that mean? I thought this world was a wonderful place?
This World is Full of Miseries:
One of Krishna's most powerful energies acting in this material world is maya. Maya has two functions:
Covering our intelligence (Avaranatmika)
Pulling us down (Praksepatmika)
We will discover this material world is a miserable place, however, because maya covers our intelligence with her avaranatmika potency we accept the miserable suffering condition as enjoyable. We don't have a realistic view of the world we live in. We think it is a nice place…
A good example is the hogs or pigs. The pigs live by eating stool. And they see stool as being very delicious and they very much enjoy eating it.
But a person who is in higher consciousness can see that stool is a very nasty and obnoxious thing and that the life of the pig eating stool is miserable. But the pig is loving it. He is so happy when he finds some stool to eat. But eating stool is not happiness, we can understand that it is horrible. But because the living entity entrapped in the body of the pig has his intelligence covered by maya's avaranatmika potency he accepts something which is most obnoxious as the greatest pleasure.
Sometimes we get a little realization of the miserable and painful condition we are experiencing in the material world and we become very determined to get out of material bondage. But maya is ready with her praksepatmika potency. Maya very expertly diverts us away from our attempt to escape from her clutches and throws us back down into ignorance and impels us to remain in conditioned life satisfied by sense gratification. This works very well, as soon as I become determined, "Now, in this life, I shall make spiritual advancement. Now it is decided." Then immediately the next moment maya, or the illusory energy, says, "What nonsense spiritual life you are going to do? Just enjoy this life here. You have got so many enjoyments. Why you are thinking like that? Forget it. You have a good job, a nice girlfriend, and in the future you will get more money and a better job…"

So this is the position. Everyone is thinking they are very happy. This is maya's influence. Unless a hog feels happy, how he can live in this abominable life? This is called praksepatmika-sakti, covering. If a man knows that "I was king in my previous life. Now I have become a poor unemployed person," then he will become mad. So therefore he forgets.
You can test it, as soon as you start to become a little serious about becoming Krishna conscious maya will dictate to you, "Oh, why you trying to become Krishna conscious? There are so many restrictions and so rules and regulations. Better give it up." Then your mind will confirm, "Why, yes, what is this nonsense? Give it up." This is called prakṣepātmikā. Maya is dragging us down. Because the more one is sinful, the more one is miscreant, the more one is the lowest of the mankind, he, maya will not allow: "Oh, why this rascal is here? He must suffer more…" That is maya's business. Thankless business. Just like police. Police is nobody's enemy, but when they find a criminal, they punish him, they put him in the jail and beat him with a rod. That is the business of maya, thankless. Nobody will thank the police. When police beats, nobody will say, "Thank you very much." No. Nobody is happy. Similarly, maya's business is very thankless task, but she is engaged by the supreme authority to punish us.
We are Criminals being Punished:
So this world is not at all what it appears to be to us… Our dreams for the future, our hopes of finding our soul mate and enjoying endless bliss here are all illusions put into our minds by maya. Actually this world is a prison, we are criminals and we have been put here to suffer. If you can realize this world is not a nice place, that it is a prison, then that is the beginning of your determination to make advancement in Krishna consciousness. The thing is most people in this prison of the material world have no idea they are in prison, no idea they are suffering, they think they are happy and never even dream of trying to escape and don't even have any idea there is another world they can escape to, and there they can enjoy an eternally youthful life with full knowledge and ever-increasing transcendental bliss…
The hog is very happy wallowing in the mud and eating stool and having sex with the other hogs. Although his actual condition of life is obnoxious and we can see that, to him he is very happy. Even if you offer the hog better food he will prefer to eat stool. He likes it… His condition of life is very horrible actually, in reality he is suffering, but because of maya's praksepatmika-sakti covering he accepts his miserable condition of life as happiness…
The material world we are in is a prison.
We are all criminals because we are in prison an in the prison you only find criminals. Although we think this universe is very large actually it is tiny. The entire material world consisting of unlimited universes is just a small fraction of the total energy of Krishna. As we find in our experience there is a prison and there is some population of criminals in the prison, still it is only a small percentage of the total population in the prison. The majority of the population are law-abiding citizens and will never be put into the prison. So there is a spiritual world, that is where the good citizens are, and there is the material world, where we are, and that is the prison where the criminals are… But there are not many of us criminals, the vast majority of the living entities are in the spiritual world. It is only us, the criminals, who are forced to come here to the material world, and we are here to be punished and ultimately reformed.
The idea of a prison is you send the criminals there and they are punished and reformed and then released back into the society where they hopefully become honest law-abiding citizens. So that is the purpose of this material world:

"After many births and deaths, he who is actually in knowledge surrenders unto Me, knowing Me to be the cause of all causes and all that is. Such a great soul is very rare." (Bg. 7.19)

From the highest planet in the material world down to the lowest, all are places of misery wherein repeated birth and death take place. But one who attains to My abode, O son of Kuntī, never takes birth again. (Bg. 8.16)
So please try to understand these ideas and if you have any questions or comments please post a question or comment on this article.