Book Changes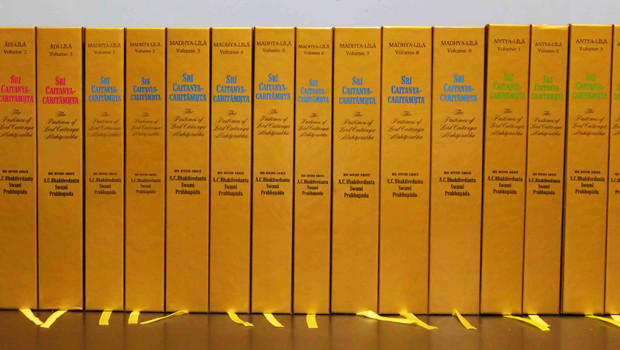 Published on January 24th, 2022 | by Madhudvisa dasa
4
More Accurate Sri Caitanya-caritamrta List of Changes
A complete comparison of the 1975 original edition of Srila Prabhupada's Sri Caitanya-caritamrta with the new ISKCON/BBT revised edition highlighting all the changes.
We have updated our comparison of Srila Prabhupada's original Sri Caitanya-caritamrta and the revised edition currently printed by the Bhaktivedanta Book Trust. BBT have also made MANY more changes which appear in the current version [2014.1] of the Bhaktivedanta Archives Vedabase.
The "Original Caitanya-caritamrta" as found in the Bhaktivedanta Archives Folio 2003 on close inspection includes many changes, it is not really the original Caitanya-caritamrta. So we have updated this comparison using a verified version of Srila Prabhupada's original 1975 Sri Caiatnya-caritamrta. While we can not guarantee everything completely 100% it is much closer to the original printed books than what we had before.
We have also done a comparison from the Caitanya-caritamrta found in the 2003 Vedabase [which is hopefully close to the current 9 Volume BBT printed Sri Caitanya-caritamrta] and the version of Caitanya-caritamrta found in the 2014.1 Vedabase. From this you can see that the BBT are constantly editing Prabhupada's books and the next printing of Caitanya-caritamrta will again be different.
This is taken from www.BookChanges.com
Comparison of Original Sri Caitanya-caritamrta with BBT 9 Volume Edition and Vedabase 2014.1 Edition
Introduction: Introduction (2003-2014)
Sri Caitanya-caritamrta Adi-lila
Adi 1: The Spiritual Masters (2003-2014)
Adi 2: Sri Caitanya Mahaprabhu Is the Supreme Personality of Godhead (2003-2014)
Adi 3: The External Reasons for Lord Caitanya's Appearance (2003-2014)
Adi 4: The Confidential Reasons for Lord Caitanya's Appearance (2003-2014)
Adi 5: The Glories of Lord Nityananda Balarama (2003-2014)
Adi 6: The Glories of Sri Advaita Acarya (2003-2014)
Adi 7: Lord Caitanya in Five Features (2003-2014)
Adi 8: The Author Receives the Orders of Krsna and Guru (2003-2014)
Adi 9: The Tree of Devotional Service (2003-2014)
Adi 10: The Trunk, Branches and Subbranches of the Caitanya Tree (2003-2014)
Adi 11: The Expansions of Lord Nityananda (2003-2014)
Adi 12: The Expansions of Advaita Acarya and Gadadhara Pandita (2003-2014)
Adi 13: The Advent of Lord Sri Caitanya Mahaprabhu (2003-2014 [same])
Adi 14: Lord Caitanya's Childhood Pastimes (2003-2014)
Adi 15: The Lord's Pauganda-lila (2003-2014 [same])
Adi 16: The Pastimes of the Lord in His Childhood and Youth (2003-2014)
Adi 17: The Pastimes of Lord Caitanya Mahaprabhu in His Youth (2003-2014)
Sri Caitanya-caritamrta Madhya-lila
Madhya 1: The Later Pastimes of Lord Sri Caitanya Mahaprabhu (2003-2014)
Madhya 2: The Ecstatic Manifestations of Lord Sri Caitanya Mahaprabhu (2003-2014)
Madhya 3: Lord Sri Caitanya Mahaprabhu's Stay at the House of Advaita Acarya (2003-2014)
Madhya 4: Sri Madhavendra Puri's Devotional Service (2003-2014)
Madhya 5: The Activities of Saksi-gopala (2003-2014)
Madhya 6: The Liberation of Sarvabhauma Bhattacarya (2003-2014)
Madhya 7: The Lord's Tour of South India (2003-2014)
Madhya 8: Talks Between Sri Caitanya Mahaprabhu and Ramananda Raya (2003-2014)
Madhya 9: Lord Sri Caitanya Mahaprabhu's Travels to the Holy Places (2003-2014)
Madhya 10: The Lord's Return to Jagannatha Puri (2003-2014)
Madhya 11: The Beda-kirtana Pastimes of Sri Caitanya Mahaprabhu (2003-2014)
Madhya 12: The Cleansing of the Gundica Temple (2003-2014)
Madhya 13: The Ecstatic Dancing of the Lord at Ratha-yatra (2003-2014)
Madhya 14: Performance of the Vrndavana Pastimes (2003-2014)
Madhya 15: The Lord Accepts Prasada at the House of Sarvabhauma Bhattacarya (2003-2014)
Madhya 16: The Lord's Attempt to Go to Vrndavana (2003-2014)
Madhya 17: The Lord Travels to Vrndavana (2003-2014)
Madhya 18: Lord Sri Caitanya Mahaprabhu's Visit to Sri Vrndavana (2003-2014)
Madhya 19: Lord Sri Caitanya Mahaprabhu Instructs Srila Rupa Gosvami (2003-2014)
Madhya 20: Lord Sri Caitanya Mahaprabhu Instructs Sanatana Gosvami in the Science (2003-2014)
Madhya 21: The Opulence and Sweetness of Lord Sri Krsna (2003-2014)
Madhya 22: The Process of Devotional Service (2003-2014)
Madhya 23: Life's Ultimate Goal–Love of Godhead (2003-2014)
Madhya 24: The Sixty-One Explanations of the Atmarama Verse (2003-2014)
Madhya 25: How All the Residents of Varanasi Became Vaisnavas (2003-2014)
Sri Caitanya-caritamrta Antya-lila
Antya 1: Srila Rupa Gosvami's Second Meeting With the Lord (2003-2014)
Antya 2: The Chastisement of Junior Haridasa (2003-2014)
Antya 3: The Glories of Srila Haridasa Thakura (2003-2014)
Antya 4: Sanatana Gosvami Visits the Lord at Jagannatha Puri (2003-2014)
Antya 5: How Pradyumna Misra Received Instructions from Ramananda Raya (2003-2014)
Antya 6: The Meeting of Sri Caitanya Mahaprabhu and Raghunatha dasa Gosvami (2003-2014)
Antya 7: The Meeting of Sri Caitanya Mahaprabhu and Vallabha Bhatta (2003-2014)
Antya 8: Ramacandra Puri Criticizes the Lord (2003-2014 [same])
Antya 9: The Deliverance of Gopinatha Pattanayaka (2003-2014)
Antya 10: Sri Caitanya Mahaprabhu Accepts Prasada from the Devotees (2003-2014)
Antya 11: The Passing of Haridasa Thakura (2003-2014)
Antya 12: The Loving Dealings Between Lord Sri Caitanya Mahaprabhu and Jagadananda (2003-2014)
Antya 13: Pastimes with Jagadananda Pandita and Raghunatha Bhatta Gosvami (2003-2014)
Antya 14: Lord Sri Caitanya Mahaprabhu's Feelings of Separation from Krsna (2003-2014 [same])
Antya 15: The Transcendental Madness of Lord Sri Caitanya Mahaprabhu (2003-2014)
Antya 16: Lord Sri Caitanya Mahaprabhu Tastes Nectar from the Lips of Lord Sri Krsna (2003-2014)
Antya 17: The Bodily Transformations of Lord Sri Caitanya Mahaprabhu (2003-2014 [same])
Antya 18: Rescuing the Lord from the Sea (2003-2014 [same])
Antya 19: The Inconceivable Behavior of Lord Sri Caitanya Mahaprabhu (2003-2014)
Antya 20: The Siksastaka Prayers (2003-2014)