Books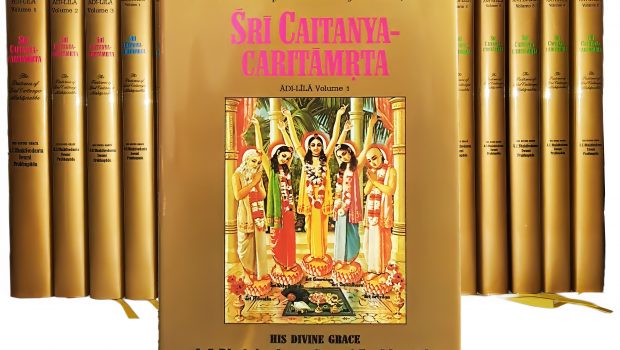 Published on August 3rd, 2023 | by Madhudvisa dasa
0
Original Caitanya-caritamrta Set — NOW WITH DUSTJACKETS!!
Sri Caitanya-caritamrta 17 volume original set is now back in stock at KrishnaStore.com and this new printing includes the original Dust Jackets. Also new printing is on better quality paper than the previous printing.
Srila Prabhupada's original Caitanya-caritamrta set has been out of stock for some time now, and many devotees have been anxiously asking when it will be available again. So it is available now and it is a limited printing so I strongly suggest you consider ordering your copy now at  KrishnaStore.com.
The new Caitanya-caritamrta set is the same size as before (5.8″ x 8.3″ inches A5) and due to the better paper the books are a little thinner than the previous printing.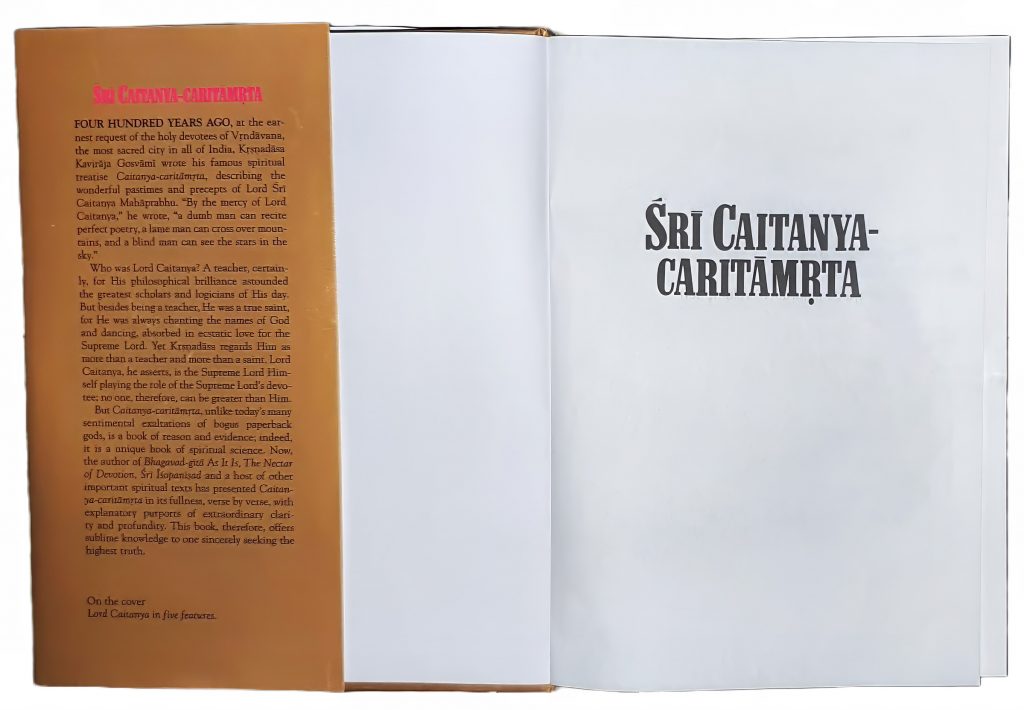 Exact Reproduction of Original Books
This 17 volume Caitanya-caritamrta set is an exact replica of the first printing by Srila Prabhupdada in 1974-1975. All original color plates are included.
Now it includes the original dustjackets, which are also exact replicas of Srila Prabhupada's original dustjackets.
The cover, underneath the dustjacket, also has the printed cover on it.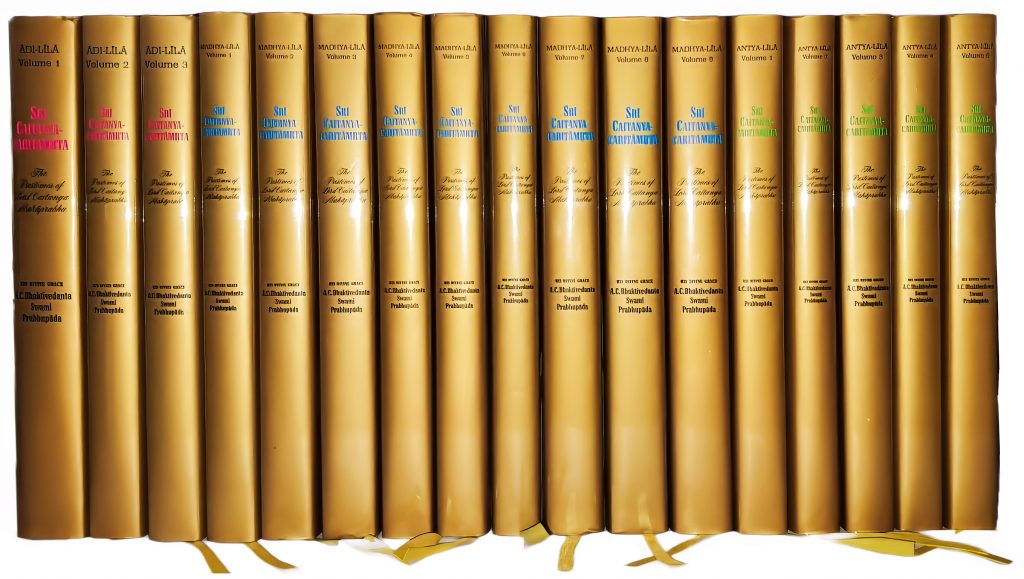 DON'T MISS OUT THIS TIME!!

Sri Caitanya-caritamrta is the principal work on the life and teachings of Sri Krishna Caitanya, the Supreme Personality of Godhead appearing as His own devotee. He was the pioneer of a great social and religious movement beginning in India about 500 years ago that has directly and indirectly influenced the course of religious and philosophical thinking throughout the world.
While the west was exploring the physical world, in India Sri Krishna Caitanya was exploring inward, exhibiting unparalleled spiritual potency, and discovering the truths of consciousness and transcendental reality.
As a young boy Sri Caitanya overwhelmed and astounded scholars, establishing His own school at the age of sixteen. Within His lifetime He transformed India in four respects: philosophically, by defeating the greatest philosophers of His day; socially, by opposing the blindly rigid caste system; politically, by organizing India's first civil disobedience movement against repression by the Mohammedan government; and spiritually, by freely distributing nonsectarian love of God. Sri Caitanya-caritamrta presents Sri Caitanya as the Golden Avatar, the incarnation of Krishna in this age in the form of His devotee.
Lord Chaitanya introduced the chanting of the holy names of God as the prescribed method of God-realization for our time. He began what is today called the Hare Krishna movement, since the movement's founder, Srila Prabhupada, comes in the Chaitanya line of spiritual masters.
This English translation with commentary, by His Divine Grace A.C. Bhaktivedanta Swami Prabhupada, reveals his consummate Bengali and Sanskrit scholarship, his intimate familiarity with the precepts of Sri Chaitanya, and his pure devotion to God.
This Caitanya-caritamrta set is an exact replica of the first printing by Bhaktivedanta Book Trust in 1974-1975. All original color plates are included.