Book Distribution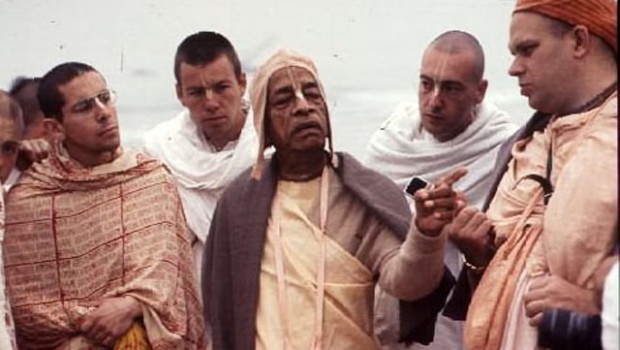 Published on July 21st, 2022 | by Madhudvisa dasa
6
BBT Manager Ramesvara dasa 1981 Interview
What follows is a very important unpublished interview with Ramesvara Prabhu (Swami at that time) and Baladev Vidyabusana Prabhu for the Lilamrita recorded sometime in 1981.
This interview covers a period of years when Ramesvara was traveling with Srila Prabhupada and when he was working as the Manager of the Bhaktivedanta Book Trust. What we read now after all these years would have helped solve some of the burning questions that have plagued our society. Recently this interview was uncovered by accident and leaked from the 'top secret' files buried in the archives.
Click Here to open / download the PDF file
The following are direct instructions taken from Ramesvara's original words from the direct scans of the interview transcript so there is no question of adulterations or manipulating when Srila Prabhupada gave those important instructions. Unfortunately the tapes were destroyed in Gita Nagari when many important documents were mysteriously burnt in a fire. Now all that information is gone for good; but fortunately this copy was made and buried in the archives with the title 'DON'T DISTRIBUTE'. Many instructions were never entered into the Lilamrita because of their heavy and controversial content. Why didn't these instructions make the Lilamrita? Many of these lost instructions concerning important topics like; initiation, diksa, changing the books and making alterations to what is sacred and absolute in Srila Prabhupada's writings have never seen the light of day.
By an accidental fluke this interview is now seen here in spite of the cover-up by Ramesvara Prabhu. Please remember all the wonderful service done by this devotee who was the spirit and backbone of Srila Prabhupada' s book distribution, Ramesvara's glories will always be sung, but this cover-up cannot be tolerated. Why did Srila Prabhupada say; "DON'T CHANGE EVEN ONE COMA?"
Of course many of the devotees to be affected by this new discovery will try and invalidate this document and even Ramesvara Prabhu may try and do the same but the original scans are the actual pages of his interview — so where is the question of authenticity?
To all the devotees and followers of Srila Prabhupada let this information now reach across the world and never let there be another change in what is sacred and absolute. If Srila Prabhupada felt so strongly about his spiritual master's writings the same etiquette and caution must be insured for all the writings and talks given by Srila Prabhupada. Without question the world is being dealt a great harm if these sacred texts are changed in anyway. Even Srila Prabhupada's original three volumes are sweet and charming as Srila Prabhupada started to write in English. Why try and spoil the law-books for the next 10,000 years?
All glories to Srila Prabhupada.
Click Here to open / download the PDF file