Prabhupada Memories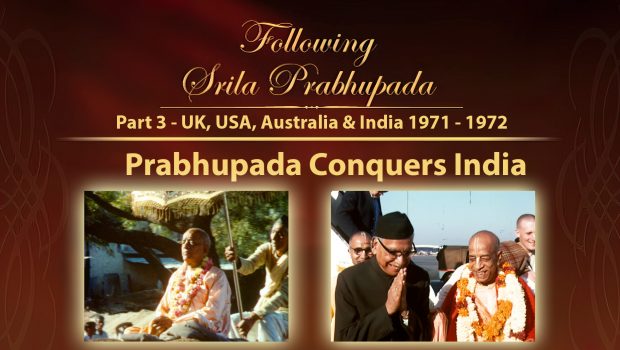 Prabhupada Conquers India in 1971-1972 — Following Srila Prabhupada Part 3 — 1080p
Srila Prabhuapda returned to India to reestablish Krishna consciousness there. Although he was still traveling the world and preaching visiting many countries including the United States, England and Australia, he spent most of his time in India.
Within 12 months Prabhupada arranged a number of very successful pandal preaching programs to introduce Krishna conscious to the public in big cities like Bombay and Delhi and he was also able to secure the land for three major Indian temple projects: Hare Krishna Land at Juhu Beach near Bombay, the site for the Krishna Balaram Mandir in the Raman Reti area of Vrindavan, and the site for ISKCON's world headquarters in Sridhama Mayapur.
During this time Srila Prabhupada solidly established these three big Indian Temple projects and performed cornerstone laying ceremonies and even installed big marble deities in Bombay, before he even secured the title for the property.
This third part of Following Srila Prabhupada covers the twelve month period between the middle of 1971 and the middle on 1972, and you will be astonished to see how much Srila Prabhupada established, particularly in India, during this period.
This twelve months is certainly the time in which Srila Prabhupada conquered India however, that was not all that he achieved during this time.
Prabhupada also went on a world-tour,  convincing George Harrison to donate Bhaktivedanta Manor in Lechmore Heath outside London, and in Following Srila Prabhupada Part 3 we see Srila Prabhuapda and George Harrison inspecting the Bhaktivedanta Manor property.
Srila Prabhupada also attended the San Francisco Ratha-yatra festival and went to Sydney, Australia carrying the deities of Sri Sri Radha Gopinatha and installed Them in Sydney. So many achievements in just twelve months and a lot of it recorded on film.
This is an amazing collection of rare film footage of Srila Prabhupada now stunningly restored and presented in brilliant 1080p HD format using state-of-the-art AI image processing technology.
Please watch it at:
you will be very glad you did.