Deity Worship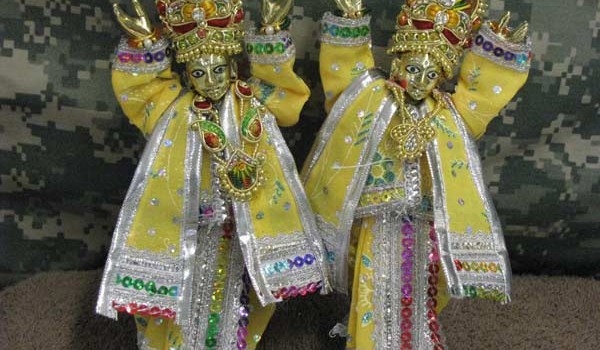 Published on July 24th, 2022 | by Madhudvisa dasa
274
The Mystery of Deity Worship
Many people can not understand why devotees worship Krishna in the form of the Deity. The Deity worship process is very mysterious. It is Krishna's mercy for His devotees. Krishna agrees to appear in a form the devotees can see and serve with their material senses. A very advanced devotee can see Krishna and Krishna's energy working everywhere. He sees everything in relation to Krishna. But in the beginning this spiritual vision is not possible. We can not see Krishna's spiritual form with our material eyes. But by Krishna's mercy He agrees to take the form of what appears to us to be stone or metal, but as we serve this form of Krishna we realize it is not at all stone or metal but it is Krishna…
Anyone who visits a nicely maintained temple where the Deities of Radha and Krishna are being regularly served by sincere devotees will feel something very special. They will see Krishna and will appreciate that "Krishna is very beautiful." And this is the beginning of their spiritual life. And this way, although they do not have the spiritual vision to see Krishna everywhere, they can see Krishna in the temple and that is Krishna's mercy on them.
The only way to transfer our attention from the dazzeling and distracting allurements of maya in the material world like the cinemas and television and sex-songs broadcast everywhere is to engage very seriously in the process of Deity worship:
"Only attention engaged in the service of the Lord, especially in dressing and decorating the temple, accompanied by musical kirtana and spiritual instructions from scriptures, can save the common man from the hellish cinema attractions and rubbish sex-songs broadcast everywhere by radios. If one is unable to maintain a temple at home, he should go to another's temple where all the above performances are regularly executed. Visiting the temple of a devotee and looking at the profusely decorated forms of the Lord well dressed in a well-decorated, sanctified temple naturally infuse the mundane mind with spiritual inspiration." (Srimad-Bhagavatam 2.3.22 Purport Pure Devotional Service: The Change in Heart)
The whole world has been poisoned with the impersonal concept of the Supreme. So these days even if someone believes in God it is very unlikely that he realizes that God is a person.
Krishna is the Supreme Person, so in every way He is unlimited, we are also persons, like Krishna, however we are limited in every respect. That is the difference between us, the tiny limited living entities, and Krishna, the unlimited Supreme Personality of Godhead. The example is sometimes given of the drop of ocean water and the entire ocean. Although clearly one can not say the drop of ocean water is equal to the ocean, the ocean is vast and the drop is tiny, still in quality the drop of ocean watera is the same as the entire ocean. If you analyze the drop of the ocean you will find it to be salty. So then it is correct for you to assume that the entire ocean is also salty. Because even though the drop is very small, it is made from the same substance as the entire ocean, so it shares the qualities of the ocean, but it is very limited whereas the ocean is practically unlimited.
Everything we have within ourselves is a limited representation of what Krishna has but it  has been pervertedly reflected in this material world. So as we have individuality and a personality, Krishna also has individuality and a personality. As we have likes and dislikes, Krishna also has likes and dislikes. As we have feelings, Krishna also has feelings. However all these things are manifest in us in a perverted way because we are in the material world covered by these material bodies made of the three modes of material nature [goodness, passion and ignorance]. These three modes of material nature distort and pervert our original spiritual vision and feelings.
Here in the material world our original pure love for Krishna becomes perverted and instead becomes manifest as lust for sex life. So in the material world this perverted reflection of pure love for Krishna causes us so much suffering and distress, but its existence proves that there must be something original and pure in the spiritual world that this perverted sex desire is a reflection of. That original love is our eternal love for Krishna.
So the idea of installing the Deity of Krishna and worshiping Him is to gradually reawaken this dormant love for Krishna which is within our hearts and which is the thing we are all actually looking for and hankering after.
It is impossible to fall in love with someone if we do not know them first. First the boy has to meet the girl, then there is some chance that they can fall in love. Similarly with Krishna, if we are going to fall in love with Krishna we have to meet Him first. And it is only through Deity worship that we can meet Krishna.
Understanding we have become so conditioned by the material energy that we can not see the spiritual energy at all by His mercy Krishna has agreed to appear for us in a form that we can see and serve with our material eyes and material senses. Although Krishna is everywhere, He is even present within every atom, still, with our materially contaminated eyes, we can not see Krishna everywhere. So Krishna agrees to appear by the request of His pure devotee in a form that to us apparently appears to be made of stone or metal or wood.
By the mercy of Krishna and the grace of Krishna's pure devotee, Krishna agrees to enter into the Deity or murti form and the Deity becomes Krishna. This is a little hard to understand intellectually. But it can be practically realized by devotees who engage in service to Krishna in His deity form.
As we serve Krishna more and more gradually we will see that the deity is not a marble statue at all. At some point we will have the practical realization that "Here is Krishna." Krishna will reciprocate with us. Krishna will smile when He is happy, and He will frown when He is not happy with is. Krishna will talk to us. And we will be able to talk to Krishna.
So Krishna appears in the form of the Deity and is very happy to accept service from us and as we serve Him more and more gradually He reveals His true spiritual form and nature to us. And gradually our original eternal love for Krishna reawakens.
In this material world almost all of us are completely contaminated by the impersonal ideas or philosophy. We have no idea or conception of the "Personality of Godhead," even though we may consider ourselves very saintly or religious persons, or even very advanced devotees. However if we seriously take up the process of deity worship under the direction of the bona fide authorities in the disciplic succession then we will begin to serve the deity as a person, and gradually we will realize the deity is Krishna, and Krishna is a person…
As part of the deity worship process we will wake the Lord early in the morning and bathe Him, dress Him, cook nice food and offer it to Him for His pleasure. As we serve the Lord in this way, as a person, and perform sankirtan [the congregational chanting of the holy names of the Lord] in front of the Deities, gradually we will come to realize practically that Krishna, God, is a person, and it is our business to spend our time and energy serving Him.
This practical realization that "Krishna is a person" is very difficult to realize by any process other than Deity worship. That is why Deity worship is so essential for every devotee.
"Especially for the householder devotees, the path of Deity worship is strongly recommended. As far as possible, every householder, by the direction of the spiritual master, must install the Deity of Visnu, forms like Radha-Krsna, Laksmi-Narayana or Sita-Rama especially, or any other form of the Lord, like Nrsimha, Varaha, Gaura-Nitai, Matsya, Kurma, salagrama-sila and many other forms of Visnu, like Trivikrama, Kesava, Acyuta, Vasudeva, Narayana and Damodara, as recommended in the Vaisnava-tantras or Puranas, and one's family should worship strictly following the directions and regulations of arcana-vidhi.
"Any member of the family who is above twelve years of age should be initiated by a bona fide spiritual master, and all the members of the household should be engaged in the daily service of the Lord, beginning from morning (4 a.m.) till night (10 p.m.) by performing mangala-aratrika, niranjana, arcana, puja, kirtana, srngara, bhoga-vaikali, sandhya-aratrika, patha, bhoga (at night), sayana-aratrika, etc.
"Engagement in such worship of the Deity, under the direction of a bona fide spiritual master, will greatly help the householders to purify their very existence and make rapid progress in spiritual knowledge. Simple theoretical book knowledge is not sufficient for a neophyte devotee. Book knowledge is theoretical, whereas the arcana process is practical. Spiritual knowledge must be developed by a combination of theoretical and practical knowledge, and that is the guaranteed way for attainment of spiritual perfection." (Srimad-Bhagavatam 2.3.22 Purport Pure Devotional Service: The Change in Heart)
Sometimes devotees are afraid to woship the Deity, thinking that they have so many material desires and they are not qualified to worship the deity. This is a mistake. Having material desires does not at all disqualify one from worshipping the Deity.
"It is not a fact that those who have material desires are prohibited from worshiping the Supreme Personality of Godhead. This is the essential instruction from the life of Dhruva. He frankly admitted that his heart was full of material desires. He was very much affected by the cruel words of his stepmother, whereas those who are spiritually advanced do not care about anyone's condemnation or adoration…
"The question raised here is whether or not a person afflicted by material desires is fit to worship the Supreme Personality of Godhead. The answer is that everyone is fit to worship Him. Even if one has many material desires to fulfill, he should take to Krsna consciousness and worship the Supreme Lord Krsna, who is so merciful that He fulfills everyone's desires. No one is barred from worshiping the Supreme Personality of Godhead, even if one has many material desires." (Srimad-Bhagavatam 4.8.35 Purport)
So I am encouraging everyone, particularly those who are living with their families, to install the deity of Krishna in the form of Radha-Krishna or Gaura Nitai [Lord Caitanya and Lord Nityananda who are Krishna and Balaram in a very merciful and easy to worship form] and with their family members worship Them and accept Them as the Lord and Master of the house.
Let one remain what he is; he need only install the Deity of the Supreme Lord in his house. The Deity may be Radha-Krsna or Laksmi-Narayana (there are many other forms of the Lord). In this way a brahmana, ksatriya, vaisya or sudra can worship the Deity with the results of his honest labor. Regardless of one's occupational duty, one should adopt the devotional means of hearing, chanting, remembering, worshiping, offering everything to the Lord and engaging in His service. In this way one can very easily engage himself in the service of the Lord. When the Lord is pleased with one's service, one's mission in life is fulfilled. (Srimad-Bhagavatam 4.20.9 Purport)
"When the fruits of one's activities are rendered to the service of the Lord, one is actually practicing karma-yoga. Anyone can practice karma-yoga, but it is especially easy for the householder, who can install the Deity of the Lord in the home and worship Him according to the methods of bhakti-yoga. This method includes nine items: hearing, chanting, remembering, serving, worshiping the Deity, praying, carrying out orders, serving Krsna as friend and sacrificing everything for Him.
"In one's home or in a temple, the Deity is considered the proprietor of everything, and everyone is considered the Deity's eternal servant. The Lord is transcendental, for He is not part of this material creation." (Srimad-Bhagavatam 4.22.51 Purport)
As you know I am running www.KrishnaStore.com and my mission there is to provide devotees with everything they need to practice Krishna consciousness in their homes. So seeing the importance of deity worship we now have a selection of Radha-Krishna, Gaura-Nitai and Jagannatha deities available at:
http://krishnastore.com/other-items-deities-om-21_39_45_22_69_71.html
Also we are getting a good collection of items that are necessary for use in deity worship at:
http://krishnastore.com/other-items-deity-worship-om-21_39_45_22_69_70.html
We can supply practically everything necessary for deity worship but not all items are listed on the website at the moment. So if you require something but do not see it listed on the website please write to me and I can arrange to get it for you.