Preaching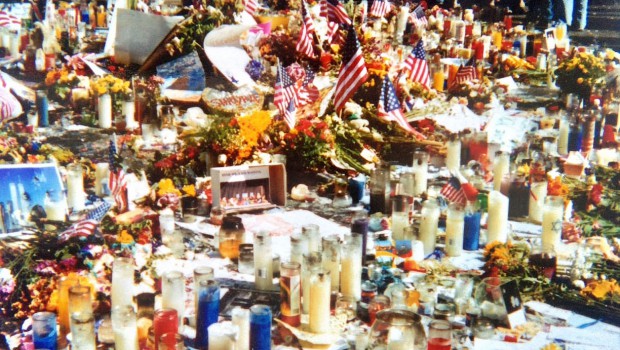 Union Square New York City: The 911 Peace Vigil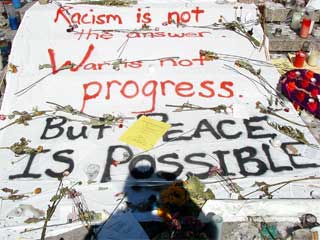 On Wednesday evening, a group of devotees led by Brahmabhuta Prabhu sat down in Union Square Park in New York City and prepared to chant the Holy Name of Lord Sri Krishna to relieve thousands of grieving citizens of their painful loss and lamentation. The park was filled with thousands and thousands of candles lit in memory of those missing at ground zero of the World Trade Center disaster. As we
Our audience appeared to us to be struck with wonder. They looked stunned, many of them at the point of tears, seeing devotees chanting so prayerfully and with such genuine devotion for the Supreme Lord. People were trying to chant along with us and a few came and sat down beside us for an hour or so which inspired the devotees to chant with even more enthusiasm.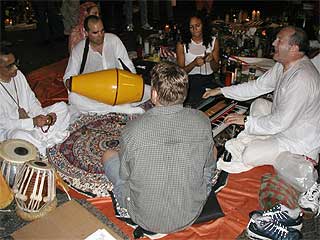 Friends of the devotees were helping to distribute halava prepared by Mother Vani and bakery-made doughnuts donated by the Doughnut Plant. Nearly 400 copies of the Peace Formula were handed out and many books were sold to onlookers who could be seen discussing the philosophy of Krishna consciousness amongst themselves.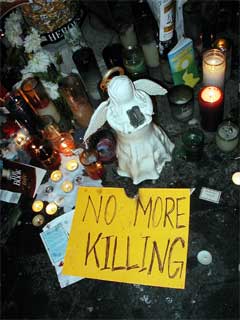 TV camera crews were there from all over the world to film the candlelight memorial and our bhajana group quickly became the focus of their attention. Individuals from many different countries also made videos of the chanting party and then spoke with devotees about how wonderful they thought it was that we had come there to cheer people up. Actually our purpose was to please Krishna, and when Krishna is pleased, the whole world becomes joyful.
For the time being on Wednesday and Saturday nights at 6:00 PM we will be returning to the same spot with harmonium, mrdanga and karatals instead of going to Times Square. It is a different mood, and we feel that the impression we can make at Union Square is more profound. On Wednesday evening, we could feel that people's lives were being transformed by the influence of the Holy Name. All of us were thus convinced that chanting congregationally for the benefit of the innocent public is the highest welfare work and the prime benediction for mankind.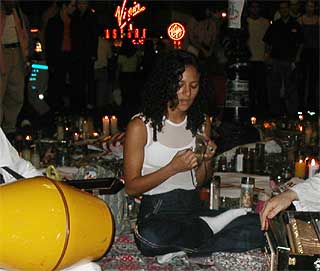 Your servant, Locanananda dasa
Glory to the Sri Krsna Sankirtana, which cleanses the heart of all the dust accumulated for years together. Thus the fire of conditional life, of repeated birth and death, is extinguished. This sankirtana movement is the prime benediction for humanity at large because it spreads the rays of the benediction moon. It is the life of all transcendental knowledge, it increases the ocean of transcendental bliss, and it helps us to have a taste of the full nectar for which we are always anxious.