Vegetarianism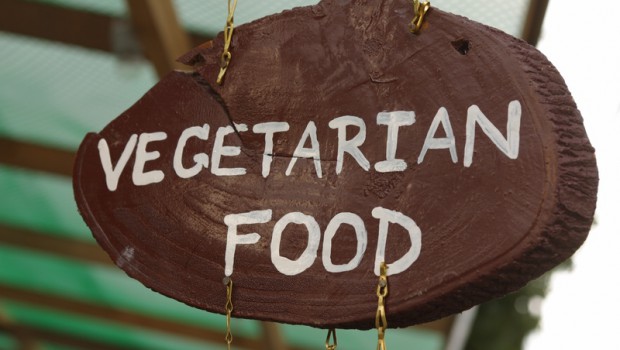 Vegetarian Cooking – How to Cook Delicious Vegetarian Meals
Making Vegetarianism Work for You
If one is new to the vegetarian way, and they are used to cooking with a lot of meat, it may be a little bit challenging to make nice, satisfying, wholesome meals, suitable for a vegetarian diet.
One way to make it work is to understand how to make wholesome meals which can meet all of your nutritional needs. There are many delicious varieties of combinations of foods to do this.
Some of my personal favorites are Rice & Dahl with vegetables such as a Subji and/or a salad. Chapatis are a wonderful addition to this combination. Some veggie-burger sandwiches are a wonderful treat, as well. Pasta with panir/cheese or tofu in a tomato sauce, with a large salad is another wholesome favorite. There are many possibilities for delicious and wholesome vegetarian meals.
To make eating like a vegetarian work for you, a book of recipes could help a lot. There are many expert vegetarian cooks in the Hare Krishna Movement. Some of them have compiled cookbooks of some of their favorite recipes.
Books on Vegetarian Cooking
One vegetarian cooking book popular among people in the Hare Krishna movement is The Hare Krishna Book of Vegetarian Cooking, by Adiraja Dasa.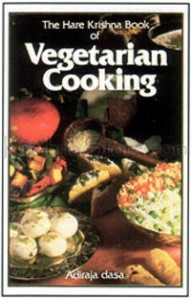 This book covers topics including utensils, combining dishes in menu-planning, and preparing, offering and eating an Indian meal. Then comes the recipes for over 120 delicious preparations, including the wonderful "Paneer sak" (steamed spinach with fresh panir/cheese). The recipes are carefully chosen by some of the excellent cooks of the Hare Krishna movement. They are diverse and relatively easy to prepare.
The Preface is written by the actress Hayley Mills.
Another book about vegetarianism is The Higher Taste Vegetarian Cookbook, A Guide to Gourmet Vegetarian Cooking and a Karma-free Diet, by disciples of A.C. Bhaktivedanta Swami Prabhupada.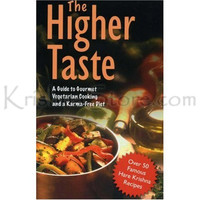 The Higher Taste is a great introduction to the philosophy and practice of vegetarianism, Hare Krishna style. It lets the reader discover the health and economic advantages, as well as the important ethical and spiritual considerations, of a Krishna conscious approach to diet and nutrition.
This book covers more than 50 recipes organized into 9 delicious meals from Italy, India, China, France, Mexico, and The Middle East.
Another famous vegetarian cook book is Quick Vegetarian Dishes, by the renowned Hare Krishna chef, Kurma Das.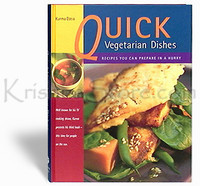 "The message of Quick Vegetarian Dishes is refreshingly simple: life in the fast lane doesn't necessarily mean life in the fast food lane…"
This book teaches how to prepare some absolutely delightful meals, without spending hours upon hours in the kitchen. Quick Vegetarian Dishes includes instructions on how to prepare 12 Rice Dishes, 14 Entrees/Appetizers, 13 Soups/Dals, 11 Breads, over 20 vegetable dishes, 12 Salads, 14 savouries, 14 Grain/Bean/Pasta Dishes, and over 40 recipes in the Desserts/Drinks section.
Another book by Kurma das is Vegetarian World Food.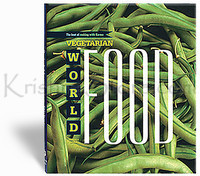 "In his latest release, Kurma compiles his greatest culinary hits, assembling the best vegetarian fare from cultures around the world. Here you'll find the most popular ethnic recipes from his previous titles, including the best selling Great Vegetarian Dishes (now in its seventh printing!), Cooking with Kurma and Quick Vegetarian Dishes."
Vegetarian World Food Includes flavorful offerings from Europe, South America, South East Asia, the Middle East, India, and the Mediterranean.
Where to Start?
Click here to browse a selection of Vegetarian Cooking Books, Hare Krishna!
Vegetarian Cooking DVDs
Videos are a nice way to learn how to cook things as well, since you can see the process in action. There are DVD's available here: Cooking with Kurma  Great Vegetarian Dishes DVDs