Book Changes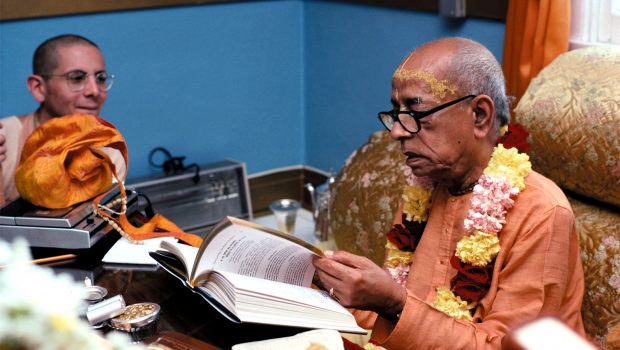 Published on July 23rd, 2021 | by Madhudvisa dasa
39
VERY IMPORTANT Letter from Ramesvara Prabhu — Srila Prabhupada's BBT Manager
Ramesvara Prabhu was the devotee who lead the Bhaktivedanta Book Trust in Srila Prabhuapda's physical presence. He was the manager of the North American BBT and oversaw and directed all of Srila Prabhupada's book publishing activities.
Ramesvara received far more direct instructions from Prabhuapda on his desires and plans for printing his books than any other devotee. Please read his recent letter in response to ISKCON's current plans to keep on changing Srila Prabhupada's books forever.
Begin forwarded message:
From: Ramesvara dasa
Date: July 19, 2021 at 12:34:14 PM EDT
To: Leaders of todays BBTi
Subject: BBT ERP Editing Principles
July 19, 2021
Dear Respected Maharajas and Respected Vaisnavis and Vaisnavas
Hare Krsna. Please accept my humble obeisances. All glories to Srila Prabhupada. I pray this finds you all safe, healthy and blissfully engaged in your service.
Thank you for the time you spent and the work you engaged in to come up with the proposed "Editorial Principles for the Editorial Review Panel".
I'm sorry that I didn't have the opportunity to be interviewed. I was the BBT Trustee most responsible for publishing Srila Prabhupada's first editions of his translations and commentaries from 1975, which included the Sri Caitanya-Caritamrita, Srimad Bhagavatam 5th – 10th Cantos, and other works such as Teachings of Lord Kapila, Teachings of Queen Kunti, etc. Prior to that I was the original BBT Secretary when Srila Prabhupada formed the BBT Trust in 1972, and the BBT Manager from late 1973-1974. As such I received many instructions about editing and publishing His Divine Grace's books, both in letters, in numerous personal meetings, and especially when I travelled with Srila Prabhupada as his personal secretary in 1977.
Of all the varied instructions I received, what stands out the most is when Srila Prabhupada told me: "My greatest anxiety is that in the future [after his disappearance] they will make changes to my books. That will ruin the entire Krsna Consciousness Movement." That is directly from my diary.
Of all the changes, what Srila Prabhupada expressed to me as his greatest anxiety was what I call "politically correct" changes, made by editors and trustees 50 or 100 years from now or even later, when society's social dictates make trustees and editors think they need to add or delete or try to clarify his words to fit the times. Many times, Srila Prabhupada said how carefully he chooses every word so that his books will be timeless and be considered the lawbooks for humanity for the 10,000-year golden age within this Kali Yuga.
Your paper can be misread to leave the door open to future editing in the name of the principles you listed. Your paper is incomplete in respect to one core omission – to seal Prabhupada's books for all time from future editing.

I am convinced that before our generation departs this world, the editing department must be permanently closed, and by GBC Resolution, endorsed by all BBT Trustees, it should be resolved that Srila Prabhupada's books are sealed from any further change or editing, and that anyone who attempts to publish them [Prabhupada's books] with future changes should be officially excommunicated. No other penalty will seal the books as effectively as a resolution that anyone making future changes is expelled from our ISKCON and BBT society.
Unless this is established as a core principle, we all leave the editing and change door open, to changes we cannot imagine that future BBT Trustees and editors may sincerely believe are needed.
This principle, that Srila Prabhupada's books are sealed, is missing from your paper.

While it may not have been your assignment to establish such a permanent principle, it desperately needs to be at the core of our Movement's editing policy, by both GBC and BBT resolution. Without sealing the books from future changes, we have all failed to relieve Srila Prabhupada of his greatest anxiety.
Once it is clearly established that His Divine Grace's books are sealed forever, and once that anxiety is removed from the minds of all devotees, you can have a deep and rational discussion about what changes have already been made, in an atmosphere that is not surcharged with fear and anxiety about the future.
I would like to share one other observation. The "rascal editors" conversations that were transcribed and sent to me and others, along with letters from Tamal Krsna Goswami further describing Srila Prabhupada's concerns, were perhaps the biggest crisis I ever faced as a BBT Trustee. We were all praying for Srila Prabhupada to postpone his disappearance, and we were all praying for him to continue translating the 10th Canto and perhaps more, when these editing concerns were sent to me.
My response, dated July 13, 1977, was drafted after one week of meetings with the BBT editors and managers, and represented the official policy of the BBT.

My letter and Srila Prabhupada's reply (via Tamal Krsna Goswami) are the last and final instructions on editing issued by Srila Prabhupada. In my mind this always superseded much earlier instructions. For his continued work on the 10th Canto as well as the one-time only review he wanted of previously published books, editing was to be restricted to three categories (with examples) that we sent on behalf of the entire English-language BBT.
These restrictions never included some of the principles, such as making changes to clarify Srila Prabhupada's words, that you list in your paper. I would have felt almost offensive to even suggest in July 1977, that Srila Prabhupada's words, which he told us were given by Krsna Himself, needed to be clarified by less than fully realized Uttama Adhikari editors of English, Sanskrit or Bengali.
Please consider that I was NOT writing about editing his books beyond his disappearance, unless it was part of a one-time final review of books previously published that he requested. That review does not take decades.. The notion that anyone would tell Srila Prabhupada that 44 years after his disappearance there is still an editing department at work making changes to his books would have, I'm sure, resulted in a divine anger aspect of Srila Prabhupada that no one ever witnessed or even conceived of. I say this out of my personal experiences of suggesting changes to Srila Prabhupada's books, having him bang his fist on his desk as he threw me out of his room while displaying the most fearsome divine anger.
So, I return to this core principle- Seal his books immediately and permanently from any editing and shut down the editing department's work forever on Srila Prabhupada's books.
I pray this leads to an amendment to your paper, and offer any resources I may have (letters, conversations, my diary, memories, etc. that may assist you in adopting this core principle based on my personal interactions with Srila Prabhupada as his BBT Trustee during his manifest pastimes.
I beg to remain your eternally aspiring BBT servant,
Ramesvara dasa
For more information please visit: