ISKCON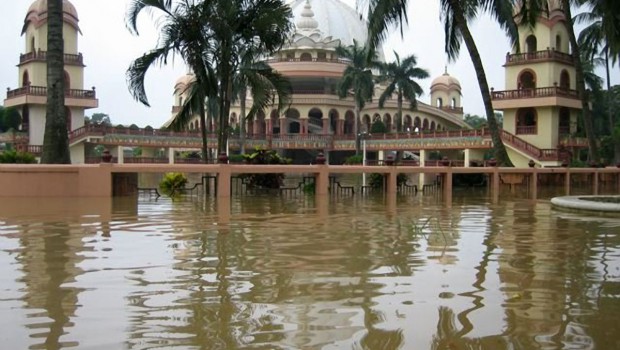 Published on September 30th, 2000 | by
3
ISKCON's World Headquarters Devastated Yet Again By Mother Ganges
Nabadwip and Mayapur are under the deepest waters in decades, beating even 1977. The Mayapur Chandroday Mandir's deities are partially under water. Sridhar Maharaj's Math is underwater up to the second floor and the devotees are living on tents on the roof.
September 28: The Centre today agreed to the demand of the West Bengal government of sending a team to assess the damage caused by the current waves of flash floods as vast areas across the state reeled under unprecedented fury of Nature for the twelfth consecutive day today.
In the Nadia area, cholera and dysentery have started to take their toll. Many of the early deaths are due to snake bite. Helicopters are being used to drop food in some areas, but with limited effect. Calcutta is also flooded due to the high tides coming up the Hooghly along with the flood waters. The Bandel power station is in danger of being flooded, cutting power to Calcutta. Altogether 144 blocks and 37 municipalities across nine districts have been inundated, affecting 1.71 crore people.
Declaring the decision of his government, Prime Minister Atal Behari Vajpayee said in New Delhi that on the basis of the report of the Central team, that will soon tour around the flood-affected pockets of the state, the Centre will send necessary relief assistance to the state government. The state has not sent any flood report to the Centre so far, Vajpayee added.
Meanwhile, flood situation remained grim across the state today. At least 1000 persons have already died in flood fury and 15.1 million people have been rendered homeless. While situation in parts of Midnapore and Murshidabad improved a little today, Nadia, Hooghly, Howrah and North 24-Parganas remained choked by flood garrotte. Fresh areas of Bangaon, Gaighata and Pabda went under floodwater today. Rescue operations are being conducted on war footing with Indian Air Force giving the Army necessary air support by paradropping food packets and other supplies on areas that remained inaccessible by road.
Hungry people continued rioting for food and other essential supplies today.
Reports of looting of shops, go-downs and storages continued to pour in throughout the day. A hungry mob set a jeep on fire and looted a house in Picnic Garden area of Kalyani in Nadia district. Prolonged power cuts, absence of food and drinking water is driving flood-hit people frenetic in different pockets across the state. Police had to resort to lathicharge and firing to disperse unruly mob in some places. In Nadia, a relief camp was ransacked by a group of people early today.
In Midnapore, an angry mob killed a shop-owner and looted his outlet, police said.
Rail lines have been flooded and washed out all over Bengal, disrupting the movement of food and other emergency necessities.
Rail lines, being built on higher ground, are being used for shelter, preventing repairs on washed out lines. Highway traffic is similarly disrupted everywhere. Trains with emergency goods are stopped by the flood victims and emptied of their goods before they can reach their destination.