Philosophy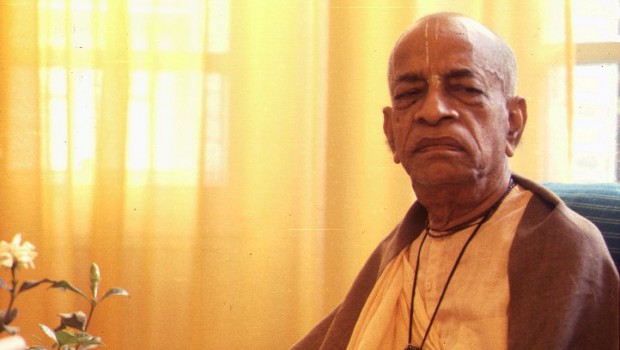 Published on November 21st, 2023 | by Madhudvisa dasa
232
The little-known secret to Advancement in Krishna Consciousness
The basic principle of Krishna consciousness is unacceptable to most people, still many are attached to the idea of presenting themselves as pious persons and great devotees even though they reject the basic principle. They can not understand Krishna consciousness because they do not surrender to a pure devotee of Krishna.
Actually it is not possible to understand Krishna consciousness by practicing austerities, by following regulative principles, by chanting a certain number of rounds; even by reading books one can not understand Krishna consciousness. The secrets of Krishna consciousness are hidden within the hearts of Krishna's pure devotees and there is absolutely no way we can ever understand and realize this 'confidential knowledge' unless we find a pure devotee of Krishna and surrender to him completely and make his instructions our life and soul. Then, if we are successful in getting the blessings and mercy of Krishna's pure devotee it will be possible for us to understand Krishna consciousness. Otherwise Krishna consciousness will remain for us forever something theoretical and we will never experience the transcendental bliss, the happiness, the ecstasy and the real spiritual realizations that a real devotee experiences when practicing Krishna consciousness under the directions of his bona fide, pure devotee spiritual master.
The thing that makes Krishna consciousness possible is the 'higher taste', the nectar, the transcendental bliss that one experiences by engaging in the service of Krishna under the direction of Krishna's pure devotee. Without this 'higher taste' there is no Krishna consciosuness actually, it is just a dry philosophical process. It is this 'higher taste' that gives us the power to renounce all sense gratifactory activities and simply work for the pleasure of Krishna and His pure devotee…
Even if we have a bona fide spiritual master, a pure devotee who has unlimited power to bless us with advancement in Krishna consciousness, unless we surrender to him and make the mission of his life our mission in life then also we will not be able to understand what Krishna consciousness is…
It doesn't matter how much we strictly follow the brahminical principles, how much we chant, how much we read, how much we become great scholars and pundits, how many austerities we practice, how early we get up in the morning. All these things, without surrender to an actual bona fide spiritual master, will not help us to become Krishna conscious.

Everything will remain theoretical for us and we will have no taste for Krishna consciousness and we will still in our minds be desiring sense gratification. If we see a beautiful women we will want to have sex with her. This thought does not come into the mind of an actual devotee like Haridas Thakur who, when a very beautiful woman was sent to him by an envious king to try and get him to fall down, was not interested in her advances. Rather he was interested in helping the beautiful woman to become Krishna conscious and he turned her into a great devotee. This is a real devotee. We have to come to this platform. Otherwise we are cheating the people we are 'preaching' to and our preaching will have a negative effect. Unless we are strictly following and have the correct consciousness we should not try to preach Krishna consciousness to others.
We may know the philosophy of Krishna consciousness very nicely but if when we see a beautiful boy or a beautiful girl we are thinking of sex then we are not Krishna conscious. We are in maya.
Of course sex is a very gross thing and some 'devotees' may be able to conquer this sex desire for the time being by the practice of austerities and penances and in this way they can also become very attractive and strong and determined and powerful. And they can attract many followers of course. But still they may have no understanding of what Krishna consciousness actually is.
There are so-many of these non-devotees in the dress of gurus and sadhus on the Indian guru channels and they are doing a great business. Some of them have some shakti as a result of their penances and austerities and they use that shakti to take the general publics' money and collect unlimited numbers of followers and disciples. And unfortunately the people in general like this sort of cheating guru.

This is why Srila Prabhupada often mentions that this word is the world of the cheaters and the cheated.
Actually most people do not want a real guru. They want a cheating guru. If the real guru comes they will reject him and search out a cheater. Why? We can find the answer from Krishna directly in the Bhagavad-gita.
What is called renunciation is the same as yoga, or linking oneself with the Supreme, for no one can become a yogi unless he renounces the desire for sense gratification. (Bhagavad-gita As It Is 6.2)
So Krishna is very clearly stating here that no one can become a yogi or link himself with the Supreme unless he renounces the desire for sense gratification. This is the core principle of Krishna consciousness and the basic prerequisite without with no actual advancement in spiritual life will be possible. The beginning of Krishna consciousness means giving up completely all our personal desires for sense gratification and in place of these desires we develop the desire to satisfy Krishna and His pure devotees. Of course many may talk about this but to find anyone who has actually given up all desires for personal sense gratification and really his only desire is to please Krishna and His pure devotees is very, very rare.
And when we reveal this truth most people will not be interested in Krishna consciousness. Because practically everyone is living for personal sense gratification. That is the purpose of their lives. And Krishna is saying that to become Krishna conscious one must give up all personal sense gratifactory activities… So it may be that the real guru who delivers this actual message of Bhagavad-gita may not be very popular with the people in general… But the general public love the cheating gurus who put no limits on the disciples' sense gratification…
Even if some devotee does understand and realize this basic principle of Krishna consciousness and knows that he needs to surrender to a bona fide guru, Krishna's pure devotee, then there are so many rascal cheating gurus elsewhere who are just waiting to meet such a surrendered soul and to trick him into surrendering to and serving them instead of Krishna's pure devotee and Krishna…
In the current age of Kali the situation is so difficult that even most of the sincere seekers of the truth end up being cheated by a bogus guru and are exploited by him because he is engaged in the 'guru business' not for Krishna but for satisfying some personal desires. He may be very pious and very 'spiritual' and very advanced in knowledge of the Vedas. But it is not possible to clean out the desire for sense gratifaction from within the heart without surrendering to Krishna's pure devotee and accepting and following his instructions.
These bogus gurus who are dressing as sannyasis and posing as Vaisnava acharyas and gurus are actually the greatest demons and Krishna has reserved the worst hellish planet for them. There is no more violent activity that can be exerted on another person than falsely posing as a spiritual leader for some personal benefit. This is the greatest sin as confirmed in Sri-Isopanisad (from Srila Prabhupada's purport to Text 12):
The ignorant pseudo religionists and the manufacturers of so-called incarnations who directly violate the Vedic injunctions are liable to enter into the darkest region of the universe because they mislead those who follow them…
The Lord states that as soon as one reaches Him by devotional service–which is the one and only way to approach the Personality of Godhead–one attains complete freedom from the bondage of birth and death. In other words, the path of salvation from the material clutches fully depends on the principles of knowledge and detachment gained from serving the Lord.
The pseudo religionists have neither knowledge nor detachment from material affairs, for most of them want to live in the golden shackles of material bondage under the shadow of philanthropic activities disguised as religious principles. By a false display of religious sentiments, they present a show of devotional service while indulging in all sorts of immoral activities. In this way they pass as spiritual masters and devotees of God. Such violators of religious principles have no respect for the authoritative acaryas, the holy teachers in the strict disciplic succession. They ignore the Vedic injunction acaryopasana–"One must worship the acarya"–and Krsna's statement in the Bhagavad-gita (4.2) evam paramparm-praptam, "This supreme science of God is received through the disciplic succession." Instead, to mislead the people in general they themselves become so-called acaryas, but they do not even follow the principles of the acaryas.
These rogues are the most dangerous elements in human society. Because there is no religious government, they escape punishment by the law of the state. They cannot, however, escape the law of the Supreme, who has clearly declared in the Bhagavad-gita that envious demons in the garb of religious propagandists shall be thrown into the darkest regions of hell (Bg. 16.19-20).
Sri Isopanisad confirms that these pseudo religionists are heading toward the most obnoxious place in the universe after the completion of their spiritual master business, which they conduct simply for sense gratification.
Unfortunately this statement very accurately describes most of the "gurus" you will find these days. This problem has made spiritual advancement very difficult, practically impossible for the general public.
So [I keep saying this and please forgive me that] if you want to become Krishna conscious you have to find an actual pure devotee of Krishna and really surrender to him and serve him. And he will instruct you to stop sense gratification and instead work for the satisfaction of Krishna's senses.
Anyhow, back to the basic principle of Krishna consciousness that practically all 'devotees' refuse to surrender to.

Actual Krishna consciousness means that one must know his constitutional position as the living entity and act accordingly.
The living entity has no separate independent identity. He is the marginal energy of Krishna. This is often compared with the situation at a beach on the shore of the ocean. Sometimes the sand on the beach is uncovered and open and at other times, when the the tide comes in, the beach disappears and is covered by water. So in this way the beach can be open or it can be covered by the water. Similarly when the living entity is entrapped by material energy, he is conditioned, and when he is Krishna conscious, or aware of the spiritual energy, then he is in his real and natural state of life. Therefore, when one is in complete knowledge, one ceases all material sense gratification, or renounces all kinds of sense gratificatory activities.
A Krishna conscious person therefore only uses his senses in the service of Krishna for the pleasure of Krishna. He has no personal desires for sense gratification at all. He understands that he is part and parcel of Krishna and that as the part and parcel of Krishna it is his natural and constitutional position to render service to Krishna. And he knows that if he can please Krishna in this way then he will also become satisfied because he is a part and parcel of Krishna. If the whole [Krishna] is satisfied then automatically the part [the living entity] will also be satisfied. In reality this is the only way a living entity can become satisfied–by surrendering to Krishna and serving and satisfying Him.
If one is unable to give up the activities of his selfish nature, sense gratification, then knowledge and yoga are of no benefit to him. The real aim is for a living entity to give up all selfish satisfaction and to be prepared to satisfy the Supreme. A Krishna conscious person has no desire for any kind of self-enjoyment. He is always engaged for the enjoyment of the Supreme. One who has no information of the Supreme must therefore be engaged in self-satisfaction because no one can stand on the platform of inactivity.
So without giving up the propensity for personal sense gratification and without real surrender, submission and service to an actual bona fide spiritual master, a pure devotee of Krishna, advancement in Krishna consciousness is not possible.