Philosophy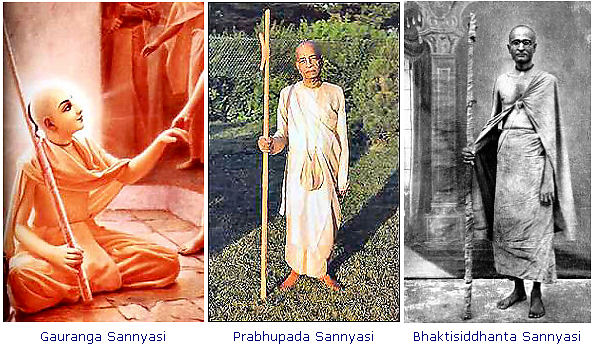 Who is the real sannyasi, the real yogi?
"The Blessed Lord said: One who is unattached to the fruits of his work and who works as he is obligated is in the renounced order of life, and he is the true mystic: not he who lights no fire and performs no work." (Bhagavad-gita 6.1)
In this world we see that everyone is acting with some personal interest, some self-interest. Practically everyone is working, even in the spiritual field, with the idea of getting some personal benefit from his activities. Everyone works to maintain his family and everything that is required to support the family — no one is working without some self-interest, some personal gratification.
The benefit people are working for may not be a direct personal benefit. As one's interests expand then he starts to work for the benefit of others. For example a young single man may be primarily working for his own personal benefit, but when he gets married his field of interest expands. He then has a wife to take care of and needs so many things to start up his new family life. So his interest expands and he may then be more concerned with working for the benefit of his wife and thinking and making plans for the children. And when the children come his interests expand even more and his personal interest in the fruits of his work reduces and he becomes more concerned with supplying the needs of his family. However this is still the same principle of self-interest. Ultimately the reason he is interested in serving his family members is that he is part of that family and if the family members are well looked after and happy then he will benefit from that. So this is extended personal interest, but this is still motivated by the desire for personal sense gratification because if the family is happy his personal sense gratification will be better.
This principle of extended personal sense gratification can be expanded further than the family. That is what the philanthropic desire is driven by. A man may feel for the suffering members of his society and want to help them by building hospitals and schools and distributing food to the poor for example. This is an attempt to make the community that he lives in a better place and it is also ultimately driven by the desire for personal sense gratification. It can be extended even more to working for the benefit of the whole country or even the total humanity.
However all of these activities that are driven because of some personal interest are contrary to Krishna consciousness. Perfection in Krishna consciousness means to act in Krishna consciousness without any desire to enjoy the fruits of his work, without any personal interest in the benefits of his work. Acting in Krishna consciousness means working for Krishna, serving Krishna, with no personal interest in the outcome of such service. To act in Krishna consciousness is the duty of every living entity because every living entity is constitutionally a part and parcel of the Supreme Personality of Godhead, Krishna. The example which very nicely illustrates this point is that the parts of our bodies work for the satisfaction of the whole body. The arms and legs do not act for their own satisfaction but for the satisfaction of the whole person. Similarly the living entities who act for the satisfaction of the supreme whole and not for any personal interest or personal satisfaction are the perfect sannyasis, the perfect yogis.
There are many sannyasis who artificially think they have become liberated from all material duties and therefore they cease performing the agnihotra-yajnas (fire sacrifices), but actually even they are self-interested, they have some personal desire to benefit from their activities — their goal is to become one with the impersonal Brahman. This desire is greater than any material desire but it is not without self-interest. Similarly the mystic yogi who practices the yoga system meditating with half-open eyes and ceasing all material activities also has some satisfaction for his personal self.
In contrast to everyone else a person acting in Krishna consciousness acts for the satisfaction of the whole, without any self-interest at all. A Krishna conscious person has no desire for self-satisfaction. His criterion of success is the satisfaction of Krishna and thus he is the perfect yogi or the perfect sannyasi. Lord Caitanya, the highest perfectional symbol of renunciation prays in this way: "O Almighty Lord, I have no desire to accumulate wealth, nor to enjoy beautiful women, nor do I want any number of followers. What I want only is the causeless mercy of Your devotional service in my life, birth after birth."
So the Krishna conscious person's only desire is to serve Krishna, to please Krishna. And he is happy if Krishna becomes pleased by his service. If there is something that appears to be quite distressing and painful to him from the personal point of view, but that thing pleases Krishna, then the devotee will gladly accept this personal discomfort and actually be very much satisfied if he sees that Krishna has become pleased because of his activities. Also a Krishna conscious person will reject something that ordinary one would consider very desirable and a source of great pleasure if that thing does not give Krishna pleasure. He has no personal interest in or attachment to the results of his work.