Temples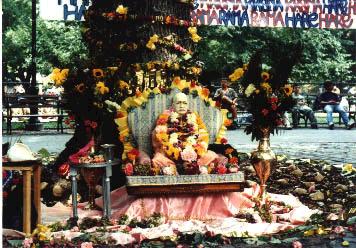 Published on June 1st, 2001 | by
0
Prabhupada Celebration Festival at Tompkins Square Park New York
Full Swing Festival with mass prasadam distribution, non-stop chanting, live theatrical preformance & dance, ten museum exhibitions, guest speakers, a wide variety of delicious prasadam preparations, original disciples of Srila Prabhupada, Grand Guru-Puja at Prabhupada's Tree. Relive the Early Days Experience!
All Glories to the Assembled Devotees
The Prabhupada Sankirtana Society
and all the disciples and friends of Srila Prabhupada,

Welcome You to the
~Prabhupada Celebration~
~Festival~
Join Us * Saturday June 16 * 12-6 pm
Tompkins Square Park * 7th Street, Between Avenue A and B
Full Swing Festival!
~
with mass prasadam distribution

~
non-stop chanting

~
live theatrical preformance & dance

~
ten museum exhibitions

~
guest speakers

~
a wide variety of delicious prasadam preparations

~
original disciples of Srila Prabhupada

~
Grand Guru-Puja at Prabhupada's Tree
Relive the "Early Days" Experience
For information:
Call: 212-674-0698 * Fax: 212-253-7131 * email: pss108@juno.com
or write to the Prabhupada Sankirtana Society * 48 Ave B * New York, NY 10009
Attn: Kapindra Swami