Temples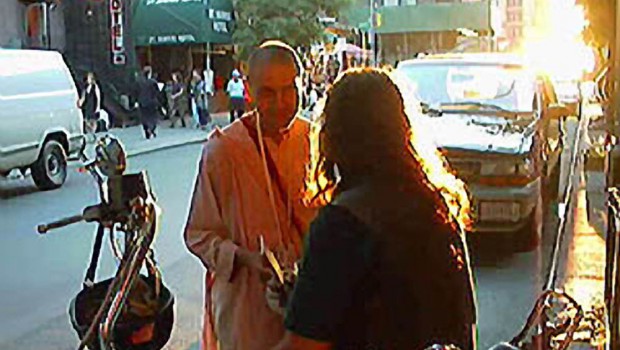 Published on March 17th, 2001 | by
0
Chanting Hare Krishna and Distributing Books In the Big Apple.
Here in Manhattan, New York there many places to go and things to see.
The glitter and glam of Manhattan attracts people from all around the world to come experience life in the big city. As such, it's the ideal location for distributing the knowledge of Krishna Consciousness. Of course Srila Prabhupada emphasized the importance of making the Lord's mercy available to the masses and Manhattan is considered by him to be a key location throughout the world. We are taking the opportunity to distribute transcendental knowledge in the form of Srila Prabhupada's books which are more widely distributed then those of any author in history.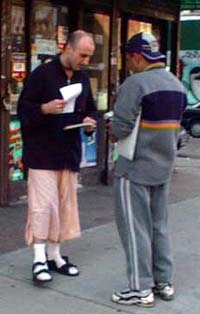 Madhavananda Prabhu distributing books
There's several streets near our temple in the Lower East-side where there is generally a constant flow of people. Sometimes I approach the situation by smiling, holding out a book and saying "yoga". The word yoga seems to be a buzzword that catches peoples attention. More importantly is that they see someone who looks enlivened and high spirited. Once people are holding the book you can take the opportunity to show them and tell them what it's about, especially about the author Srila Prabhupada and his special qualities as a pure devotee of God and his accomplishments.
We're learning various ways to approach people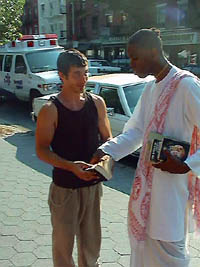 Bhakta Ian distributing books
and one devotee Bhakta Ian has very nicely developed his peresentation to where the whole exchange is very natural and the people feel pleased. In this way the book distribution is gradually increasing.
Harinam, chanting the holy name in the streets is also wonderful here. We're going out with four of us and sometimes more. The people are very responsive to an enthusiastic kirtan party and it's amazing how people instinctively dance, clap, jump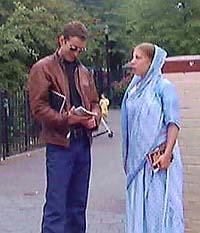 Mother Krishna Devi
and get absorbed in the vibration of the musical maha-mantra, Hare Krishna Hare Krishna Krishna Krishna Hare Hare Hare Rama Hare Rama Rama Rama Hare Hare.
On Sunday evening we went up Saint Mark's place to Broadway where there are many people. There was times when our chanting sounded tumultuous like there was a hundred of us and people were dancing like anything. In this way we can see that the Lord is pleased and is reciprocating from within the hearts of others.
We would like to invite any person who is interested in spiritual life to visit the temple here in Manhattan. Anyone is welcome to come for training in book distribution and Harinam.
This week's book scores were: Small 118, Medium 43, Maha Big 9.