Books
Reading Prabhupada's Books is So Important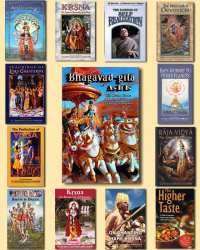 Srila Prabhupada's main mission was the printing and distribution of his transcendental books. This was the order given to him by his spiritual master Srila Bhaktsiddhanta Sarasvati Thakur and Srila Prabhupada took this order, "If you get money print books," as his life and soul.
Srila Prabhupada would take rest at around 10:00 PM and rise at about midnight and in the early morning hours every day he would write his transcendental books. He worked so hard to write these books for our benefit.
He replied to a disciple who was asking him "How can I please you?"
"You may please me the most by reading my books and following the instructions therein."
I know these days many devotees have Srila Prabhupada's books on their computers. But personally I find a very great attraction to the real printed books with the beautiful color covers and color paintings of Krishna. It is nice to have the real book, to turn the pages, to keep it with you…
Personally I am very, very attached to reading Srila Prabhupada's books. I can take any one of his books and read it and keep reading it for hours and the longer I read the happier I feel. This is my real practical experience. And it is so much nicer to read the "real" books then to try and read on a computer.
So I want to make Prabhupada's books easily available for everyone to read. I know it can be difficult and expensive to get Srila Prabhupada's books so we have put together sixteen very important books as a package and for a short time I can send them to you for a very low price.
We am calling this set of Srila Prabhupada's books the "Prabhupada Library" and it includes:
Elevation to Krishna Consciousness
On Chanting Hare Krishna
and The Higher Taste Vegetarian Cook Book
If you were to get all these books at the already very low prices the cost would be around $115. But for a short time I can send you all these books for only $49. This is a huge saving and they are truly wonderful books. All original pre-1978 editions, all very first-class printing and paper quality.
I know you are aware of the potency of Srila Prabhupada's books and this is a great opportunity to get  a wonderful collection for your own benefit or for distributing to friends and people you meet who are interested in Krishna consciousness.
You may have some of the books already, but please do not let that discourage you from getting these books. The greatest gift you can give is transcendental knowledge and the easiest way to pass this knowledge on to someone else is to give them one of Prabhupada's books. They will be eternally grateful to you for it and by distributing this book you will have pleased Srila Prabhupada and Krishna greatly and that will help you advance in spiritual life also.
This package of books weighs 5 Kg (11 lbs), and we have been able to arrange amazingly low shipping prices to anywhere in the world for this. For a short time we are only charging $14.95 to send all of these books to anywhere in the world. This is possible because one great soul is subsidizing the shipping costs. Actually to send these books internationally we have to pay the Post Office almost $50, but you will only pay $14.95, and in the US even less. So please order quickly because I do not know how long we can continue this impossibly low shipping price.
Therefore I am requesting you to please take this chance to get first-class editions of Srila Prabhupada's original books at a fraction of the price you would normally have to pay for them.
I am making this offer because I know how much I have personally benefited from reading Srila Prabhupada's books. Prabhupada has saved my life and it is all due to his books–they are so powerful. So I want you to be able to experience the same happiness and enlightenment by reading Prabhupada's books for yourself and also share the happiness with others. You can understand we are not making any profit on this… It is our attempt to do something for Srila Prabhupada so please take advantage of this.
Even just having the books in your house creates an auspicious spiritual atmosphere.
So for more information and to place your order please go to:
http://krishnastore.com/prabhupada-library-h-krishna-1734.html
Chant Hare Krishna and be happy!
Madhudvisa dasa