Free PDF Downloads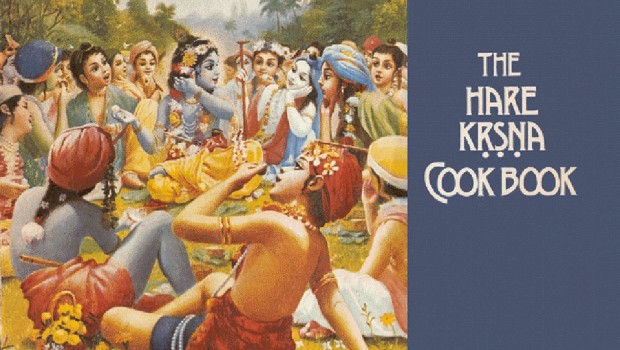 Published on April 20th, 2022 | by Madhudvisa dasa
45
The Hare Krishna Cookbook — 1972 — PDF Download
This is the first Hare Krishna cookbook ever published. It contains the recipes used by ISKCON cooks for preparing both the devotees daily prasadam and for the famous Sunday Love Feast. It is a practical and historically valid book for devotees who would like to cook and offer food to Srila Prabhupada and Krishna in the same way as the original Hare Krishna devotees were doing it in the 1970's. Included below is the Foreword to the book. Click the link below to download the Hare Krishna Cookbook in PDF format:
FOREWORD
Almost six years ago, I published the first article on Krishna cooking, entitled "Krishna Prasadam: Food for the Body, Food for the Soul and Food for God." Since I had just begun my life as a devotee, the article revealed my intrigue with the idea of cooking for God. Perhaps I was still rebelling against my puritan background, in which God had been depicted as a stuffy old man who certainly needed nothing like food. Actually I still wonder at the idea of His eating–but a little differently. Today I think of how great God must be. On the one hand, He is sustaining all the planetary systems, men, animals and whatever might be, and on the other, He becomes "hungry" for the loving offering of a pure devotee: "If one offers Me with love and devotion a leaf, a flower, fruit or water, I will accept it." (Bhagavad-gita 9.26) Within this simple promise to His friend Arjuna, Krishna has given the rarest gem in all three worlds–loving reciprocation with Godhead. Where I not an individual, were God not an individual, and were there not the possibility of a loving exchange, what would be the possibility of Absolute Pleasure? Pleasure can not exist in a void or vacuum, for it is a product of activity; and the supreme activity is the exchange of love between persons. Everyone hankers for a lover. Then why should we settle for anyone less than the Supreme Lover, Krishna?
buy prednisone

Srila Prabhupada has given us the formula of how to attract Krishna. Krishna, being God, is not in need of anything.
buy wellbutrin

He is atmarama, or self-contained. But He is also the highest Pleasure Absolute, and for the purpose of pleasure He expands Himself by His pleasure potency into millions and billions of living beings who are all meant for His enjoyment. In the spiritual world such spiritual sparks of the Lord are eternally enjoying with the Lord and their existence is called sat-cit-ananda–eternal, full of knowledge and blissful. The living beings in the material world are also part of that pleasure potency, but due to forgetfulness of their relationship with Krishna they are living independently, trying to lord it over the resources of material nature for their own pleasure. Such pleasure is only illusory, but the eternal pleasure resulting from loving communion with Krishna can at once be revived by the simple Krishna conscious process of dedicating one's activities to the enjoyment of the Lord.
This transcendental cookbook is designed to help you transform one of the most important daily chores into a spiritual reservoir of bliss. You may follow it all or in part. The idea is to completely engage your in service to Krishna, and it is promised that if you agree to be thus engaged, you will also enjoy unlimitedly.
buy doxycycline

If you cannot follow all the rules and regulations, follow what you can. At least one can prepare pure vegetarian foods with all care for cleanliness and then offer them simply with love and devotion. Even offering such foods with only the repetition of:
Hare Krishna Hare Krishna Krishna Krishna Hare Hare
Hare Rama Hare Rama Rama Rama Hare Hare
is sufficient to render the highest benefit. The main point is to begin. Offer something nice to Krishna with love and devotion and see for yourself what happens. That is the miracle of prasadam!
The Yoga Diet
Lord Krishna says in Bhagavad-gita that yoga is not from him he eats too much or for him who eats too little. Rather, one who is actually practicing yoga sees the body as a valuable boat which has to be maintained very nicely in order to get across this ocean of material existence which is full of birth, old age, disease and death. Therefore, the yoga diet is designed to supply the body with all necessary nutrients, without pandering to the whims of our changing senses. The principal of regulation is strictly adhered to, and the daily fare is almost unchanging. This is very important for a brahmacari, or celibate student, for if the tongue is agitated for sense enjoyment, all the other senses follow. We do not suggest that you have to follow this diet, but it is included for those who desire to know it. The Sunday feast is an opportunity for everyone to participate in the opulence of Krishna. Again the principle is regulation, and the particular feast menu included here is chosen for its authentic quality, all of the preparations being great favorites of our beloved spiritual master, His Divine Grace A.C. Bhaktivedanta Swami Prabhupada.
Morning prasadam: raw chick-peas, ginger, fruit, cereal and milk.
Noon prasadam: dhal, rice, chapatis and curried vegetable
Bedtime prasadam: milk
The Sunday love feast: rice and peas, wet cauliflower and potatoes, puris, samosa, halavah, sweet rice, sweet balls, pineapple chutney (sweet and hot), rhubarb chutney (salty and hot) and dahi.
Kirtanananda Swami