Devotees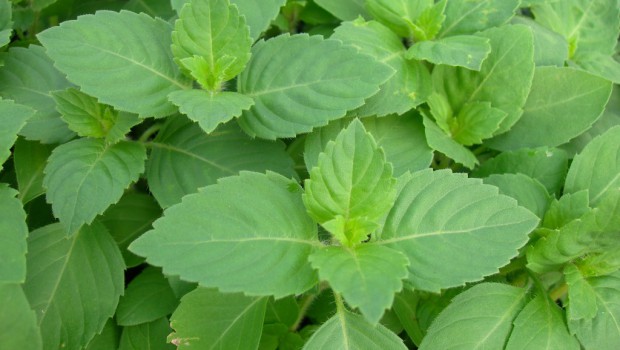 Published on December 27th, 2022 | by
44
The Worship of Srimati Tulasi Devi
Tulasi is auspicious in all respects. Simply by seeing, simply by touching, simply by remembering, simply by praying to, simply by bowing before, simply by hearing about or simply by sowing this tree, there is always auspiciousness. Anyone who comes in touch with the tulasi tree in the above-mentioned ways lives eternally in the Vaikuntha world.
Antya 3.100
Haridasa Thakura used to chant the holy name on his beads 300,000 times daily. Throughout the entire day and night, he would chant the sixteen names of the Hare Krsna maha-mantra. One should not, however, imitate Haridasa Thakura, for no one else can chant the Hare Krsna maha-mantra 300,000 times a day. Such chanting is for the mukta-purusa, or liberated soul. We can follow his example, however, by chanting sixteen rounds of the Hare Krsna maha-mantra on beads every day and offering respect to the tulasi plant. THIS IS NOT AT ALL DIFFICULT FOR ANYONE, AND THE PROCESS OF CHANTING THE HARE KRSNA MAHA-MANTRA WITH A VOW BEFORE THE TULASI PLANT HAS SUCH GREAT SPIRITUAL POTENCY THAT SIMPLY BY DOING THIS ONE CAN BECOME SPIRITUALLY STRONG. Therefore we request the members of the Hare Krsna movement to follow Haridasa Thakura's example rigidly. CHANTING SIXTEEN ROUNDS DOES NOT TAKE MUCH TIME, NOR IS OFFERING RESPECTS TO THE TULASI PLANT DIFFICULT. THE PROCESS HAS IMMENSE SPIRITUAL POTENCY. ONE SHOULD NOT MISS THIS OPPORTUNITY.
Antya 3.141
She worshiped the tulasi plant, following in the footsteps of her spiritual master. Instead of eating regularly, she chewed whatever food she received as alms, and if nothing was supplied she would fast. Thus by eating frugally and fasting she conquered her senses, AND AS SOON AS HER SENSES WERE CONTROLLED, SYMPTOMS OF LOVE OF GODHEAD APPEARED IN HER PERSON.
NoD 11 Aspects of Transcendental Service
In the Skanda Purana there is a statement praising the tulasi tree as follows: "Let me offer my respectful obeisances unto the tulasi tree, which can immediately vanquish volumes of sinful activities. Simply by seeing or touching this tree one can become relieved from all distresses and diseases. SIMPLY BY OFFERING OBEISANCES TO AND POURING WATER ON THE TULASI TREE, ONE CAN BECOME FREED FROM THE FEAR OF BEING SENT TO THE COURT OF YAMARAJA [THE KING OF DEATH, WHO PUNISHES THE SINFUL]. If someone sows a tulasi tree somewhere, certainly he becomes devoted to Lord Krsna. And when the tulasi leaves are offered in devotion at the lotus feet of Krsna, there is the full development of love of Godhead."
NoD 11 Aspects of Transcendental Service
In the Skanda Purana there is another statement about tulasi, as follows: "Tulasi is auspicious in all respects. Simply by seeing, simply by touching, simply by remembering, simply by praying to, simply by bowing before, simply by hearing about or simply by sowing this tree, THERE IS ALWAYS AUSPICIOUSNESS. Anyone who comes in touch with the tulasi tree in the above-mentioned ways lives eternally in the Vaikuntha world."
SB 3.15.19 P Description of the Kingdom of God
The most important thing about the spiritual world is that there is no envy among the devotees there. THIS IS TRUE EVEN AMONG THE FLOWERS, WHICH ARE ALL CONSCIOUS OF THE GREATNESS OF TULASI.
SB 5.3.6
O Supreme Lord, You are full in every respect. You are certainly very satisfied when Your devotees offer You prayers with faltering voices and in ecstasy bring You tulasi leaves, water, twigs bearing new leaves, and newly grown grass. THIS SURELY MAKES YOU SATISFIED.
SB 5.3.6
If one is fully absorbed in love and ecstasy, he need offer only a flower and a little water. As stated in Bhagavad-gita, patram puspam phalam toyam yo me bhaktya prayacchati: "If one offers Me with love and devotion a leaf, a flower. fruit or water, I will accept it." (Bg. 9.26)
The Supreme Lord can be pleased only by devotional service: therefore it is said here that the Lord is surely satisfied by devotion and nothing else. Quoting from the Gautamiya-tantra, the Hari-bhakti-vilasa states:
tulasi-dala-matrena
jalasya culukena va
vikrinite svam atmanam
bhaktebhyo bhakta-vatsalah
"Sri Krsna, who is very affectionate toward His devotees, SELLS HIMSELF to a devotee who offers merely a tulasi leaf and a palmful of water." The Supreme Lord is causelessly merciful upon His devotee, so much so that even the poorest of men can offer Him a little water and a flower in devotion and thus please Him. This is due to His affectionate dealings with His devotees.
SB 7-5-23&24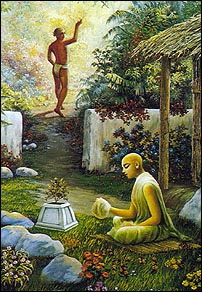 (4) pada-sevanam. According to one's taste and strength, hearing, chanting and remembrance may be followed by pada-sevanam. One obtains the perfection of remembering when one constantly thinks of the lotus feet of the Lord. Being intensely attached to thinking of the Lord's lotus feet is called pada-sevanam. When one is particularly adherent to the process of pada-sevanam, this process gradually includes other processes, such as seeing the form of the Lord, touching the form of the Lord, circumambulating the form or temple of the Lord, visiting such places as Jagannatha Puri, Dvaraka and Mathura to see the Lord's form, and bathing in the Ganges or Yamuna. Bathing in the Ganges and serving a pure Vaisnava are also known as tadiya-upasanam. This is also pada-sevanam. THE WORD TADIYA MEANS "IN RELATIONSHIP WITH THE LORD." Service to the Vaisnava, TULASI, GANGES AND YAMUNA ARE INCLUDED IN PADA-SEVANAM. All these processes of pada-sevanam help one advance in spiritual life very quickly.
SB 7.5.23-24
If one commits any of the above offenses, one must read at least one chapter of Bhagavad-gita. This is confirmed in the Skanda-Purana, Avanti-khanda. Similarly, there is another injunction, stating that one who reads the thousand names of Visnu can be released from all offenses. In the same Skanda-Purana, Reva-khanda, IT IS SAID THAT ONE WHO RECITES PRAYERS TO TULASI OR SOWS A TULASI SEED IS ALSO FREED FROM ALL OFFENSES.
SB 9.4.18-20
sa vai manah krsna-padaravindayor
vacamsi vaikuntha-gunanuvarnane
karau harer mandira-marjanadisu
srutim cakaracyuta-sat-kathodaye
mukunda-lingalaya-darsane drsau
tad-bhrtya-gatra-sparse 'nga-sangamam
ghranam ca tat-pada-saroja-saurabhe
SRIMAT-TULASYA RASANAM TAD-ARPITE
padau hareh ksetra-padanusarpane
siro hrsikesa-padabhivandane
kamam ca dasye na tu kama-kamyaya
yathottamasloka-janasraya ratih
Maharaja Ambarisa always engaged his mind in meditating upon the lotus feet of Krsna, his words in describing the glories of the Lord, his hands in cleansing the Lord's temple, and his ears in hearing the words spoken by Krsna or about Krsna. He engaged his eyes in seeing the Deity of Krsna, Krsna's temples and Krsna's places like Mathura and Vrndavana, he engaged his sense of touch in touching the bodies of the Lord's devotees, HE ENGAGED HIS SENSE OF SMELL IN SMELLING THE FRAGRANCE OF TULASI OFFERED TO THE LORD, and he engaged his tongue in tasting the Lord's prasada. He engaged his legs in walking to the holy places and temples of the Lord, his head in bowing down before the Lord, and all his desires in serving the Lord, twenty-four hours a day. Indeed, Maharaja Ambarisa never desired anything for his own sense gratification. He engaged all his senses in devotional service, in various engagements related to the Lord. This is the way to increase attachment for the Lord and be completely free from all material desires.
Adi 3
Advaita Acarya was a contemporary of Lord Caitanya's father. He felt sorry for the condition of the world because even after Lord Krsna's appearance, no one had interest in devotional service to Krsna. This forgetfulness was so overwhelming that Advaita Prabhu was convinced that no one but Lord Krsna Himself could enlighten people about devotional service to the Supreme Lord. Therefore Advaita requested Lord Krsna to appear as Lord Caitanya. OFFERING TULASI LEAVES AND GANGES WATER, HE CRIED FOR THE LORD'S APPEARANCE. THE LORD, BEING SATISFIED BY HIS PURE DEVOTEES, DESCENDS TO SATISFY THEM. As such, being pleased by Advaita Acarya, Lord Caitanya appeared.
Adi 3.105-106
Advaita Acarya considered the meaning of the verse in this way: Not finding any way to repay the debt He owes to one who offers Him a tulasi leaf and water, LORD KRSNA THINKS, "THERE IS NO WEALTH IN MY POSSESSION THAT IS EQUAL TO A TULASI LEAF AND WATER."
Adi 3.107
Thus the LORD LIQUIDATES THE DEBT BY OFFERING HIMSELF TO THE DEVOTEE. Considering this, the Acarya began worshiping the Lord.
Adi 3.107
Through devotional service one can easily please Lord Krsna with a leaf of the tulasi plant and a little water. As the Lord says in the Bhagavad-gita (9.26), a leaf, a flower, a fruit or some water (patram puspam phalam toyam), when offered with devotion, very much pleases Him. He universally accepts the services of His devotees. Even the poorest of devotees in any part of the world can secure a small flower, fruit or leaf and a little water, and IF THESE OFFERINGS, AND ESPECIALLY TULASI LEAVES AND GANGES WATER, ARE OFFERED TO KRSNA WITH DEVOTION, HE IS VERY SATISFIED. IT IS SAID THAT KRSNA IS SO PLEASED BY SUCH DEVOTIONAL SERVICE THAT HE OFFERS HIMSELF TO HIS DEVOTEE IN EXCHANGE FOR IT. Srila Advaita Acarya knew this fact, and therefore He decided to call for the Personality of Godhead Krsna to descend by worshiping the Lord with tulasi leaves and the water of the Ganges.
Madhya 15.9
Sri Advaita Prabhu would also place a flower garland around the Lord's neck and TULASI FLOWERS [MANJARIS] ON HIS HEAD. Then, with folded hands, Advaita Acarya would offer obeisances and prayers unto the Lord.
Madhya 22.125
"TADIYA MEANS THE TULASI LEAVES, the devotees of Krsna, the birthplace of Krsna, Mathura, and the Vedic literature Srimad-Bhagavatam. KRSNA IS VERY EAGER TO SEE HIS DEVOTEE SERVE TULASI, Vaisnavas, Mathura and Bhagavatam.
Madhya 22.125
After item twenty-six (meditation), the twenty-seventh is TO SERVE TULASI, the twenty-eighth is to serve the Vaisnava, the twenty-ninth is to live in Mathura, the birthplace of Lord Krsna, and the thirtieth is to read Srimad-Bhagavatam regularly.
Madhya 23.51 Life' s Ultimate Goal–Love of Godhead
"Krsna's smile, the fragrance of His transcendental body, His flute, bugle, ankle bells, conchshell, the marks on His feet, His place of residence, HIS FAVORITE PLANT [TULASI], His devotees, and the observance of fasts and vows connected to His devotion all awaken the symptoms of ecstatic love."
Madhya 24.115 The Sixty-One Explanations of the Atmarama Verse
" 'When the breeze carrying the aroma of tulasi leaves and saffron from the lotus feet of the lotus-eyed Personality of Godhead entered through the nostrils into the hearts of those sages [the Kumaras], THEY EXPERIENCED A CHANGE IN BOTH BODY AND MIND, EVEN THOUGH THEY WERE ATTACHED TO IMPERSONAL BRAHMAN UNDERSTANDING.'
Antya 3.137
Although Krsna wants everyone to surrender to His lotus feet, because of people's sinful activities they cannot do this. Na mam duskrtino mudhah prapadyante naradhamah: rascals and fools, the lowest of men, who engage in sinful activities, cannot suddenly surrender to the lotus feet of Krsna. NEVERTHELESS, IF THEY BEGIN CHANTING THE HARE KRSNA MANTRA AND RENDERING SERVICE UNTO THE TULASI PLANT, THEY WILL VERY SOON BE ABLE TO SURRENDER.
KB 30
The gopis then began to address the tulasi plants: "DEAR TULASI, YOU ARE MUCH BELOVED BY LORD KRSNA BECAUSE YOUR LEAVES ARE ALWAYS AT HIS LOTUS FEET.
SB 1.19.6
It is especially mentioned herein that Maharaja Pariksit took shelter of that particular river which is beautifully flowing, carrying the dust of the lotus feet of Lord Krsna, mixed with tulasi leaves. LORD KRSNA'S LOTUS FEET ARE ALWAYS BESMEARED WITH THE TULASI LEAVES, and thus as soon as His lotus feet contact the water of the Ganges and the Yamuna, the rivers become at once sanctified.
SB 3.15.19 Description of the Kingdom of God
Although flowering plants like the mandara, kunda, kurabaka, utpala, campaka, arna, punnaga, nagakesara, bakula, lily and parijata are full of transcendental fragrance, THEY ARE STILL CONSCIOUS OF THE AUSTERITIES PERFORMED BY TULASI, FOR TULASI IS GIVEN SPECIAL PREFERENCE BY THE LORD, WHO GARLANDS HIMSELF WITH TULASI LEAVES.
SB 3.15.49
The tulasi leaf is very useful EVEN FROM THE MEDICINAL OR ANTISEPTIC POINT OF VIEW.
SB 3.16.21
It is said in the Brahma-samhita that the Lord is always served by many hundreds of thousands of goddesses of fortune in His Vaikuntha planet, yet because of His attitude of renunciation of all opulences, He is not attached to any one of them. The Lord has six opulences–unlimited wealth, unlimited fame, unlimited strength, unlimited beauty, unlimited knowledge and unlimited renunciation. All the demigods and other living entities worship Laksmi, the goddess of fortune, just to get her favor, yet the Lord is never attached to her because He can create an unlimited number of such goddesses for His transcendental service. THE GODDESS OF FORTUNE, LAKSMI, IS SOMETIMES ENVIOUS OF THE TULASI LEAVES WHICH ARE PLACED AT THE LOTUS FEET OF THE LORD, FOR THEY REMAIN FIXED THERE AND DO NOT MOVE, WHEREAS LAKSMIJI, ALTHOUGH STATIONED BY THE CHEST OF THE LORD, SOMETIMES HAS TO PLEASE OTHER DEVOTEES WHO PRAY FOR HER FAVOR. LAKSMIJI SOMETIMES HAS TO GO TO SATISFY HER NUMEROUS DEVOTEES, BUT TULASI LEAVES NEVER FORSAKE THEIR POSITION, AND THE LORD THEREFORE APPRECIATES THE SERVICE OF THE TULASI MORE THAN THE SERVICE OF LAKSMI. When the Lord says, therefore, that it is due to the causeless mercy of the brahmanas that Laksmiji does not leave Him, we can understand that Laksmiji is attracted by the opulence of the Lord, not by the brahmanas' benedictions upon Him. The Lord is not dependent on anyone's mercy for His opulence; He is always self-sufficient. The Lord's statement that His opulence is due to the benediction of the brahmanas and Vaisnavas is only to teach others that they should offer respect to the brahmanas and Vaisnavas, the devotees of the Lord.
SB 4.8.55
It is specifically mentioned herein that tulasi leaves are very dear to the Supreme Personality of Godhead, and devotees should take particular care to have tulasi leaves in every temple and center of worship. In the Western countries, while engaged in propagating the Krsna consciousness movement, WE WERE BROUGHT GREAT UNHAPPINESS BECAUSE WE COULD NOT FIND TULASI LEAVES. WE ARE VERY MUCH OBLIGED, THEREFORE, TO OUR DISCIPLE SRIMATI GOVINDA DASI BECAUSE SHE HAS TAKEN MUCH CARE TO GROW TULASI PLANTS FROM SEEDS, AND SHE HAS BEEN SUCCESSFUL BY THE GRACE OF KRSNA. NOW TULASI PLANTS ARE GROWING IN ALMOST EVERY CENTER OF OUR MOVEMENT.
Madhya 17.193
The word vana means "forest." VRNDAVANA IS THE NAME GIVEN TO THE FOREST WHERE SRIMATI VRNDADEVI (TULASIDEVI) GROWS PROFUSELY. Actually it is not a forest as we ordinarily consider a forest because it is very thick with green vegetation. There are twelve such vanas in Vrndavana. Some are located on the western side of the Yamuna and others on the eastern side. The forests situated on the eastern side are Bhadravana, Bilvavana, Lauhavana, Bhandiravana and Mahavana. On the western side are Madhuvana, Talavana, Kumudavana, Bahulavana, Kamyavana, Khadiravana and Vrndavana. These are the twelve forests of the Vrndavana area.
NoD 9 Further Considerations of Devotional Principles
A similar statement is in the Skanda Purana, which says, "Persons who are decorated with tilaka or gopi-candana [a kind of clay resembling fuller's earth which is produced in certain quarters of Vrndavana], and who mark their bodies all over with the holy names of the Lord, and on whose necks and breasts there are tulasi beads, ARE NEVER APPROACHED BY THE YAMADUTAS." The Yamadutas are the constables of King Yama (the lord of death), who punishes all sinful men. Vaisnavas are never called for by such constables of Yamaraja. In the Srimad-Bhagavatam, in the narration of Ajamila's deliverance, it is said that Yamaraja gave clear instructions to his assistants not to approach the Vaisnavas. VAISNAVAS ARE BEYOND THE JURISDICTION OF YAMARAJA'S ACTIVITIES.
750801SB.NO Lectures
So I am very glad that you are seriously interested, and Krsna is pleased upon you. And that you are sincerely trying, I can understand from these tulasi plants. Yes. THIS IS THE PRACTICAL DEMONSTRATION. UNLESS THERE IS BHAKTI, THIS TULASI PLANT WILL NOT GROW. We must be very much thankful to our Govinda dasi. She first of all cultivated the tulasi plant in Hawaii. And now our tulasi plants are distributed. SO SHE HAS DONE A GREAT SERVICE. I THINK I GAVE HER THE SEEDS, AND SHE VERY NICELY DONE IT. NOW EVERYWHERE WE SEE TULASI PLANT. IT IS VERY PLEASING. SO THE SAME THING–DEITY WORSHIP AND WATERING THE TULASI PLANTS, CHANTING SIXTEEN ROUNDS AT LEAST, AND OBSERVING THE RULES AND REGULATION, REGULATIVE PRINCIPLE… THEN YOUR LIFE IS SUCCESSFUL. DON'T NEGLECT. VERY SERIOUSLY CONTINUE. AND IN THIS ONE LIFE YOU ARE GOING BACK TO HOME, BACK TO GODHEAD. IT IS SURE. I AM NOT FLATTERING YOU. KRSNA SAYS, MAN-MANA BHAVA MAD-BHAKTO MAD-YAJI MAM NAMASKURU, MAM EVAISYASI ASAMSAYAH. ASAMSAYAH, "WITHOUT ANY DOUBT, SIMPLY FOLLOWING THESE RULES AND REGULATION," MAM EVAISYASI, "YOU COME BACK TO ME."
69-04-13. Letter: Pradyumna
Regarding your questions, generally tulsi beads ARE REQUIRED FOR INITIATION, BUT IF IT IS NOT AVAILABLE, ORDINARY BEADS CAN BE USED. Sometimes the shopkeepers give ordinary beads and say it is tulsi, so it is very difficult to get tulsi beads without personal attendance.
SPL Govinda Dasi, 7 April, 1970 Honolulu
I am so very glad to learn that Srimati Tulasi Devi has favored you so much. IF YOU CAN ACTUALLY GROW THIS TULASI PLANT, AND I AM SURE YOU WILL DO IT, THEN YOU MUST KNOW IT FOR CERTAIN THAT YOUR DEVOTION FOR KRSNA IS TESTIFIED. I was very much anxious to introduce this worship of Tulasi plant amongst our Society members, but it has not become successful til now, therefore, when I hear that you have got this opportunity, MY PLEASURE DOES NOT HAVE ANY BOUNDS.
PLEASE TAKE CARE OF THE TULASI PLANTS IN THE FOLLOWING WAY. THIS IS THE BEST SEASON FOR GROWING TULASI PLANTS. FROM 15TH APRIL TO 15TH JUNE IS THE BEST SEASON FOR GROWING THIS PLANT. NOW I UNDERSTAND THAT THE SEEDLINGS ARE COMING OUT, SO THE WHOLE SPOT IF POSSIBLE MAY BE COVERED BY SOME NET BECAUSE THE SEEDLING STAGE CREEPERS BEING VERY DELICATE ARE SOMETIMES EATEN UP BY THE SPARROWS, SO WE HAVE TO GIVE A LITTLE PROTECTION FROM ATTACK OF THE SPARROWS. ALL THE DEVOTEES SHOULD POUR WATER AT LEAST ONCE IN THE MORNING BEFORE TAKING PRASADAM. THE WATERING SHOULD NOT BE VERY MUCH LARGE IN QUANTITY, BUT IT SHOULD BE POURED JUST TO KEEP THE GROUND SOFT AND MOIST. SUNLIGHT ALSO SHOULD BE ALLOWED. WHEN THE CREEPERS ARE GROWN AT LEAST 7 INCHES HIGH, THEN YOU CAN TAKE THEM OUT FROM THE PLANTING SOIL AND TRANSPLANT THEM IN A ROW IN A DIFFERENT PLACE. THEN GO ON WATERING AND THEY WILL GROW LIKE ANYTHING. I THINK THIS PLANT CANNOT GROW IN COLD COUNTRIES, BUT IF THE PLANTS ARE DISPATCHED FROM YOUR PLACE AND IF THE DEVOTEES TAKE CARE OF THE PLANT WITH A LITTLE CARE IN A FLOWER POT, THEN IT MAY GROW.
Tulasi leaf is very, very dear to Visnu. All Visnu-tattva Deities require profusely Tulasi leaves. Lord Visnu likes garland of Tulasi leaves. Tulsi leaves mixed with sandalwood pulp and placed on the lotus feet of the Lord is the topmost worship. But we must be very careful that Tulasi leaves cannot be placed on the feet of anyone else except Lord Visnu and His different forms. TULASI LEAVES CANNOT BE PLACED EVEN ON THE LOTUS FEET OF RADHARANI OR ON THE LOTUS FEET OF THE SPIRITUAL MASTER. IT IS ENTIRELY RESERVED FOR BEING PLACED ON THE LOTUS FEET OF KRSNA. WE CAN PLACE, HOWEVER, TULASI LEAVES IN THE HANDS OF RADHARANI FOR BEING PLACED ON THE LOTUS FEET OF KRSNA, as you have seen on the Govinda Album.
I am giving you herewith three mantras for Tulasi Devi as follows:
vrindaai tulasi devyai priyaai kesavasya ca
visnubhaktiprade devi satyavatyai namo namah
This is offering OBEISANCES, bowing down (pancanga pranam). And when COLLECTING LEAVES from the plant, the following mantra should be chanted:
tulasya mrta janmasi sada tvam kesavapriya
kesavarthi cinomi tvam barada bhava sobhine
Then the mantra FOR CIRCUMAMBULATING the Tulasi tree.
yani kani ca papani brahmahatya dikani ca
tani tani pranasyanti pradaksinah pade pade
So there are three mantras, one for bowing down, one for circumambulating,* and one for collecting the leaves. The collecting of leaves should be done once in the morning for worshiping and for putting on the plates of foodstuff to be offered. On each bowl or plate there should be at lest one leaf. So you follow and practice these Tulasi affairs and you try to distribute your experience to all the other centers, that will be a new chapter in the history of Krsna Consciousness Movement.
70-11-12. Letter: Vamanadeva
THE NEW GROWTH OF TULASI IS TESTIMONY TO YOUR SINCERE DEVOTION BECAUSE SHE WILL ONLY GROW AND FLOURISH IN AN ATMOSPHERE OF KRSNA CONSCIOUSNESS.
70-11-30. Letter: Karandhara
Regarding worship of Tulasi, it is not very much important. Simply all the devotees may offer a LITTLE WATER EVERY MORNING AND IN THE EVENING OFFER OBEISANCES AND GHEE LAMP (ONE WICK) AND CIRCUMAMBULATING THREE TIMES REPEATING THE MANTRAS THAT I HAVE GIVEN YOU. The plant may remain in the garden.
70-12-29. Letter: Jagadisa
I am very glad to learn that you have begun worship of Tulasi in your Toronto Temple. THE PRESENCE OF TULASI IS PROOF OF TRUE DEVOTIONAL ATMOSPHERE THERE. Please offer Her all respects and carefully tend and Srimati Tulasi will be pleased upon you in gaining the auspicious favor of the Lord.
71-01-21. Letter: Bhavananda
So far as touching the Deity is concerned, that can be done only by the priest. Only on very special occasions are others allowed to touch the Deity. TOUCH MEANS TO PLACE TULASI MIXED WITH SANDALWOOD AT KRISHNA'S LOTUS FEET.
71-04-11. Letter: Krsnakanti
Yes, Krishna is providing everything. Krishna is so kind. As you require something for His service, he provides it. And Tulasi Devi is growing so nicely there. TEND TULASI VERY NICELY AND YOUR DEVOTION TOWARDS KRISHNA WILL INCREASE. IN THE EVENING A LAMP SHOULD BE OFFERED TO THE TULASI PLANT AND IN THE MORNING EACH DEVOTEE SHOULD OFFER A LITTLE WATER AND OFFER OBEISANCES.
71-05-28. Letter: Govinda
Your service in the matter of implanting Tulasi seeds as introduced in the Western countries has PROVED IT DEFINITELY THAT ACTUALLY YOU ARE GOVINDA DASI, MAID-SERVANT OF GOVINDA. I always speak to many gentlemen how strenuously hard you work to have introduced Tulasi in the Western countries and I am hearing from everywhere that Tulasi is growing very luxuriantly. MAY TULASI BE KIND UPON YOU AND INTRODUCE YOU TO KRISHNA, TO BE ONE OF THE ASSISTANT MAID-SERVANT GOPIS IN VRINDABAN.
71-07-09. Letter: Gaura Hari
I am so glad to hear how nicely Tulsi is growing. That is the sign of substantial devotional service. Every center should be encouraged to grow Tulsi. IF THERE IS ANY IMPEDIMENT IN GROWING TULSI, THAT MEANS THAT DEVOTIONAL SERVICE IS DEFECTIVE.
71-08-31. Letter: Ekayani
Tulasi plants are LIBERATED SOULS who want to serve Krishna in that way.
71-11-17 Letter: Patty Dorgan
Tulsidevi is part of Krishna's entourage, she is Krishna-ised or Krishna Conscious, and in this pure state she has all the qualities of Krishna, and therefore she becomes worshipable just like Krishna. THERE IS A SAYING, LOVE ME, LOVE MY DOG. It is like that. To approach the President is very difficult, unless you are the friend of his son or daughter, then it becomes very easy. So worship of Tulsidevi and other of Lord Krishna's Entourage is part of the total devotional attitude of pleasing Krishna.
SPL Honolulu 71-11-20 Govinda dasi,
Please accept my blessings and the blessings of Lord Caitanya also. Because you have done the Caitanya Mahaprabhu murti so wonderfully, I can understand that Caitanya Mahaprabhu had a special blessing upon you. So you first introduced Tulasi plant in the Western countries and now you have introduced the vigraha form of Lord Caitanya in the Western countries. So do it very nicely and very soon I shall be coming to your New Navadvipa by the month of March or April.
The Panca-tattva can all be golden. The Deity of Lord Caitanya is very nicely done so there is no need to change the color. Yes, Srivas Pandit has sikha. Vaisnava must have sikha. Advaita Prabhu has a full white beard. He was an old man. He was practically older than the father of Lord Caitanya. He was an elder gentleman in the town of Navadvipa, elder of the brahmana community. ALL SHOULD WEAR TULASI KUNTI BEADS, NOT LESS THAN TWO STRANDS. THREE, FOUR STRANDS OR MY GURU MAHARAJA HAD FIVE STRANDS. Only Lord Caitanya and Lord Nityananda wear crowns and nosepins. Lord Caitanya and Lord Nityananda can be decorated with all kinds of jewelry. FOR KRISHNA TULASI AND RAMA TULASI THE THE WORSHIP IS THE SAME. THERE IS NO DIFFERENCE BETWEEN RAMA AND KRISHNA. BOTH ARE THE SUPREME PERSONALITY OF GODHEAD. SIMPLY THEY ARE EXPANSIONS OF THE SAME ABSOLUTE TRUTH.
72-01-06. Letter: Radhavallabha
I am very glad to know that you are seriously taking to Srimati Tulasi Devi worship. Tulasi Devi is a pure devotee of Krishna and she should be treated with the same respect given to all Krishna's pure devotees. Simply by worshipping her faithfully, a devotee can get himself free of from all material miseries. In the Nectar of Devotion I have given two verses from the Skanda Purana, one of which is: "Tulasi is auspicious in all respects. Simply by seeing, simply by touching, simply by remembering, simply by praying to, simply by bowing before, simply by hearing about, or simply by sowing the tree, there is always auspiciousness. Anyone who comes in touch with the Tulasi tree in the above mentioned ways lives eternally in the Vaikuntha world." So from this verse we can understand how pure is the service which Tulasi offers to Sri Krishna. So we should always endeavor after becoming servant of Tulasi Devi. I DO NOT KNOW WHO HAS TAUGHT YOU THAT PART OF A TULASI PLANT MAY BE CUT OFF AND THEN REPLANTED? FROM THE TULASI PLANT YOU CAN CUT OFF ONLY LEAVES FOR OFFERING THEM TO KRISHNA, NEVER FOR CUTTING AND PLANTING. THAT IS AN OFFENSE. THE MANJARIS (SEEDS) CAN BE OFFERED IN WATER AND IT MAKES THE WATER FRAGRANT AND TASTEFUL. AND THE MANJARIS CAN BE PLANTED FOR GROWING NEW TULASI PLANTS. Yes, the prayer you have enclosed is bonafide. TULASI DEVI NEVER GOES BACK TO GODHEAD, SHE IS ALWAYS WITH GODHEAD. SHE IS A PURE DEVOTEE AND THUS SHE HAS APPEARED ON THIS PLANET TO RENDER SERVICE TO KRISHNA BY BEING OFFERED IN ALL TEMPLES THROUGHOUT THE WORLD BY BEING OFFERED UP TO THE LOTUS FEET OF KRISHNA.
Honolulu 6 January, 1972 Govinda dasi
HOW ARE YOUR TULASI PLANTS IN HAWAII? HOW ARE THEY FEELING? I AM ALWAYS THINKING OF THEM and you. Please let me know how they are growing and how you are taking care of them. This time when I go to Hawaii I shall sit down in the forest of Tulasi plants and chant Hare Krishna.
72-02-12. Letter: Govinda
I am very sorry to hear about your demoniac neighbor cutting down many tulasi plants, but do not worry, HE SHALL GET HIS DUE PUNISHMENT IN TIME, REST ASSURED. Simply go on in the normal way, and gradually his threat will disappear. Such men should be taken and beaten very hard with shoes–but it will not be very much to our credit if we are accused of fighting in this way. But if that man is caught trespassing on our property, then he may be severely punished by us. You can put up barbed-wire fence around the tulasi plants if that will help, or somehow or other protect them from further danger. Our experience has been that if we ignore them such demoniac class of men, they will go away.
72-04-12. Letter: Anuttama
Thank you for the Tulsi leaves you have sent me. SRIMATI TULSI DEVI IS VERY DEAR TO LORD KRISHNA, SO YOU MUST ALWAYS CARE FOR HER VERY LOVINGLY AND ATTENTIVELY, AND IN THIS WAY KRISHNA WILL BE PLEASED.
73-01-04 Letter: Dhruvananda
Yes, the leaves of Srimati Tulasi Devi MAY BE OFFERED TO ALL VISNU-TATTVA EXPANSIONS OF KRSNA, INCLUDING NITYANANDA AND BALARAMA.
73-01-04 Letter: George
I have heard that your good wife, Patty is growing Srimate Tulasi devi there at your house with good success. That is another very auspicious sign. THE TULASI, SHE WILL NOT GO TO LIVE WITH ANYONE NON-DEVOTEE, AND BECAUSE SHE IS GROWING SO PROFUSELY, THEREFORE SHE IS GIVING YOU HER BEST FAVOR BECAUSE YOU ARE BEST DEVOTEE, THAT IS TO BE UNDERSTOOD.
73-02-11. Letter: Tosana
Your dedication to Srimati Tulasi-devi is very laudable and I am sure that if you consult with Karandhara das he will give you all assistance to help make your dream come true. But carving tulasi beads should not be your sole occupation. YOU SHOULD ALSO GO OUT FOR STREET SANKIRTANA AND DISTRIBUTE MY LITERATURE FOR THE CRIPPLE MINDED MASSES, and whatever spare time you have you can carve some tulasi beads for me to sanctify. But whatever you do should be done with wholehearted enthusiasm and strict adherence to the principles of chanting 16 rounds, rising for mangala arati, following the four basic principles, always remaining clean etc.
73-07-20 Letter: Nityananda
The picture of tulasi is especially indicative, BECAUSE IF TULASI GROWS LUXURIANTLY THAT PROVES THE SINCERE DEVOTIONAL SERVICE OF THE PLACE.
Babhru, 9 December, 1973 Los Angeles
That Gaurasundara and Siddha-svarupa have sold the Temple in Hawaii and abandoned the beautiful Tulasi plants there is a great fall down on their parts. They did not ask my permission. If they wanted to go away they could have, but they had no right to sell the Temple. It is actually a criminal act on their part. Anyone who follows them will also fall down without a doubt.
Now, we have by Krsna's Grace built up something significant in the shape of this ISKCON and we are all one family. Sometimes there may be disagreement and quarrel but we should not go away. These inebrieties can be adjusted by the cooperative spirit, tolerance and maturity so I request you to kindly remain in the association of our devotees and work together. The test of our actual dedication and sincerity to serve the Spiritual Master will be in this mutual cooperative spirit to push on this Movement and not make factions and deviate. Try to convince Gaurasundara and Siddha-svarupa to return to ISKCON and let us forget whatever has happened in the past.
Yes, you may return to Hawaii with Sudama Maharaja and take charge of caring for Tulasi devi there. I CANNOT UNDERSTAND HOW GOVINDA DASI COULD ABANDON TULASI DEVI. KINDLY TRY TO INDUCE HER TO RETURN.
Tusta Krsna 7 November, 1973
Just now I have received the news that in Hawaii the tulsi plants are drying for want of watering. How has Govinda dasi left the tulsi plants which she nourished so lovingly? Please therefore all of you go to your respective positions and revive your devotional activities without any further delay, and if you cannot cope with the GBC men, which I suppose there must have been some disagreement, I shall deal with you directly. But, do not leave the Krsna consciousness movement, at any cost. IF POSSIBLE KINDLY LET ME KNOW WHERE IS GAURASUNDARA. ON MY BEHALF PLEASE REQUEST HIM TO COME BACK TO THE TEMPLE AND SAVE THE TULSI PLANTS. ASK GOVINDA DASI ALSO ON MY BEHALF TO DO THIS WITHOUT DELAY.
73-12-06 Letter: Kirtida Kanyaka
Please accept my blessings. THANK YOU VERY MUCH FOR THE TULASI LEAVES OFFERED TO LORD CAITANYA'S LOTUS FEET. IF ONE IS FORTUNATE ENOUGH TO RECEIVE SUCH HOLY PRASADAM THEN ALL SINFUL REACTIONS ARE IMMEDIATELY PURIFIED WITHIN THE HEART AND PURE DEVOTIONAL SERVICE IS VERY EASILY OBTAINED.
74-11-25. Letter: Sarada
Please accept my blessings. I am in due receipt of your letter dated October 17, 1974 and have noted the contents. I am very glad to hear that you are engaged in the service of tulsi devi. Tulsi leaves are very important for satisfying Lord Krishna. BUT TULSI DEVI IS NOT PLEASED BY THE NICE TUNE OF SINGING BUT BY THE NICE DEVOTION. So you continue to your best, and you will automatically advance more and more in Krishna consciousness.
75-05-31 Letter: Kirtanananda
ACTUALLY, ONE SHOULD NOT CIRCUMAMBULATE WHEN THE DEITY IS OPEN. It is stated in the Nectar of Devotion. I think you can close the doors to the Deity room during Tulasi puja and then open them again afterwards.
75-07-26. Letter: Vrnda
Please accept my blessings. I am in receipt of your letter, undated. Regarding the booklet, "A Guide to the Care of Srimate Tulasi devi," yes, the book is very nice. It is approved. But one thing is that NO SPRAYS CAN BE USED, NOT AT ALL. TULASI IS A WORSHIPABLE PLANT SO THERE IS NO QUESTION OF USING ANY SPRAYS. THE BEST THING IS TO SIMPLY DAILY WATER TULASI DEVI AND KEEP HER CLEAN. NOTHING ELSE IS REQUIRED.
Vidya dasi, 25 October, 1976
If it is not possible for Tulasi to survive the winters when planted in the ground, then a suitable house should be provided for her. Even in the Canadian temples which are in a much colder climate are keeping Tulasi nicely. Why should there be so much difficulty in Los Angeles, which has such a nice climate. Just do everything very carefully. Tulasi flourishes where there is love and devotion.
In answer to your questions; 1) TULASI IS ONE DEVOTEE WHO APPEARS WHEREVER THERE IS DEVOTION TO KRSNA. 2) TULASI'S BODY IS SPIRITUAL. 3) Yes, jewelry is alright. 4) If possible. 5) Tulasi leaves should be offered to the Deity. 6) If possible. 7) Yes. 8) Yes. 9) YOU MAY CUT THE DEAD BRANCHES, BUT WHAT IS THE NECESSITY. 10) I never said that. 11) No. 12) Yes. 13) Use the wood for beads as far as possible, THE BALANCE MAY BE PLACED WITHIN THE EARTH. 14) I SAID NO CHEMICAL SPRAYS. 15) Undisturbed means what? 16) Use common sense and if you have none then consult with others. 17) No. 18) Don't try to introduce something new. THE MOST IMPORTANT THING IS THE LOVE AND DEVOTION.
94-08-08. Letter: VARIOUS
…whether we may prune the leaves of Tulasi, NO, THERE IS NO QUESTION OF PRUNING. BUT YOU CAN TAKE FOR WORSHIPING KRSNA LEAVES FROM THE TULASI. FIRST UTILIZE THE DEAD LEAVES OR LEAVES WHICH HAVE FALLEN DOWN, AND IF MORE LEAVES ARE REQUIRED FOR WORSHIPING KRSNA, YOU MAY TAKE THEM FROM TULASI PLANT IN THIS WAY: FIRST APPROACH TULASI DEVI AND OFFER YOUR OBEISANCES, REQUESTING HER THAT FOR WORSHIPING KRSNA YOU WANT TO TAKE SOME LEAVES. THEN IF SHE ALLOWS YOU MAY TAKE. THERE IS NO QUESTION OF PRUNING IN THE MANNER OF GARDENERS JUST TO MAKE NICE BEAUTIFUL PLANT FOR ORNAMENTAL PURPOSES. And if there are any dead branches, these may be made into beads, like neck beads, and if they are large branches you can make japa beads. THERE IS NO NEED TO KEEP CANDLE BURNING ALL NIGHT, BUT YOU CAN BURN CANDLE IN THE EVENING FOR ONE HOUR FOR TULASI DEVI, THAT WILL BE NICE.
760314mw.may Conversations
Prabhupada: Everyone…. He is giving mercy. That is general. But if He does not like, He may not give you. You cannot make Him obliged.
Panca-dravida: So why is it, then, if it's a question of ajnata-sukrti… The Indians, from their birth they're watering tulasi, they're chanting Hare Krsna, they're doing so many activities, but mostly your disciples are foreigners?
Prabhupada: So that…. no, MEANS THAT IS TEMPORARY. THEY MAY COME AGAIN. IT WILL NEVER GO IN VAIN. Just like this cloud. Cloud is meant for raining. Now it is not raining, but when there is sufficient cloud, it will rain. YOU CANNOT SAY THERE IS NO RAIN. THERE IS, BUT IT IS NOT SUFFICIENTLY COLLECTED. WHEN IT IS SUFFICIENTLY COLLECTED, THEN.
761231rc.bom Conversations
Prabhupada: Every temple we have got big, big tulasi. Especially Hawaii WE HAVE GOT SIX FEET HIGH TULASI.
NoD 35 Neutral Love of God
In the Third Canto, Fifteenth Chapter, verse 43, of the Srimad-Bhagavatam, there is a statement by the four saintly persons known as Catuh-sana, headed by Sanaka-kumara. They went to visit the Lord of Vaikunthaloka in the spiritual sky, and when they bowed down before the Lord, the aroma of the tulasi, mixed with saffron, entered their nostrils and immediately attracted their minds. Although these four saintly persons were always absorbed in the thought of impersonal Brahman, FROM ASSOCIATION WITH THE LORD AND FROM SMELLING THE TULASI LEAVES THE HAIRS ON THEIR BODIES IMMEDIATELY STOOD UP. THIS SHOWS THAT EVEN A PERSON WHO IS SITUATED IN BRAHMAN REALIZATION, IF HE IS PUT INTO ASSOCIATION WITH DEVOTEES IN PURE DEVOTIONAL SERVICE, WILL IMMEDIATELY BECOME ATTRACTED TO THE PERSONAL FEATURE OF THE LORD.
tulasi-dala-matrena
jalasya culukena va
vikrinite svam atmanam
bhaktebhyo bhakta-vatsalah
"Sri Krsna, who is very affectionate toward His devotees, SELLS HIMSELF TO A DEVOTEE who offers Him merely a tulasi leaf and a palmful of water."