Reincarnation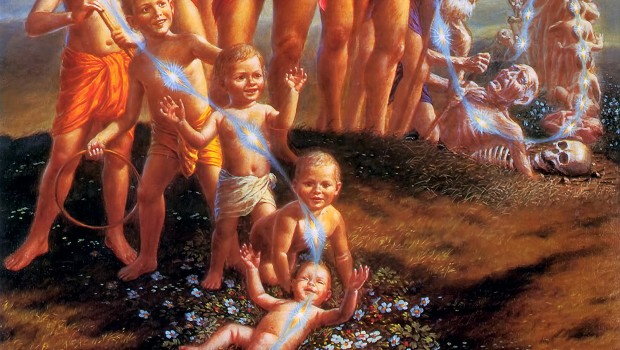 Published on February 2nd, 2022 | by Madhudvisa dasa
59
Understanding Reincarnation from Bhagavad-gita
Bhagavad-gita in just a few words sheds so much light on the subject of reincarnation. In the Eighth Chapter Sixth Verse Lord Krishna says:
"Whatever state of being one remembers when he quits his body, that state he will attain without fail."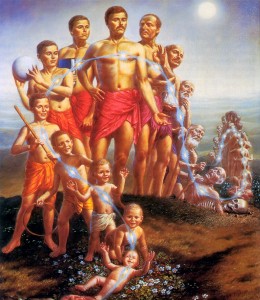 The process of changing one's nature at the critical moment of death is explained here. It is a very scientific process and in one line only we can understand the whole thing. Our state of mind at the time of death determines the state we will attain after death.

So we can understand from this that we are eternal. Even though our bodies will get old and die, we, the spirit souls within the bodies, do not die. Death is simply the soul leaving one body and going somewhere else.
And this verse very clearly and scientifically states what determines our destination after leaving this body. And that is our state of mind.
So there are many examples. If one is very much attached to swimming and surfing in the ocean then the human form of body is not very good for that. So if at the time of death one is dreaming about swimming and surfing in the ocean then Krishna may mercifully award him the benediction of getting the body of a fish in his next life. In that way he can swim in the ocean to his hearts content.
But a fish does not have the ability to ponder the meaning of life. All a fish is conscious of is how to eat, how to sleep, how to have sex and how to defend himself. His thoughts will never be able to rise above these basic animal needs. It is only in the human form of life that we have the ability to question: "Why am I here?

", "What is the purpose of life?", "Where did I come from?", "What will happen after death?

". Finding the answers to questions like this is the purpose of human life. This is how the Brahma Sutra starts: ahato brahma jijnasa: "The purpose of life is to question about brahman." Brahman means the spirit.
So the human form of life is a great facility which we can use to raise our consciousness form the material platform to the spiritual platform. And from reading this verse we can understand if we die in Krishna consciousness then after death we will certainly attain the state of Krishna consciousness.
So how can one die in the proper state of mind? Maharaja Bharata thought of a deer at the time of death and so was transferred to that form of life. However, as a deer, Maharaja Bharata could remember his past activities.
Of course the cumulative effect of the thoughts and actions of one's life influences one's thoughts at the moment of death; therefore the actions of this life determine one's future state of being. If one is transcendentally absorbed in Krishna's service,then his next body will be transcendental (spiritual), not physical. Therefore the chanting of Hare Krishna's is the best process for successfully changing one's state of being to transcendental life.
Srila Prabhupada has given us a very perfect method so that we can live in this material world but at the same time remain conscious of Krishna constantly. So if we practice this, constantly thinking of Krishna, constantly chanting Hare Krishna, then naturally at the time of death we will be thinking of Krishna and we will attain the state of Krishna consciousness after death.