Spiritual Master / Guru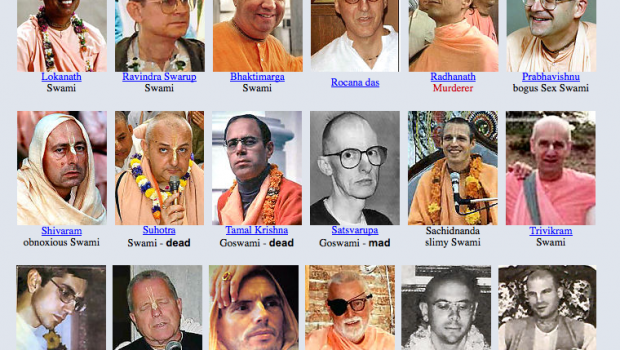 Who Is Representing Srila Prabhupada Now?
The ISKCON living gurus are advising their disciples: You can't understand Prabhupada's books or classes, you have to hear from me instead. You can't understand Prabhupada… So that's hardly being Prabhupada's representative.
"Each temple will be an ISKCON property and will be managed by three executive directors. The system of management will continue as it is now and there is no need of any change." (Srila Prabhupada's will)
What was the system of management when Srila Prabhupada was physically present? How did the temples run? How did new devotees get trained-up and initiated? How did the system of authority work in ISKCON?
"I am very glad to note that you are seeing that the devotees are maintaining the devotional practices. This is the secret to success.
Therefore I am stressing it. And, if you also stress it and show yourself as an ideal Vaisnava, then you are my representative in fullness. We are not after titles and designations. Lord Caitanya made it a principle that we must teach by personal example. This is what I have tried to do. So if all of you my disciples do this, then the future of our movement will be glorious." (74-10-31 Letter: Hrdayananda)
Srila Prabhupada's management system for ISKCON is that he trained-up representatives who would then act on his behalf all over the world as Temple Presidents, GBCs, sannyasis and even regular devotees. In this way, although Srila Prabhupada was only one man, he could simultaneously preach all over the world through his representatives and his books. This is Srila Prabhupada's management system for ISKCON and it should not have changed.
("The system of management will continue as it is now and there is no need of any change…")
"You have done very good by staying in N.Y. under the guidance of Sriman Brahmananda. In your last letter you proposed to come here, but Krishna has given you good counsel that instead of coming here, you have stopped at N.Y. and expended the passage money for temple expenditures. It is very good. IT IS AS GOOD TO SEE BRAHMANANDA BECAUSE HE IS MY REPRESENTATIVE, AND HE CAN INFORM YOU EVERYTHING WHICH I COULD HAVE DONE BY MEETING YOU.
Anyway, please act under the guidance of Brahmananda, so long I am not able to see you, and probably it will be possible to see you in the month of April next, when I am going to N.Y. I thank you once more for your service spirit to Lord Krishna, and I am sure He will bestow upon you more and more service spirit." (68-02-20 Letter: Robert)
"The thing is discipline can not be observed unless there is obedience. AS YOU ARE OBEDIENT TO ME, YOU SHOULD BE SIMILARLY OBEDIENT TO MY REPRESENTATIVE. Your statement about Brahmananda that he is a wonderful devotee is 100% agreed by me. He is in charge of the New York center, and, therefore, if proper obedience is not given to him it will be impossible for him to manage the affairs of the temple. Under the circumstances, the discrepancies you have observed in the temple may be referred to him, and he is quite reasonable, and will handle the matter with the respective devotees. Please don't you take any direct actions because it will cause disruption. You are a very talented boy, and I have every confidence in you, so I hope you will do this and oblige. (69-02-07 Letter: Nara-narayana)
In these quotes we find the key to Srila Prabhupada's transcendental management system for ISKCON. We can see that as early as 1968 Prabhupada had already appointed "representatives of the acarya," and he is already saying, "it is as good to see my representative as me."
Srila Prabhupada was training devotees and empowering them to act as his representatives and in this way they got the strength and purity to attract new devotees, to manage the temples and to preach. Srila Prabhupada developed the entire "International Society For Krishna Consciousness" from absolutely nothing to a huge, powerful, revolutionary world-wide spiritual movement in just a few years by using this simple management system. He trained disciples then empowered them to act as his representatives. In turn these devotees attracted new devotees and trained them also to become SRILA PRABHUPADA'S REPRESENTATIVES.
This feeling of being Srila Prabhupada's representative was all-pervasive in ISKCON. The book distributors were also conscious they were Srila Prabhupada's representatives. And any devotee who sincerely acted in this way, following the principles and Srila Prabhupada's instructions, was empowered by Srila Prabhupada, and they could actually act as his representatives with great spiritual strength and potency.
In ISKCON today it's difficult to find ANYONE who's acting as Srila Prabhupada's representative, acting on Srila Prabhupada's behalf.
The "living gurus" are acting as "little Prabhupada's" and are advising their disciples: "You can't understand Prabhupada's books or classes, you have to hear from me… I have some lecture tapes and books also–hear them instead. You can't understand Prabhupada…" So that's hardly being Prabhupada's representative. And the position of the Temple Presidents is very unclear. In the "zonal acarya" days the TPs were certainly representatives of the "zonal acarya," not Prabhupada, but what they are now I don't know. I don't think they even know themselves! So where's the authority? We used to obey the Temple President because he was Prabhupada's representative, but why should devotees obey the TP today? Who's representative is he now?
We hear so often from ISKCON "everyone needs a living guru." It's true, we all need personal guidance and instruction to help us advance in Krishna consciousness. Srila Prabhupada has given us everything in his books, but there are still many things one needs to learn in the association of devotees. That's why Srila Prabhupada empowered his disciples to become his representatives.
The "living guru" sect claim Srila Prabhupada can no longer accept disciples because he can't assocate with such disciples physically as ISKCON's "living gurus" can. However most of Srila Prabhupada's directly initiated disciples in his physical presence could not get such direct personal guidance from Srila Prabhupada either!
Srila Prabhupada had so many disciples and such a busy schedule, how could he possibly solve each and every personal problem of every one of his disciples? However Srila Prabhupada actually did give direct personal one-to-one guidance and training to all of his disciples THROUGH HIS REPRESENTATIVES. Even if one wrote to Srila Prabhupada personally on such matters he would generally simply refer the devotee to his representative in the area…
"You complain that as a householder it is very difficult. Especially you want to preach. There are examples of great preachers who were householders, such as Bhaktivinode Thakur, although we cannot hope to imitate him. You have not mentioned whether you are attending the activities of the temple and associating with the devotees in Melbourne, and these things are essential. Madhudvisa Swami is my representative in charge of devotional affairs in Australia and if you will discuss the specific situation with him, he will see that you become engaged in work just suitable to your situation as a householder." (74-04-07 Letter: Raghunatha)
Srila Prabhupada stressed time and time again the best way to associate with the spiritual master is by following his instructions, that personal bodily service to the spiritual master was not as important as following his instructions. It is much more important to go out and distribute Srila Prabhupada's books than to get his physical association.
Even on philosophical questions it was not very easy for an ordinary devotee to get a personal reply from Srila Prabhupada. Ordinary devotees generally couldn't even write to Srila Prabhupada. If every one of Srila Prabhupada's disciples wrote him a letter every month how on earth could he answer them? That's why he empowered his disciples to act as his representatives, so they could answer the questions on his behalf. That's also why Srila Prabhupada wrote his books. He put all the questions and answers in the books. And that's what he would tell his disciples who would write to him with such questions.
"So if you can satisfy them intellectually and answer all their questions, that will be your success. All the answers are there in Srimad-Bhagavatam, Bhagavad-gita As It Is, and Teachings of Lord Caitanya. You will simply have to study these books to find out the answers. Anyway, I think Japan will be good field in future for spreading our Krishna Consciousness Movement. You are tested devotees; please handle the matter carefully, and Krishna will give you all help." (69-10-03 Letter: Bali-mardana, Sudama)
"If one simply regularly chants and follows the rules and regulative principles all questions of philosophy will be answered by Krsna from within and all doubt will be cleared also in this way. And the same answers are there again in our books like Bhagavad-gita As It Is, Srimad-Bhagavatam, etc. So please see that all the initiated devotees stick rigidly to their daily chanting and regulative living in devotional service. This is most important." (70-02-14 Letter: Madhudvisa)
"I am very glad to know that you are reading our literatures and you are very thoughtful about them. I am always happy to answer your questions, but you should practice to get the answers from your husband and try to find them out by reading further in our books. All questions will be clarified if you simply read our books very thoroughly and follow the simple process of devotional service as we have given it to chant regularly and rigidly observe the rules and regulations. This is our principle that the spiritual science becomes revealed to the devotee from within the heart according to the degree of his surrender to Krsna. You are a very hopeful student and intelligent devotee, so you continue to pursue your devotional activities patiently and Krsna will open your path of Krsna consciousness so you will progress more and more." (70-07-25 Letter: Ekayani)
"So far you being philosophically-minded, that I can see and appreciate, but in future I think you can ask any questions you may have in these matters to one of the Swamis or to your GBC man. I have given them the answers to all such questions, so they can help you. I am an old man now, and my interests are turning to philosophy and translation. If you help me by relieving me from this administrative work, that will free me to give you so many more fine books from Vedic literature and from our own devotional line. So kindly assist me in this way. Actually, if you simply serve in a surrendered attitude, and go on chanting regularly, the answers to everything will come out automatically: "To those who are constantly devoted and worship Me with love, I give the understanding by which they can come to Me." (X, 10). (72-02-27 Letter: Mohanananda)
"If you read all our books, Bhagavad-gita, Srimad-Bhagavatam, and others, you will get all the answers to your questions. Still I shall be very glad to answer besides that." (74-07-16 Letter: Alfred Ford)
Still, even though Srila Prabhupada could not be physically present with all his disciples, he trained his senior disciples so they became competent in Krishna consciousness then they could act as his representatives. In this way, through his representatives, Srila Prabhupada could preach to the devotees and deal with their day-to-day spiritual and material problems all over the world.
Everyone, including the book distributors on the street, the Temple Presidents and the GBCs were conscious they were acting as Srila Prabhupada's representatives and the whole movement went on nicely with everyone as godbrothers and Srila Prabhupada in the center.
The Temple President and the other senior devotees in the temple acted as siksa [instructing gurus] and Srila Prabhupada is the diksa [initiating guru]. Of course Srila Prabhupada is the main siksa guru also, but still there are so many things about Krishna consciousness we have to learn from the devotees. I know in my devotional life Srila Prabhupada is my guru, both diksa and siksa, but I had so many other siksa gurus in ISKCON. In fact I would have never even had the opportunity to read Srila Prabhupada's books if the ISKCON devotees didn't sell them to me.
Even if I read Srila Prabhupada's books by myself I cannot imagine how I would have become Krishna conscious.
When I started reading Srila Prabhupada's books it was more or less out of curiosity. I didn't really believe people could do these things–get out of bed before 4:00am every morning, chant Hare Krishna for two or three hours every day and give up illicit sex even! It seemed impossible to me. So, just to see if the devotees were really doing these things, I started getting up early and going to the temple to see what was actually happening there. And everyone was chanting Hare Krishna in ecstasy and dancing and having a really wonderful time.
So I started chanting Hare Krishna also… But it's only because I saw the devotees, other young people just like me, were chanting Hare Krishna and enjoying it. Then it became possible for me also to chant Hare Krishna seriously. It was not just something an old swami from India was talking about in a book, it was something real, something tangible that I could take part in and it was happening in a big house in Mt. Lawley (Perth, Western Australia) just 15 minutes walk from where I was living…
I owe a great debt to so many devotees who are my siksa gurus and without their sincere preaching and real love and concern for me I'm sure Krishna consciousness and Srila Prabhupada would have not been much more to me than an old Indian swami talking about things in a book which were not very practical and which I was unable to do.
Unfortunately almost all the devotees who were my siksa gurus are no longer in ISKCON, most of them became victims of the bogus ISKCON guru system and are now no longer seriously practicing Krishna consciousness. It's heartbreaking to me to see ISKCON destroyng the lives of so many sincere devotees and Srila Prabhupada's movement.
So we definitely need guidance and instruction from other devotees, however Srila Prabhupada has ALREADY provided that in ISKCON through his representatives, the Temple Presidents, the GBCs and the sannyasis. There's absolutely no need for another group of "living gurus" to undermine the authority of Srila Prabhupada's actual representatives and provide something that was never available to Srila Prabhupada's disciples in his physical presence!
The whole "living guru" cult is completely bogus. Most of Prabhupada's disciples had absolutely no opportunity for the physical one-to-one relationship the "living guru" cultists claim is so necessary for spiritual advancement.
The argument "one needs a living guru to get answers to his questions" is completely bogus. What's wrong with asking the Temple President for the answers to your questions?? What's wrong with reading Srila Prabhupada's books and finding the answers?? That's what devotees did in Srila Prabhupada's physical presence.
Many devotees question where a person will get his spiritual authority from under the ritvik system. But they have not understood what the ritvik system Srila Prabhupada used himself to initiate his disciples is, otherwise this question would never arise.
The ritvik system IS ISKCON prior to Srila Prabhupada's physical departure in 1977. All the Prabhupadanugas are saying is exactly what Srila Prabhupada said in his will: "The system of management will continue as it is now and there is no need of any change."
The whole concept is nothing should have changed. Srila Prabhupada organized everything, including his acceptance and training of new disciples, in such a way that his physical presence was immaterial. He accepted disciples through his representatives and he trained his disciples through his representatives and his books.
Still many say, "but you need a 'living guru'". However they don't seem to realize more than 90% of Srila Prabhupada's disciples had very little personal association with Srila Prabhupada. Some of Srila Prabhupada's directly initiated disciples never even saw Srila Prabhupada "living"…
Even if the devotees had the opportunity of living in the same temple as Srila Prabhupada for a week or so, all most of them would do is hear Srila Prabhupada give class and go on with their normal service (book distribution mostly). There was no opportunity to cook hundred-course banquets and spend all day idly chatting with "Guru Maharaja" as tends to happen with ISKCON "gurus" and their disciples today… Srila Prabhupada had his own cook and he was just eating rice, dhal, chapatis, subji, etc.
Simple prasadam… Not hundred-course banquets…
Most devotees do not realize there's absolutely no place in the management system Srila Prabhupada established for ISKCON for ANY "living gurus" except His Divine Grace A.C. Bhaktivedanta Swami Prabhupada! That does not mean Srila Prabhupada's disciples cannot take their own disciples, it just means they cannot do it in ISKCON.
The current ISKCON guru system is a complete concoction. To justify themselves ISKCON "gurus" say one needs a "living guru" and they claim Prabhupada is not a living guru.
With the exception of a few devotees in the beginning and some fortunate souls who served Srila Prabhupada as his personal servants, there was very little opportunity for Srila Prabhupada's disciples to render him ANY physical service. There was also practically no opportunity for most devotees to even have one-to-one talks with Srila Prabhupada or even ask him questions in the class or write him a letter…
The devotees would hear Srila Prabhupada give class and he usually did not even ask for questions. Prabhupada would come into the temple at 7:00 to see the Deity Greeting and the devotees would offer Srila Prabhupada Guru-puja and have kirtan, then Srila Prabhupada would give his Bhagavatam class and ask them to "chant Hare Krishna." Then there was another kirtan and prasadam and then everyone was out on book distribution for the whole day!
So the so-called "living guru" relationship ISKCON devotees have with their "gurus" was not possible for 99% of Srila Prabhupada's disciples to have with him.
In Srila Prabhupada's system the Temple Presidents, the GBC's, the sannyasis and other senior devotees were expected to be siksa gurus for the devotees. So there was no need for a "living guru" except for Srila Prabhupada and Srila Prabhupada fulfilled all the needs of his disciples for training, personal association and answering questions by empowering his representatives, the Temple Presidents and GBC's to act on his behalf.
So in Srila Prabhupada's ISKCON there is no position in the organizational structure for gurus other than him. That is one of the reasons ISKCON's "living guru" fiasco has been such a failure. There's simply nothing for these "living gurus" to do in ISKCON!
Srila Prabhupada divided all the responsibility between the Temple Presidents and the GBC, he did not leave anything for so-called "living gurus" to do… And that's the problem for the "living gurus" in ISKCON today. There's no position for them in the structure of ISKCON, they have no authority at all. They don't even have authority over their disciples! The ultimate authority is with the Temple Presidents and that can only be overridden by a vote of the full GBC with the agreement of the devotees in the temple. So where does that leave the "living gurus" and their disciples?
The result of the "living guru" philosophy has been the destruction of ISKCON. The "living gurus" have tried to usurp and undermine the authority of the Temple Presidents and have stolen millions of dollars from the temples in the name of "guru daksina." In addition the competition and fighting among the "living gurus" and their disciples has created many factions within ISKCON who all have slightly different versions of the philosophy and all fight over new bhaktas to get them for "Their" guru…
The result is an unmanageable, unworkable organization without any logical philosophy to support its actions. It is COMPLETELY different from the ISKCON Srila Prabhupada established by training his disciples and empowering them to act as HIS representatives. The "living gurus" have turned ISKCON, which Srila Prabhupada created as Vaikuntha into hell…
"Recently when all of the GBC members were with His Divine Grace in Vrndavana, Srila Prabhupada indicated that soon He would appoint some of His senior disciples to act as "ritvik–representative of the acarya, for the purpose of performing initiations, both first initiation and second initiation. His Divine Grace has so far given a list of eleven disciples who will act in that capacity…" (Srila Prabhupada's July 9th. Letter)
Chant Hare Krishna and be happy!
Madhudvisa dasa