Krishna.org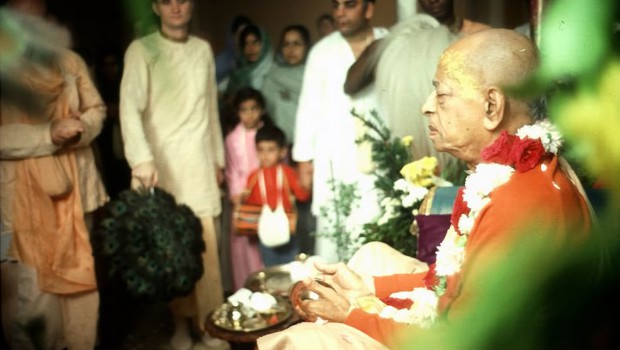 Published on January 24th, 2002 | by Madhudvisa dasa
14
About KRISHNA.ORG
Our main goal at KRISHNA.ORG is to assist Srila Prabhupada in his personal preaching on the internet. We also hope to help his disciples and aspiring disciples come together and provide a forum for them to associate with each other and preach the pure message Srila Prabhupada has given to us to the world.


To preach to the general public we hope to create a preaching site with content similar to Srila Prabhupada's original Back to Godhead magazine. Therefore we are looking for preaching articles from the disciples and aspiring disciples of Srila Prabhupada.
To help bring Srila Prabhupada's followers together we hope to provide some sort of on-line forum/community to enable Prabhupada's followers to associate with each other, to communicate and make plans for future preaching activities.
We are seeking your cooperation, advice, input, ideas, encouragement, blessings and ARTICLES.
I'm sure if we pray to Srila Prabhupada and Krishna to give us intelligence to write something about Krishna, Krishna, who is within all our hearts, and who is giving us rememberance, knowledge and forgetfulness, will inspire us to write something wonderful. At least we can write about our personal experiences and realizations in Krishna consciousness and try to encourage the people to read Srila Prabhupada's books and chant Hare Krishna. That is our responsibility, "Whoever you meet, simply talk to them about Krishna and ask them to chant Hare Krishna."
Some Points We Accept
The purpose of KRISHNA.ORG is to glorify and serve Srila Prabhupada by preaching the pure philosophy of Krishna consciousness he has given us and to the world.
We accept Srila Prabhupada is still living in sound. We can read his books, we can listen to his classes, we can go with him on morning walks, we can listen to his room conversations, we can read his letters.

There is no shortage of Srila Prabhupada's vani to be had. We can serve him in separation by making his instructions our life and soul and practically we will experience that Srila Prabhupada is always with us and always helping us. We will actually never feel that we are separated from Srila Prabhupada.
We accept Srila Prabhupada has a very unique position, far, far above any of his godbrothers or any of the ISKCON gurus.
Srila Prabhupada established himself as the undisputed world authority on Krishna consciousness by preaching the pure message of Krishna consciousness as it descended to him in the disciplic succession. He established his position of authority by taking the instructions of his spiritual master as his life and soul and using all of his energy to execute these instructions.

Srila Prabhupada never compromised the philosophy to suit the public, rather he instructed us to adjust the public so they will accept the philosophy.
We accept Srila Prabhupada's analysis of his godbrothers which anyone can read in his original Sri Caitanya-caritamrta. Srila Prabhupada considers his godbrothers have gone against their spiritual master, Srila Bhaktsiddhanta Sarasvati Thakura, by electing an acarya on his disappearance. Srila Bhaktsiddhanta did not instruct them to elect an acarya. Srila Prabhupada's opinion is Srila Bhaktsiddhanta ordered the Gaudiya Math to establish a GBC for the management of the organization and a self-effulgent acarya would be automatically selected in due course.
The Gaudiya Math went against this clear order of Srila Bhaktsiddhanta Sarasvati Thakura and for this disobedience to the orders of their guru the whole organization became asara or useless.
Prabhupada's conclusion is his godbrothers have no potency to preach as they have gone against the orders of their spiritual master, thus disconnecting themselves from the Caitanya tree.
ISKCON has followed an almost identical path to the Gaudiya Math. Srila Prabhupada, like his spiritual master, did not name anyone as an acarya to succeed him. Instead he established a system of management in ISKCON which did not require his physical presence and which he wanted to continue without change. Srila Prabhupada established a system of ritvik initiations so he could continue to accept disciples after his physical departure.
ISKCON rejected Srila Prabhupada's order to establish a ritvik initiation system and instead, on the advice of one of his godbrothers, appointed 11 men as acaryas. Although it was quite ridiculous, these eleven conditioned souls violently defended their position as being "non-different" from Prabhupada when everyone could see very clearly they were nothing like Prabhupada at all.
So, as with the Gauidya Math, by rejecting the clear instructions of Srila Prabhupada, ISKCON has become asara, useless. They are another disconnected branch of the Caitanya tree. Their preaching will produce no fruit and whatever they have will gradually dry up.
We do not accept BBT has any authority whatsoever to change Srila Prabhupada's books. By changing Srila Prabhupada's books they destroy the authority of the books. They have clearly gone against the orders of Srila Prabhupada and disconnected themselves from the Caitanya tree.
Krishna consciousness can not be understood by intellectual arguments and word jugglery. That is not the process at all. Intellectual papers have no value in spiritual life. The only process is to respectfully and submissively hear from the pure devotee and follow his instructions, to make his instructions one's life and soul. In that way all philosophical issues can be resolved.
If you like these ideas please help by writing some preaching articles for publication. Chant Hare Krishna and be happy!
Your servant
Madhudvisa dasa