Yoga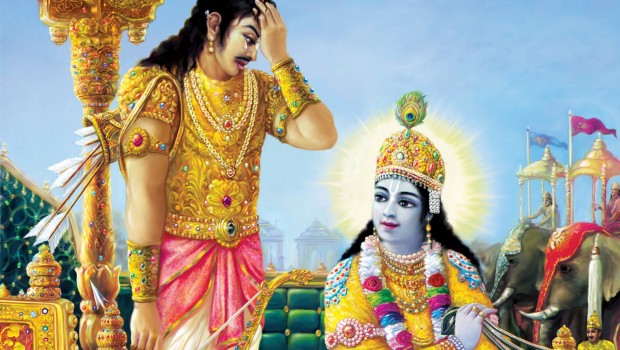 Published on November 10th, 2023 | by Madhudvisa dasa
42
Arjuna could not practice Meditational Yoga
In the Sixth Chapter of Bhagavad-gita Krishna instructs His friend and disciple, Arjuna, on the process of meditational yoga. Krishna has outlined the practice of yoga as sitting in the lotus position and meditating with half-closed eyes and He has explained that to do this one has to go to a solitary sacred place like on the bank of the Ganges River or the Himalayan mountains for example. It is not that one can stay home and practice yoga. No. One has to leave home and live in a solitary and sacred place. And then there are so many rules and regulations regarding the sitting place and many other details. After hearing all of this Arjuna was feeling dejected and he tells Krishna that this yoga system is impossible for him to follow.
Arjuna said: O Madhusudana, the system of yoga which You have summarized appears impractical and unendurable to me, for the mind is restless and unsteady. The mind is restless, turbulent, obstinate and very strong, O Krishna, and to subdue it is, it seems to me, more difficult than controlling the wind. (Bhagavad-gita 6.33-34)
The system of yoga described by Lord Krishna to Arjuna in the Sixth Chapter of Bhagavad-gita is here being rejected by Arjuna out of a feeling of inability. It is not possible for an ordinary man to leave home and go to a secluded place in the mountains or jungles to practice yoga in this age of Kali. The present age is characterized by a bitter struggle for a life of short duration. People are not serious about self-realization even by simple, practical means, and what to speak of this difficult yoga system, which regulates the mode of living, the manner of sitting, selection of place, and detachment of the mind from material engagements.
As a practical man, Arjuna thought it was impossible to follow this system of yoga, even though he was favorably endowed in many ways. He belonged to the royal family and was highly elevated in terms of numerous qualities; he was a great warrior, he had great longevity, and, above all, he was the most intimate friend of Lord Krishna, the Supreme Personality of Godhead. Five thousand years ago, Arjuna had much better facilities than we do now, yet he refused to accept this system of yoga. In fact, we do not find any record in history of his practicing it at any time. Therefore this system must be considered generally impossible in this age of Kali. Of course it may be possible for some very few, rare men, but for the people in general it is an impossible proposal. If this were so five thousand years ago, then what of the present day? Those who are imitating this yoga system in different so-called schools and societies, although complacent, are certainly wasting their time. They are completely in ignorance of the desired goal.
The mind is so strong and obstinate that it sometimes overcomes the intelligence, although mind is supposed to be subservient to the intelligence. For a man in the practical world who has to fight so many opposing elements, it is certainly very difficult to control the mind. Artificially, one may establish a mental equilibrium toward both friend and enemy, but ultimately no worldly man can do so, for this is more difficult than controlling the raging wind.
In the Vedic literatures it is said:
"The individual is the passenger in the car of the material body, and intelligence is the driver. Mind is the driving instrument, and the senses are the horses. The self is thus the enjoyer or sufferer in the association of the mind and senses. So it is understood by great thinkers."
Intelligence is supposed to direct the mind, but the mind is so strong and obstinate that it often overcomes even one's own intelligence. Such a strong mind is supposed to be controlled by the practice of yoga, but such practice is never practical for a worldly person like Arjuna. And what can we say of modern man? The simile used here is appropriate: one cannot capture the blowing wind. And it is even more difficult to capture the turbulent mind. The easiest way to control the mind, as suggested by Lord Caitanya, is chanting "Hare Krishna," the great mantra for deliverance, in all humility. The method prescribed is one must engage one's mind fully in Krishna. Only then will there remain no other engagements to agitate the mind.
So we can understand from Arjuna's inability to follow Krishna's outline of the meditational system of yoga that such a process is not practical for us now. Arjuna was so much more qualified than we are, he was a great leader five thousand years ago and he was Krishna's personal friend. If Arjuna could not practice meditational yoga in such favorable circumstances then we should understand that it is not possible for us as Kali-yuga has now advanced greatly making it even more difficult to practice meditational yoga now.
Fortunately Lord Krishna is very merciful upon us. He knows that we are so fallen and have practically no ability to follow any religious principles in this Kali-yuga so He appeared five hundred years ago in West Bengal as Lord Sri Krishna Caitanya Mahaprabhu to spread the yuga-dharma, the religion of the age, the chanting of the Hare Krishna maha-mantra:
Hare Krishna Hare Krishna Krishna Krishna Hare Hare
Hare Rama Hare Rama Rama Rama Hare Hare
As we will find out in future Bhagavad-gita verses, even though he was unable to practice the meditational system of yoga, Krishna considered that Arjuna was the best yogi. And Arjuna was the best yogi because the purpose of yoga is to concentrate the mind upon Krishna, and as Krishna's friend Arjuna was always thinking of Krishna, always serving Krishna. So he was the best yogi.
For this age of Kali Krishna consciousness, centered around the chanting of the Hare Krishna maha-mantra, is the only practical form of yoga. It is very easy to perform and does not cost anything and the results are very great….
Therefore… chant Hare Krishna and be happy!