Temples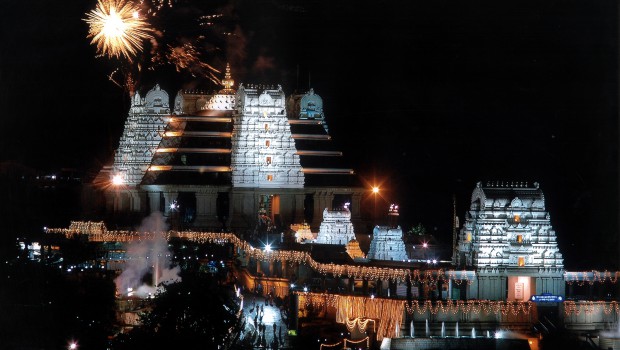 Bangalore: ISKCON's [only?] Success Story
I have just had the great pleasure of spending the appearance day of Lord Caitanya at ISKCON Bangalore. It has been a wonderful experience for me. Bangalore is India's most up-to-date, hi-tech city. It's the Silicon Valley of India. But in the middle of this city atop Hare Krishna Hill, which just a few years ago was an abandoned rocky outcrop, something very wonderful is happening.
Over the last six years by the divine will of Lord Sri Krishna and the powerful desire and mercy of His pure and exalted devotee, Srila Prabhupada along with the surrender and vision of the Bangalore ISKCON Temple President Madhu Pundit Prabhu and the temple devotees with the support of thousands of donors primarily from Bangalore and Karnataka, an incredible temple complex has manifest complete with three temples.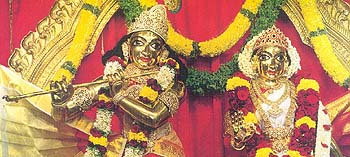 In the first temple Lord Narasimha is worshipped along with His pure devotee Prahlada. Next is the temple of Sri Srinivasa Govinda. The main temple hall contains the presiding Deities, Sri Radha Krishna-chandra along with Sri Nitai Gauranga and Sri Krishna Balarama.

In six years this project has become ISKCON's biggest preaching project. There is no project in ISKCON coming even close to the number of plates of prasadam distributed or the number of pilgrims visiting daily. And there is no other ISKCON temple with so many ecstatic brahmacaris. And the mood is very special here. There is no politics and everyone is happy. Why? Because everyone at ISKCON Bangalore knows it very well that Srila Prabhupada is not dead. He is a living guru even now and he is guiding and teaching all the devotees at ISKCON Bangalore the science of Krishna consciousness.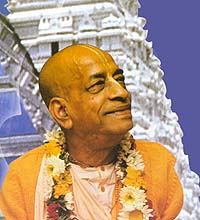 In Vrindavana there is a place where there was no temple, but a devotee desired, 'Let there be a temple and seva, devotional service.' Therefore what was once an empty corner has now become a place of pilgrimage. Such are the desires of a devotee."
– From the Bhaktivedanta purports to Srimad-Bhagavatam
"The life of a devotee living at ISKCON is filled with activities meant to give pleasure to Krishna. Working under the directions of his guru, Srila Prabhupada, a devotee rises at 3:30 am to get ready for the temple programs beginning at 4:15 am. A typical day in a devotees life begins with the darshana of Sri Krishna's Deities and is followed by meditation, scripture study and discussions on philosophy. Later in the day, he engages in various responsibilities, all contributing to the mission's purposes. ISKCON Bangalore has attracted many full-time devotees with good educational qualifications, although this is not a primary factor for being admitted to ISKCON." [From the temple newsletter]
"Temple means a shelter for spiritual education. People should come, they should learn what is spiritual life, what is God, what is my relationship with God. That is temple" (Srila Prabhupada)
The scale of the project is very difficult to explain. There is no other ISKCON temple like it. Even on a quiet weekday thousands of pilgrims visit and on weekends and holidays there are well over 20,000 pilgrims daily. On festivals it is more like 50,000 and on the Vaikuntha Ekadasi almost 100,000 pilgrims visited the temple in one day!
A most unique and ecstatic program is the "Sahastra-koti Hari-nama Japa Yajna for World Peace & Harmony." This takes place on the steps of the Lord Narismhadeva temple, the first temple the pilgrims visit. From a booth over a loud-speaker system a devotee welcomes the pilgrims to the temple and introduces them to the Hare Krishna maha-mantra, gives them a card with the Hare Krishna mantra printed on it, and explains they can chant the mantra once on each of the 108 steps to Lord Narsimhadeva's temple. Most of the pilgrims choose to enter the temple this way and therefore they all chant one complete round of the Hare Krishna mantra before entering the temple complex! I have spent quite a bit of time at this part of the temple and it is my favorite place. The pilgrims chant the Hare Krishna mantra guided by Srila Prabhupada who is loudly chanting the Hare Krishna mantra over a sound system along with other devotees who encourage the pilgrims to chant Hare Krishna louder… It can be a very ecstatic transcendental experience indeed.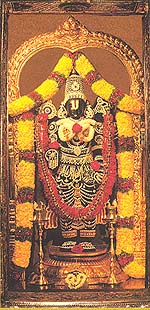 Yesterday I met an American pilgrim. He is a philosophy lecturer from a university in California. He was nearing the end of his two-month long Indian pilgrimage. After visiting many Indian temples ISKCON Bangalore was his last stop. He was so impressed by the ISKCON Bangalore temple. He said he had visited so many Indian temples and they were all dirty and old, and he was not at all impressed. But here he saw a new clean temple full of ecstatic devotees and pilgrims… He said it was just like a first-class American standard building in the middle of India… We talked on the steps of the Lord Narasimhadeva temple for some time and he asked many very nice questions. It was Caitanya Mahaprabhu's appearance day any by Krishna's mercy he was asking many questions about Lord Caitanya. When we went up to see Lord Nrsimhadeva he was very impressed but when he saw Sri Srinivasa Govinda he was completely captivated. He had never had an experience like this in all the temples he had visited before…
When we arrived in the main temple the devotees were just putting Their Lordships Sri Nitai Gauranga on Their palanquin. There was a grand procession South Indian style. I have never seen anything quite like it in ISKCON. The temple was packed to overflowing with devotees and guests and there was a very ecstatic festival and kirtana that continued from 5:00 pm until 9:30 pm when prasadam was served. The Deities were carried on the palanquin around the temple and then outside to a big lake where they were placed in a boat and taken for a ride on the water. There was a fireworks display and a constant ecstatic kirtana. After the Deities returned to the temple a devotee read about some of Lord Caitanya's pastimes from the introduction to Srila Prabhupada's Srimad-Bhagvatam. Then there was another ecstatic aroti and the daily shyana-utsava, when the Lord tours His temple room on an ornamental palanquin before entering his sleeping quarters for rest.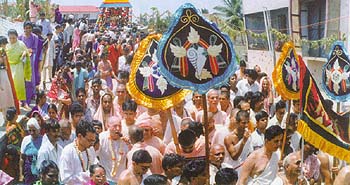 My American friend was completely captivated and completely satisfied after respecting lots of Krishna maha-prasadam which he purchased from the prasadam tables. I showed him a copy of Srila Prabhupada's original "Perfect Questions, Perfect Answers," telling him it was about Bob, an American peace-corps worker, who, like himself, had come to India searching for the meaning of life and had met our spiritual master, Srila Prabhupada, in Mayapur, West Bengal. "Bob asked Srila Prabhupada so many nice questions, probably similar to many of the questions you have, and Srila Prabhupada answered them so nicely. Their conversations are in this book. I am sure you will like it…" So he eagerly purchased the book.
There are so many things to say about the ISKCON Bangalore temple and I am feeling completely unable to describe it at all adequately at the moment. I hope to be able to write some more articles over the next few weeks on the different aspects of this massive project so please keep visiting Krishna.org to find out more. You can also visit the ISKCON Bangalore web site at http://iskconbangalore.org
I would strongly encourage any devotee who is in India to visit ISKCON Bangalore. The devotees are very nice and they have an excellent guest house and are not fanatical or anti-ISKCON in any way at all. The only thing is they are all Prabhupada's disciples… But ultimately, sooner of later, the ISKCON devotees are going to have to come to grips with the fact that Prabhupada is NOT at all dead… Prabhupada is a living guru-even now.
I would like to again thank Madhu Pandit Prabhu and all the devotees at ISKCON Bangalore for their very warm welcome and what has turned out to be the best Lord Caitanya Mahaprabhu festival I have ever experienced in my fifteen years in ISKCON.
All glories to Jagat Guru His Divine Grace A.C. Bhaktivedanta Swami Prabhupada!