Chanting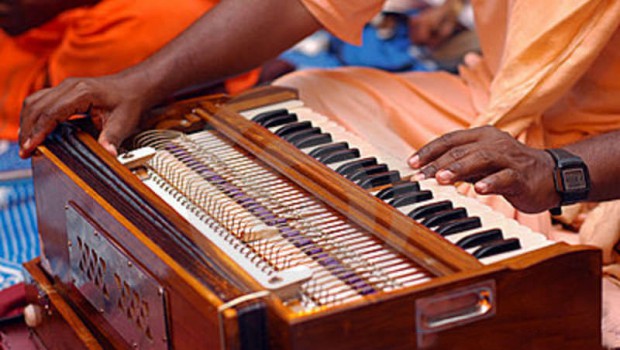 Published on May 15th, 2012 | by Shyam das
20
Instruments of Kirtan: Harmonium, Mridanga and Kartals — and Where to Learn
Enhance your Kirtan Experience
Along with being one of the main forms of Hare Krishna worship, Kirtan can be great fun — dancing and singing with friends and others. Playing an instrument in kirtan can enhance the experience for you, and everyone present. The traditional instruments for kirtan in India are the harmonium (like a pump organ), the mridanga (2-headed clay drum), and the kartals (small hand-cymbals).
Harmonium
The Harmonium is a pump-powered reed organ. In India and other parts of South Asia, harmoniums are fairly portable, and the bellows on the back are pumped with one hand, while the other hand plays the keys.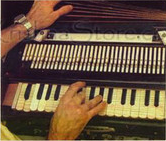 These harmoniums have typically 2 or 3 sets of reeds to product a nice full-sounding tone. Many of them have knobs to pull out which activate certain reeds. This lets one play with only 1 or 2 sets of reeds active, if one so desires.  There are other knobs which activate certain tones, so one can play with a drone.
Learning to play the harmonium can be a fun challenge, though it doesn't take very long to learn to play a few simple tunes. An in-person teacher is wonderful, though not necessary. You can teach yourself with the assistance of harmonium lesson videos.
Mridanga / Khol Drum
The Mridanga, not to be confused with the South Indian 'Mridangam', is a 2-headed drum, traditionally made from clay. Nowadays they are also made from other materials such as brass or fiberglass. Here is a picture of a couple fiberglass mridangas: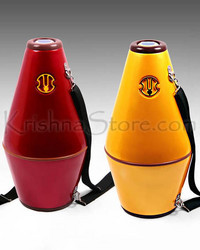 As you can probably tell by the picture, one head is bigger than the other. The larger head, or the bass head, produces a deeper sound and the smaller, or treble head produces a higher pitched sound.

Each head can be struck in different ways, and can make 2 or more sounds each ('open' sounds and 'closed' sounds).
As you can probably imagine, the mridanga can produce some pretty cool sounds, and add a wonderful texture to kirtan.
There are many levels to playing the mridanga. Learning a couple simple beats to play in kirtan can be pretty fast.

  Then once you learn a basic beat for each of the 6 or 7 common western kirtan grooves, you can expand on those and learn more intricate decorations and beats within the groove.  It is sometimes said that it takes 9 lifetimes to master the mridanga.
As with the harmonium, one can start by teaching oneself with the assistance of some Mridanga Lesson Videos.
Kartals
Kartals are small hand-cymbals. They are versatile and can play a number of open and closed sounds. Since they are small, they can be played at super-fast speeds, when appropriate.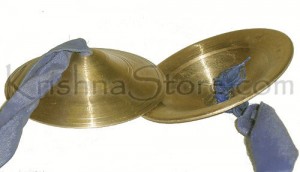 Playing the kartals in kirtan can be simple enough, though playing at advanced levels can take a lot of practice. Some kartal lesson videos can help you learn how to play.
Playing in Kirtan
Playing the instruments in kirtan can be very fun. It can be easy to get carried away, though. As with any musical accompaniment, one thing to do is to listen. To sound good in kirtan is to play in such a way that enhances the overall sound of what is happening. One thing to be aware of is how your playing affects the mood of the kirtan.

Listen, practice, learn, play, and enjoy the experience. Learning a musical instrument is a journey in itself.
Click here to check out devotional music lesson DVDs for Harmonium, Mridanga and Kartals