Society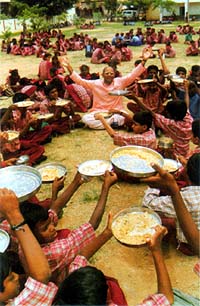 Published on March 27th, 2002 | by
0
'Food for Peace' in Times of Riot
[Times News Network] BANGALORE: J J Nagar in Bangalore, still under curfew, is trying hard to get over the weekend violence and resume life afresh. And there is a ray of hope, thanks to the efforts of the ISKCON Temple which has taken up the 'Food for Peace' programme feeding about 3,000 students of D J Halli Urdu-medium (Muslim) school.
This effort has gone a long way in healing the scars of rioting in which eight persons suffered stab injuries in Bangalore southwest – J J Nagar and Padarayanapura in particular.
Twelve-year-old Zaiba Ahmed, a Standard IV student, is among those who stand in a long queue of students holding steel cups and plates.

At noon, the teachers of Urdu-medium primary and high school get the students to stand in line. First prayers, then food.
The Iskcon swamiji, in white dhoti and kurta with prayer beads, assists in serving fluffy white rice and sambar with lots of vegetables and thick curds.

The food for these students arrives in a truck in specially prepared vessels.
The Food for Peace programme for the first Urdu school was pioneered by builder and philanthropist Ziaullah Sharief and Iskcon, who share the costs.

While there was a lot of opposition to the idea, good sense prevailed finally before the programme took off. Ironically, just when tension in J J Nagar was escalating, the D.J. Halli proposal to serve food to the Urdu school from Iskcon was taking shape.
Primary school headmistress Khadirunissa is elated. "The rate of absentees has come down by 15 per cent." Pointing to 11-year-old Jaffar, son of Samiullah, a cycle shop mechanic, who has been absent for the last four months, she said: "It is only on Monday, the first day of feeding, that we saw him–plate and cup in hand."