NASA Moon Missions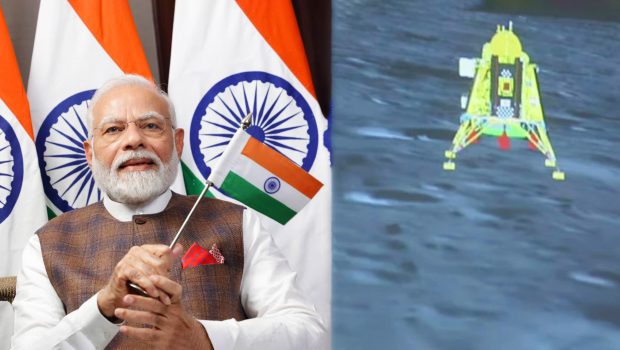 Published on September 5th, 2023 | by Madhudvisa dasa
17
India's FAKE Moon Landing!
Very embarrassing that we see India throwing away its Vedic knowledge to try and support the lies of the United States! We know it very clearly from the Vedic texts that the position of the Moon, as understood by Western science, is incorrect. So when the Americans don't even know the actual location and disposition of the Moon, yet they claim to send men to the moon and give us live television of them playing golf on the moon, driving their dune buggy on the moon, we are supposed to believe that.
Actually these days, almost everyone knows that the United States faked their moon landings. Everyone, it seems, except the Indians…
Indians should know it best, because Indians have the Vedas, the timeless source of both spiritual and material knowledge. And the Vedas clearly describe the location and constitution of the Moon.
In any case, at least when NASA fakes a moon mission they make a "scientific" "believable" story. NASA explain everything, how they will get to the moon, all the maneuvers the spacecraft will make, they give us all the science, they make a believable story. But not India. No. No science, no explanation, just "We are going to the Moon," now "We are on all Moon!" "All glories to magnificent India!!"
And NASA, in the 1970s they gave us perfectly good color television broadcasts live from the moon from a camera and antenna roughly pointing in the direction of earth attached to their rover. NASA did not need any relay satellites or anything, no color TV camera on the rover plugged into a little antenna pointed vaguely at Earth. Perfectly good live color television on earth from the Moon in 1972…
But India in 2023? No movies. No television. No. All ISRO can give us is two still black and white photos:
This is just before landing…
This is the tracks of the Indian rover on the muddy surface of the moon? Rover that does not appear to be able to turn because it went forward and then reversed on its own muddy tracks to take a photo of its muddy tracks to prove it was on the muddy surface of the moon.
I guess this proves there is water on the moon. Or maybe it proves that ISRO could not keep their moon set dry during the monsoon?
It is a very cheap moon set. Or a very tiny moon…
At least NASA painted backdrops to make their moon set appear bigger. India didn't bother with the backdrops, making at totally impossible picture. Unless the moon they landed on is only a few miles across?
The whole thing is a joke. The Indians should know better than just being played like this by the Americans.
Indians are just acting as tools in the hands of the Americans. Maybe there is some American fool who thinks: "If we can say Indians went to the moon and saw our Apollo landers there people will start to believe our NASA fake moon missions were real…"
Nice to see Russia has not got the stomach for this. At least the crashed their fake moon rocket into the moon. So we don't have to stomach a fake Russian moon landing as well….
I am quite disgusted with India.
Not only because they have made a fake moon landing but because they have done it in such a half-hearted lazy way and have not provided any science and no nice fake CGI video. They have not even made it into a good TV show.
At least if India is going to make a fake moon landing they should have some good sets up there ready to meet their rover… At least they could have tried to make it a bit believable. And they could have given us a little explanation of the science, how they got to the moon for only 80 million dollars, etc. NASA could learn a lot from how cheaply India can fake a moon landing. But of course India's fake moon landing looks so much more fake than NASA's. Maybe it is worth paying NASA for the better sets, their great CGI and a "believable" "scientific" backstory…
ISRO's Two black and white photos in the age of Instagram and selfies really does not do any modern moon landing justice at all.
India, if you are going to fake it, at least fake it with style… Make a serious attempt at faking it…
Now if somehow I have missed all the live streaming video from the landers cameras, the magnificent 8K panoramas taken from the lander, the fabulous live color video from the rover, someone please share the links with me.
And if I have missed the extensive scientific documentation ISRO has published detailing exactly how they got to the moon, how they got enough energy to break from from earth orbit, or if all that energy is not necessary to break free from earth orbit where they explain why the Germans, Russians and Americans are wrong, and why India does not need a huge rocket to provide the energy to break free of earth orbit, etc, etc. Please share the links to all this ISRO documentation with me.
And of course NASA has shared the full technical details of their lunar landers, and elaborately explained all the systems and how they work. So if I have missed the places where ISRO has given the full scientific documentation about their lander and rockets, etc, please share the links with me.
But I think India does not need science. They just have to say "We are going to the moon", then "We are on the moon." and fortunately were were able to keep the moon set just dry enough so the lander did not get totally bogged… "Next time we won't do a fake moon landing in the monsoon season…"