Love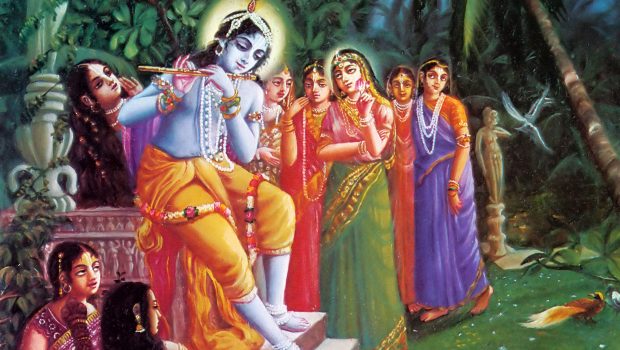 Published on February 26th, 2017 | by Madhudvisa dasa
30
Pleasure is our Motivation
Everything we do is motivated by some attractive feature, some benefit we think we will get from it. We are all engaged in some service and the motivation for us to render this service is the pleasure or taste which we get from it.
Driven by affection for his wife and children, a family man works hard day and night. A philanthropist works in the same way for love of the greater family, and a nationalist for the cause of his country and countrymen. That force which drives the philanthropist, the householder and the nationalist is called rasa, or a kind of mellow (relationship) whose taste is very sweet.
There is another taste, another type of pleasure, which is different from the ordinary taste enjoyed by the materialists. It is called Bhakti-rasa. Bhakti-rasa, the taste or pleasure relished in the transcendental loving service of the Lord, does not finish with the end of life. It continues perpetually and is therefore eternal, it does not die but exists eternally. This is confirmed in all Vedic literatures. The Bhagavad-gita says that a little advancement in bhakti-rasa can save the devotee from the greatest danger, that of missing the opportunity for human life.
Material Pleasure Does Not Last Long:
Unfortunately the pleasure derived from material activities does not last long, and therefore, in the material world people are always changing the way they are searching for pleasure and never reach a position where they are satisfied. A businessman is not satisfied by working the whole week; therefore, wanting a change for the weekend, he goes to a place where he tries to forget his business activities.
Then, after the weekend is spent in forgetfulness, he again changes his position and resumes his business activities.
Material life means accepting a particular service for some time and then changing it. This position of changing back and forth from a position of sense enjoyment to a position of renunciation is constantly going on in the lives of the materialists. A living entity cannot steadily remain either in sense enjoyment or in renunciation. Change is going on perpetually, and we cannot be happy in either state because of our eternal constitutional position. Sense gratification does not endure for long, and it is therefore called flickering happiness. For example, an ordinary family man who works very hard day and night and is successful in giving comforts to the members of his family thereby relishes a kind of pleasure, but his whole advancement of material happiness immediately terminates along with his body as soon as his life is over.
Death is therefore taken as the representative of God for the atheistic class of men. The devotee realizes the presence of God by devotional service, whereas the atheist realizes the presence of God in the shape of death. At death everything is finished, and one has to begin a new chapter of life in a new situation, perhaps higher or lower than the last one. In any field of activity, political, social, national or international, the result of our actions will be finished with the end of life. That is sure.
The rasas derived from our feelings in social life, in family life, or in the greater family life of altruism, philanthropism, nationalism, socialism, communism, etc., do not guarantee that one's next life will be as a human being. We prepare our next life by our activities in the present life. A living entity is offered a particular type of body as a result of his actions in the present body. These activities are taken into account by the superior authority of God. This authority of God is explained in the Bhagavad-gita as the prime cause of everything, and a person takes his next body under the supervision of the authority of the Supreme. In an ordinary sense this is explained as destiny. The supervision of God gives us a body selected from 8,400,000 forms; the choice does not depend on our selection, but is awarded to us according to our destiny.
If we are at present is engaged in the activities of Krishna consciousness, then it is guaranteed that we will have at least a human body in our next life. A human being engaged in Krishna consciousness, even if unable to complete the course of bhakti-yoga, takes birth in the higher division of human society so that he can automatically further his advancement in Krishna consciousness. Therefore, all bona fide activities in Krishna consciousness are permanent in contrast to material activities which do not last very long.
We Have the Propensity to Love Someone:
The basic principle of the living condition is that we have a general propensity to love someone. No one can live without loving someone else. This propensity is present in every living being.
Even an animal like a tiger has this loving propensity at least in a dormant stage, and it is certainly present in the human beings. The missing point, however, is where to repose our love so that everyone can become happy. At the present moment the human society teaches one to love his country or family or his personal self, but there is no information where to repose the loving propensity so that everyone can become happy. That missing point is Krishna. Our eternal constitutional position is we are servants of Krishna. We all have a loving relationship with Krishna but that love for Krishna is now covered by material contamination. The process of Krishna consciousness, the chanting of the Hare Krishna mantra, purifies our hearts of this contamination and gradually our original love for Krishna is reawakened.
In the primary stage a child loves his parents, then his brothers and sisters, and as he daily grows up he begins to love his family, society, community, country, nation, or even the whole human society. But the loving propensity is not satisfied even by loving all human society; that loving propensity remains imperfectly fulfilled until we know who is the supreme beloved. Our love can be fully satisfied only when it is reposed in Krishna. Our loving propensity expands just as a vibration of light or air expands, but we do not know where it ends. We can love every one of the living entities perfectly by the easy method of loving Krishna.
How to Create Peace and Harmony:
We have failed to create peace and harmony in human society, even by such great attempts as the United Nations, because we do not know the right method. The method is very simple, but one has to understand it with a cool head. If we learn how to love Krishna, then it is very easy to immediately and simultaneously love every living being. It is like pouring water on the root of a tree or supplying food to one's stomach. The method of pouring water on the root of a tree or supplying foodstuffs to the stomach is universally scientific and practical, as every one of us has experienced. Everyone knows well that when we eat something, or in other words when we put foodstuffs in the stomach, the energy created by such action is immediately distributed throughout the whole body. Similarly, when we pour water on the root, the energy thus created is immediately distributed throughout the entirety of even the largest tree. It is not possible to water the tree part by part, nor is it possible to feed the different parts of the body separately. If we learn how to love Krishna that will turn on the one switch that will immediately brighten everything, everywhere. One who does not know this method is missing the point of life.
As far as material necessities are concerned, the human civilization at the present moment is very much advanced in living comfortably, but still we are not happy because we are missing the point. The material comforts of life alone are not sufficient to make us happy. The vivid example is America: the richest nation of the world, having all facilities for material comfort, is producing a class of men completely confused and frustrated in life. I am appealing herewith to such confused men to learn the art of devotional service, and I am sure that the fire of material existence burning within their hearts will be immediately extinguished.
The root cause of our dissatisfaction is that our dormant loving propensity for Krishna has not been fulfilled despite our great advancement in the materialistic way of life. Krishna consciousness is the practical way we can live in this material world perfectly engaged in devotional service and thus fulfill all our desires in this life and the next. We do not condemn any way of materialistic life, but attempt to give information to religionists, philosophers and people in general how to love Krishna. One may live comfortably, but at the same time he should learn the art of loving Krishna.
At the present moment we are inventing so many ways to utilize our propensity to love, but factually we are missing the real point, Krishna. We are watering all parts of the tree but missing the tree's root. We are trying to keep our body fit by all means, but we are neglecting to supply foodstuffs to the stomach. Missing Krishna means missing one's self also. Real self-realization and realization of Krishna go together simultaneously. For example, seeing oneself in the morning means seeing the sunrise also; without seeing the sunshine no one can see himself. Similarly, unless one has realized Krishna there is no question of self-realization.
[adapted from Srila Prabhupada's preface to Nectar of Devotion]