Festivals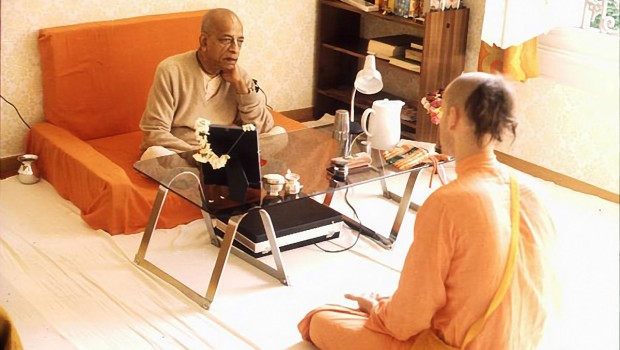 Published on May 18th, 2005 | by devala-dasa--gadadhara-dasa | Full size image
2
Prabhupada Festival at New Dwarka, Los Angeles, Memorial Day Weekend
This year marks the 14th Annual Prabhupada Festival. The festival is held on Memorial Day Weekend, May 28th and 29th, at the Hare Krishna Temple in Los Angeles, California. It is for the purpose of glorifying His Divine Grace A.C. Bhaktivedanta Swami Prabhupada, who is the Founder-Acharya of the International Society for Krishna Consciousness.
Srila Prabhupada is the only reason anyone knows the words "Hare Krishna" in mainstream culture. He produced and distributed more transcendental literature (books, conversations, letters, records, and lectures) than any other Vaisnava who lived during his time or lived after His Vapu association.
Srila Prabhupada's achievements are completely unsurpassed and unparalleled in spreading the philosophy of Krishna Consciousness all over the world. No one else has come close to accomplishing even a tiny fraction of what Srila Prabhupada has accomplished.
Srila Prabhupada teaches directly in line with great Vaisnava Acharyas descending straight from Sri Chaitanya Mahaprabhu. His teachings are authoritative and pure, His actions are exemplary to anyone interested in spirituality. He is truly a remarkable person with so much to offer.
The Prabhupada Festival glorifies Srila Prabhupada and encourages everyone to learn, become inspired, and enjoy the activities of Krishna Consciousness. It is a wonderful opportunity to associate with devotees and share ideas on increasing Krishna Consciousness. The two festival days are filled with wonderful feasts, music, dance, entertainment, devotees association, exhibits, seminars, and more. There will be two stages outside hosting many talented performers throughout both days. The temple will be filled with sweet Kirtan and many other activities including the special "Prabhupada Pastimes." New seminars will be given by qualified devotees, and the children's program will provide fun activities and prizes for everyone. Other highlights of the festival include the Prabhupada Ratha Yatra and Maha Hari Nama Party.
Over all, devotees will have an opportunity to associate nicely and glorify Srila Prabhupada in a sweet devotional atmosphere. Everyone is welcomed and invited to join this most wonderful Prabhupada Festival.
Srila Prabhupada did the unthinkable, the unfathomable. He is the Acharya and the Master At Whose Feet All Other Masters Sit. He is the pure devotee. He is the prime example of the most realized soul ever to walk the face of this earth. His vani (instructions) continue to spread around the world and His presence can be felt by anyone who cares to read His books, to listen to His lectures, and to watch His films. Srila Prabhupada is now living with all vibrancy and all vigor in His instructions. Srila Prabhupada's accomplishments are so far beyond any description or glorification that this article or any other article does no justice. Srila Prabhupada lives forever! Hare Krishna!!!
For more information please refer to: www.PrabhupadaFestival.com