Devotees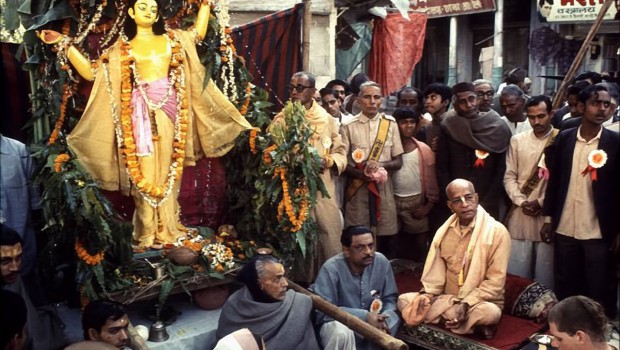 Published on June 1st, 2001 | by srimad-bhagavatam-dasa | Full size image
0
Srila Prabhupada Memorial Festival In Los Angeles
There is something special about glorifying Srila Prabhupada for three days. The last few days at the 10th annual festival, I felt that I actually made it out of the mode of ignorance…
I highly recommend that devotees show up for the 11th Srila Prabhupada memorial festival next year. It's on the Memorial Day weekend.
There is something special about glorifying Srila Prabhupada for 3 day's. The last few day's at the 10th annual festival, I felt that I actually made it out of the mode of ignorance. Many devotees that joined over 30 years ago gave talks about the amazing pastimes of Srila Prabhupada. Unlimited stories, non different from the Bhagwat Purana — Srimad Bhagavatam. My appreciation for Srila Prabhupada somehow mystically keeps increasing. Most stories have a philosophical point that Srila Prabhupada makes.
In the TLC, Lord Caitanya recommended Hearing and Chanting as better than Varnashrama. Many of us haven't been able to follow even Varnashrama so hearing is very important. Sometimes there were many activities going on at the same time: Krishna Rocknroll, puppet shows, art shows…
The second biggest Hare Nama (besides Ratha Yatra) takes place at Santa Monica for the memorial event.
Sunday Prasadam is so big that entire Watseka Ave is used for devotees to take the wonderful feast. I guess 300 devotees taking Prasaduam. The feast had 10 preparations.
How Srila Prabhupada wrote so many books and created such a big movement in a short time is a mystery.
I hope that more and more devotees realize Srila Prabhupada is the father of all of us. Not that we have uncles and aunts and great grandfathers. This is the correct philosophy.
All Glories To Srila Prabhupada!
Your servant
Srimad Bhagavatam dasa