Prabhupada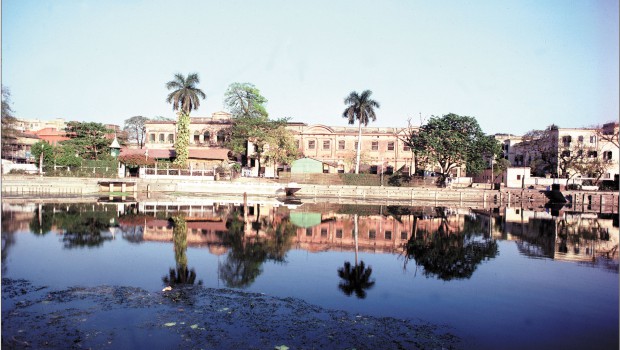 The Prabhupada Story–Part 2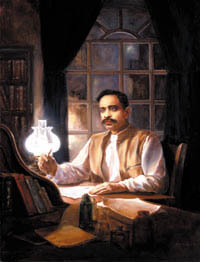 Srila Prabhupada was neither enamoured by western education nor ambitious for scholastic achievement. He was always thinking about something religious, something philosophical or devotional about God. – Rupendranath Mitra (school friend)
Philosophical as a Youth
Srila Prabhupada's father believed that with a good education his son would have a more promising career, thus in 1916 he arranged for him to attend Scottish Churches' College, then the top British college in Calcutta.
Srila Prabhupada was neither enamored by western education nor ambitious for scholastic achievement. "He was always thinking about something religious, something philosophical or devotional about God." – Rupendranath Mitra (school friend)
However, Srila Prabhupada was a good student and took part in college activities. His college senior was Subhash Chandra Bose, who later became the famous freedom fighter.
Politically conscious as a young man
The college was strict in forbidding antigovernment propaganda. But the students were sympathetic to the cause of home rule. The leaders of the svaraj movement held that the glory of India's sanatana dharma, could not shine forth for the world's benefit until India become free from the burden of the British rule which blashphemed and castigated the teaching of the Vedic scriptures and those who followed them.
Like most of his contemporaries, Srila Prabhupada supported svaraj. When he passed his final examinations, he supported Gandhi's call to boycott all things British and refused his degree from the British college. In due course of time he took to wearing the khadi cloth of the Indian Nationalist party.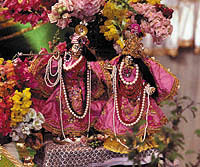 One night during his college days, his Deities appeared to him in a dream, 'Why have you put Me away in this box? You should take Me out and worship Me again". Srila Prabhupada did so, despite his college assignments.
He Approached His Spiritual Master…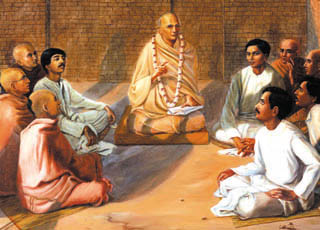 A college friend of Srila Prabhupada called Naren Mullick took him to hear a scholarly and reputed devotee of Lord Krishna, Srila Bhaktisiddhanta Saraswati. Although somewhat skeptical of "holy men" in general, Srila Prabhupada was very impressed by this saintly person's lecture. He felt obliged to challenge him in the light of Indian nationalism.
"Who will hear your Chaitanya's message? We are a dependent county. First India must become independent How can we spread Indian culture if we are under British rule?"
Srila Bhaktisiddhanta countered: "Krishna consciousness doesn't have to wait for a change in Indian politics, nor is it dependent on who rules India. Moreover, Krishna consciousness is so important – so exclusively important – that it can't wait"
Srila Prabhupada's Great Destiny was Foreseen by his Spiritual Master
Srila Bhaktisiddhanta Saraswati Thakur made a prophetic request to Srila Prabhupada at their very first meeting in 1922:
"Why don't you preach Krishna consciousness throughout the whole world?"
And in 1936, just two months before leaving this world, Srila Bhaktisiddhanta Saraswati, by now Srila Prabhupada's spiritual master, again requested in a letter:
"I am fully confident that you can explain in English our thoughts and arguments to the people who are not conversant in the language (Bengali and Hindi) I have every hope that you will turn yourself into a very good English preacher."