Prabhupada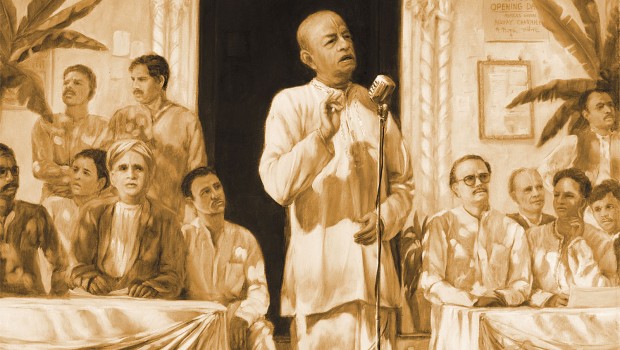 Published on June 13th, 2023 | by
0
The Prabhupada Story–Part 3
A Lifetime in Preparation
Srila Prabhupada did not wait idly for the success predicted in his old age to arrive. He worked throughout his life to fulfill his guru's words.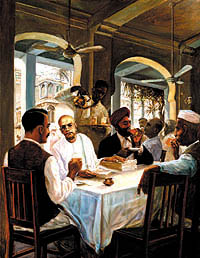 While running a business to meet family responsibilities, he wrote, collected funds, published and distributed periodicals and booklets on Krishna consciousness.

Overcoming the paper rationing of the war years, he determinedly managed to keep on publishing his monthly periodical Back to Godhead.
"He used to come to me once a month. I gave him donations for his paper. It was only a four-page magazine, but it showed his study of the subject and his earnestness and his devotion to Lord Krishna He appeared to be a very simple man and modest and it was pleasant to talk to him. He had a smiling demeanor. The main thing was his humility. He could talk with affection and confidence, and he knew we were discussing things near to God. So every talk with him would sublimate us." – Justice Bipin Chandra Misra.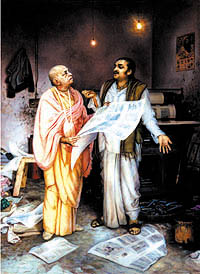 Prabhupada's "Back to Godhead" is no longer published. ISKCON publish a magazine with the same name, however, it has a completely different purpose. The new magazine is an in-house publication for members. The circulation is incredibly low.

Prabhupada envisioned a preaching magazine distributed among the general public on a grand scale like Time Magazine. In 1977 at least one million copies of BTG were being printed monthly, we should have increased from that point…
The League of Devotees formed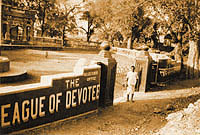 In 1952 Srila Prabhupada formed an organization of devotees called 'The League of Devotees" in Jhansi. His friend, Dr. Shastri comments:
In his heart, always it was burning that the whole world was suffering in the materialistic view – everyone is busy in eat drink and be merry. He was having iron-will and determination about his mission. He was not doubtful at all. Actually, he was always preaching that there was no other way except the Hare Krishna mantra. So, always discussing, sometimes the whole night he was discussing with me. And he -the old man, missionary worker – he was just like a young man."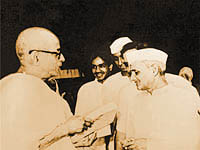 His preaching work caught the attention of prominent personalities, including the Indian Prime Minister, Lal Bahadur Shastri, who wrote him:

"I am indeed grateful to you for presenting a copy of the Srimad Bhagavatam to me. I do realize that you are doing valuable work It would be a good idea if the libraries in the Government institutions purchase copies of this book.

"
He made his final preparations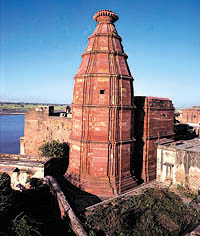 The intellectual and political leaders of India were increasingly influenced by Western ways and rejecting Vedic culture. Srila Prabhupada moved to Vrindavana, south of Delhi to translate the Srimad Bhagavatam into English to educate the people of the West in spiritual life, and to gain strength to travel the world in his old age.
The room where Srila Prabhupada lived in Sri Radha Damodara Temple, Vrindavana.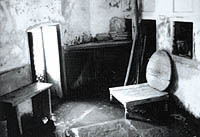 "The glories of Krishna nobody can understand, similarly with Vrindavana. As Lord Krishna is worshipable, similarly His place Vrindavana is as good as Krishna. It is also worshipable." While others leave their worldly affairs to retire in the sacred place of Vrindavana, Srila Prabhupada's intention was to bring Vrindavana with him to all countries of the world.