Are Artificial Intelligence (AI) Devices Really Intelligent?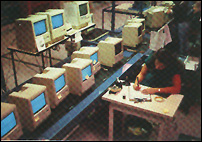 Many people were surprised when, recently, a poem (included below) was "composed" by an AI computer in the Artificial Intelligence Lab, Computer science department, Indian Institute of Science, Bangalore (India).
Some people insisted that it is conscious; it has emotions; it has understanding; and it is indeed intelligent; otherwise how can it compose such a nice poem?