ISKCON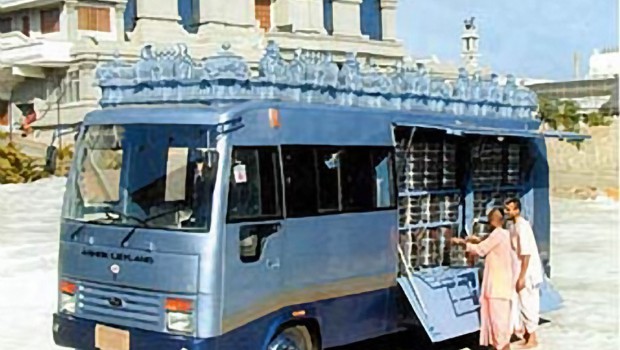 Published on December 31st, 2001 | by
1
Chief Minister Honours ISKCON Bangalore Temple President
Bangalore temple's ambitious program to feed tens of thousands of children in Government run schools in the Indian state of Karanataka is a massive undertaking, it is one of the biggest private initiatives in India to provide free food to those in need. It also of course gave the IRM an opportunity to distribute tons of prasadam just as Srila Prabhupada had ordered. The program involved providing a free mid-day meal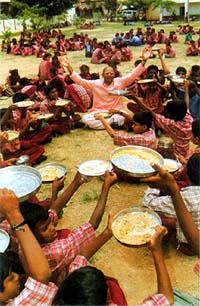 Currently children in Government schools are expected to either study on an empty stomach the whole day, or bring their own food, which due to poverty many do not. So impressed were the Government with the success of ISKCON Bangalore's prasadam distribution program (known as 'Akshaya Patra'), they have themselves decided to adopt the same model of providing a free mid-day meal to schools not yet covered by the ISKCON Bangalore initiative. They decided to start the program in 7 districts in Northern Karnatak.
To launch the program the Chief Minister of the State Government along with 8 cabinet ministers gathered at a special ceremony attended by 25,000 people. The highlight of the ceremony was the honoring of special guest, ISKCON Bangalore Temple President, and IRM secretary, Madhu Pandit Das, by the Chief Minister of Karnataka for rendering service in the field of education and founding the 'Akshaya Patra' program for feeding 30,000 children everyday. The Chief Minister felicitated him by presenting a shawl, citation and a memento. With the presence of so many senior Government ministers the event was covered extensively by the media and we present below some articles which appeared in India's major newspapers.
---
TIMES OF INDIA
Mid-day Meal Started in N. Karnataka
Times News Network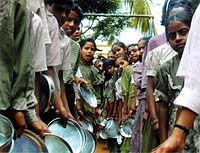 Raichur: Chief Minister S.M. Krishna sat down to lunch with students of the Government Primary School on Friday, kicking off the mid-day meal scheme for the seven districts of North Karnataka. The launch took place at Arakera village in Deodurga taluk of Raichur district, where Krishna arrived by helicopter along with some ministers at 11.40 a.m.
Minster for Education H. Viswanath, district in charge and Public Works Minster Dharam Singh, Health Minister Maalaka Raddy and Home Minister Mallikarjun Kharge joined the CM in the meal. After the lamp had been lit and vocalist Sangita Kakhandiki had sung the invocation, MP Venkatesh Nayak delivered the welcome speech.

"Children are not a burden to society. To encourage them to study, and decrease illiteracy in the state, particularly in a backward area like Deodurga taluk, we have proposed to introduce the mid-day meal programme," Krishna said in his speech.
Krishna had a special word for the social services of ISKCON and Wipro chief educationist Azim Premji (the richest Indian in the world). At present, the International Society for Krishna Consciousness (ISKCON), Bangalore, has taken on the responsibility of providing mid-day meals to 19,000 people in Bangalore.
Later, Krishna's cabinet ministers and His Holiness Madhu Pandit Das, president and project director of ISKCON, Bangalore, also spoke, Deodurga MLA Yellappa Akkarki proposed the vote of thanks.
ISKCON Seer Felicitated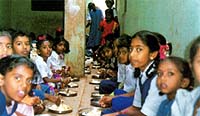 Chief Minister Krishna felicitated His Holiness Madhu Pandit Das of ISKCON with a shawl and presented him a memento. In his speech, Swamiji Madhu Pandit Das said that "annadanna is supreme.

No other gift or donation is equal to it. ISKCON has already started providing mid-day meals to 19,000 people in Bangalore, and plans to feed 2.5 lakh (250,000) people a day in and around Bangalore", he said.

"It will cost roughly Rs 30 lakh ($60,000) a month, but Lord Krishna's grace, we have no scarcity of finance."
The Swamiji invoked the tale of the 'Akshya Patre Yojana' (miraculous pitcher) which never got empty, to relate to the mid-day meal programme. He blessed Krishna to lead Karnataka and make the state hunger-free within three years.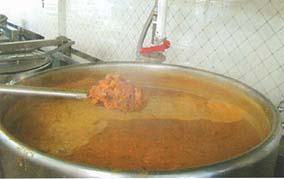 ---
DECCAN HERALD
Iskcon chief calls for Child hunger free State
BANGALORE, Nov 10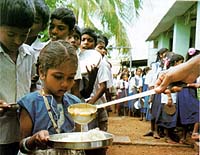 The president of Iskcon, Bangalore, Mr Madhu Pandit, has urged Chief Minister S M Krishna to adopt the mission of making Karnataka a "child-hunger free" State during the remaining three years of his tenure. Replying to the felicitation for the success of Iskcon, Bangalore's "Akshayapatra" programme of feeding poor children of schools in and around Bangalore, Mr Madhu Pandit attributed it to the dedication of their 70 full-time volunteers, who go with a begging bowl each morning, albeit in a sophisticated manner with brief cases and by appointment, to affluent Bangaloreans and awaken their social responsibility to support one hungry child.
The scheme has managed a phenomenal reach of 19,000 children in little over a year and it is aimed to feed 30,000 children by end of this academic year, said Mr Madhu Pandit, thanking the donors whose donation of Rs 1,200 each helped feed a child for a whole year. Mr Madhu Pandit was felicitated by Chief Minister S M Krishna at the launch of the State government's mid-day meal scheme for seven north Karnataka districts at Arakere, Raichur District, on Saturday
He said the Centre at present supplied free rice for feeding primary school children. If a similar request is made to feed high school children through an NGO, the Union Food and Civil Supplies ministry was willing to oblige. The State Government should immediately approach the Center, he suggested.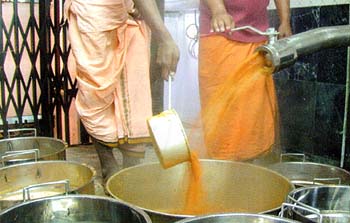 ---
THE HINDU
'ISKCON`s Programme has shown results'
By Our Staff Reporter
BANGALORE, NOV. 10. The Akshayapatra Annadana programme implemented by the ISKCON in several schools in the State under which children are given free mid-day meals has resulted in their improved attendance, "increased attention" and academic development, according to Sri Madhu Pandit Dasa, chief of the ISKCON, Bangalore center. Replying to a felicitation by the Chief Minister, Mr. S.M.Krishna, at Raichur on Friday, he said a study report of the Education Department said the free mid-day meal had a great impact on school children, and 99.6 per cent of the beneficiaries felt that they paid better attention towards their studies. He added that 93.8 per cent of the teachers felt that there was an overall academic improvement in the students.
Sri Madhupandit Dasa said that 91.8 per cent of the teachers felt that the attendance of the students had improved. In the current academic year. 16 Schools had reported a 15 per cent increase in enrolment. The mid-day meal programme had addressed two of the most debilitating problems-hunger and education.
The Home Minister, Mr. Mallikarjuna Kharge, the Minister for Public Works, Mr. Dharam Singh, and the Education Minister, Mr. H.Viswanath, were present. The ISKCON, Bangalore Centre, which provided mid-day meals to over 19,000 children planned to help 30,000 children daily, Sri Dasa said and added that it required Rs.30 lakh a month to sustain the present programme. Specially thanking philanthropists and organizations in the State, he said each donor paid Rs.1,200 to feed one child for a whole year. He said ISKCON`s aim was to make Bangalore Rural District a hunger-free district, "Which had 2,50,000 children, who were hungry."
Requesting the Chief Minister to introduce a programme to provide mid-day meal to all poor children in the State. Sri Dasa said that this should be done even at the expense of an infrastructure project or by levying taxes.
---
This whole event establishes just how successful a temple ISKCON Bangalore has become under the leadership of Madhu Pandit Prabhu. It signals the amazing impact it is having on society by setting standards and giving a lead for Governments to follow, which is exactly the brahminical role that Srila Prabhupada desired for ISKCON. Such success demonstrates what can be achieved when personal desire to acquire disciples can be set aside, and instead all focus is put on following Srila Prabhupada's instructions rather than disobeying them.