ISKCON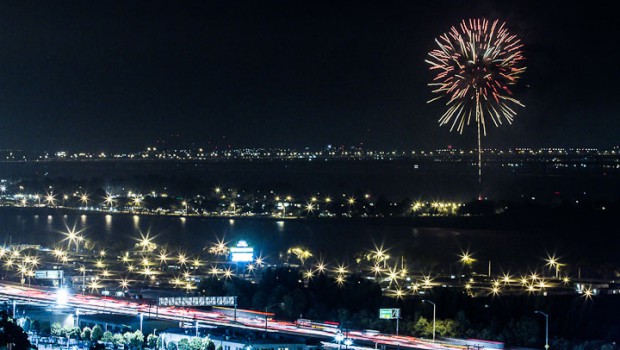 Published on July 7th, 2002 | by
0
Fireworks of Divine Love

What a gift His Divine Grace AC Bhaktivedanta Swami Prabhupada has given us. This gift of Hari Nam Sankirtan never fails to induce the highest nectarean pleasures that simply cannot be attained in materialistic activities. Thanks to Lord Caitanya's mercy on the world, miracles are now common. Through Hari Nam Sankirtan, an American Independence Day celebration turned into a haven of transcendental bliss.
Berkeley's Hare Krishna Youth and members of New Jagannatha Puri's congregation headed out to the Berkeley Marina where the annual Independence Day fireworks occur. We had one goal in mind; to please Srila Prabhupada by giving Krishna to the hundreds of souls. Trivikrama Swami began a joyful kirtan on University Avenue. Soon, the party grew to about thirty, and we proceeded onward.
Singing along the shore of the San Francisco Bay, we freely distributed the Holy Name to the fortunate sea gulls. As we finally reached the crowds, we were in the middle of a hell on earth, as we were choked by the strong odor of smoking meat. This was the ideal place to stop, and the kirtan reached some ecstatic heights as Vishwambara Das led us. I have noticed that kirtans become more powerful when performed in sinful places.
We then continued on to the edge of the marina where the main crowd assembled to see the fireworks. We noticed a large number of members from Berkeley's Indian community. Many took part in the Kirtan, and danced as Rajahamsa Dasa sang so sweetly. (He is so attached to the Holy Name. We thought he would never stop!)
At this point, the dusk was setting in on the beautiful Bay. Suddhanini Dasa began to lead, and instantly took the kirtan to another level. As he sang so soulfully, more and more people joined us. In a matter of minutes, we were surrounded by people dancing wildly.
I have never experienced a Hari Nam where so much of the public danced in the kirtan. Everywhere I turned were smiling faces. At one point, as we sang "Jai Prabhupada!" the crowd erupted in an almost deafening roar of cheers. Trivikarama Swami said in the megaphone that we are all celebrating independence, but how can we be independent when our mind in our worst enemy? He explained that we can become free from our mind by chanting, "Hare Krishna Hare Krishna Krishna Krishna Hare Hare Hare Rama Hare Rama Rama Rama Hare Hare!

" Then, the fireworks began, and we softly sang "Jaya Radha Jaya Krishna Jaya Vrindavan, providing a transcendental soundtrack.
When the fireworks finished, we resumed the kirtan, and much of the crowd again tirelessly danced away as the Manjari Dasis (small and tall) sang with their usual fired-up devotion.

Before I go on Hari Nam Sankirtan, I am always hesitant. My doubts and fears almost hold me back. But as I am immersed in the Divine Nectar of Sri Krishna Sankirtan, and I see the joy blooming in the lotus garden of everyone's hearts, I slap myself for ever thinking that I should just stay home.
Hari Nam Sankirtan Ki Jai!
Srila Prabhupada Ki Jai!
All Glories to the devotees of Lord Chaitanya's Sankirtan Army!
Our swords are kartals, our cannons are mridangas, and our missiles are the Holy Names of Lord Krishna!

Love, Bhakta Jerry