Devotees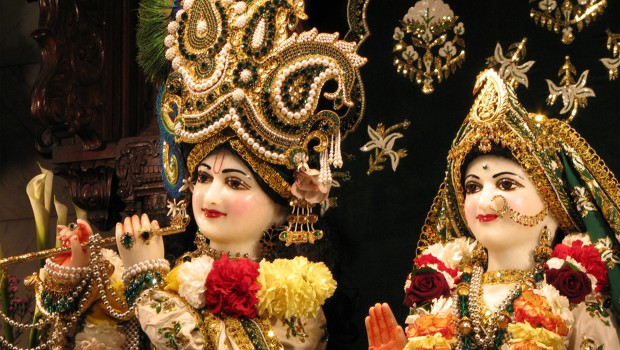 Published on July 20th, 2001 | by Gadadhara das
0
Hare Krishna Youth Rips Through LA
The Hare Krishna Youth arrived in Los Angles around 3:30 am Saturday morning, after a 6-hour journey across hot barren deserts, through slaughterhouses, passed drunk drivers, and stopping only to relieve our selves at nose grabbing truck stops. With one hour till mangala artik, the majority of us sought out our quarters at the ashrams and attended mangala artik.
Exhaustion took hold of four of us and we lay in the back of a 15 passenger van as eight tired eyes closed into the early morning hours. Mungle artik passed us by until 7 am jared us awake by Nakula das to greet Their Lordships Rukmini & Dwarkadish. Stepping into the temple room was like a cool drink of water on a hot day. The Dieties were even more beautiful than I had remembered. They quenched our tired bodies and rejuvenated our enthusiasm to help prepare the 10th annual Srila Prabhupada Festival in Los Angeles temple.
The Srila Prabhupada Festival was spectacular. Srila Prabhupada disciples and devotees from around the world were there. They told stories, lead great kirtans and lectures, and did parikrama with Srila Prabhupada. For breakfast the H.K.Y. helped serve the prasadam and then we were put to work picking 500 avocado leaves for a special decoration for Srila Prabhupada. We helped set up a few lights on the streets and set up the stage where Srila Prabhupada's was going to sit. In the kitchen we washed pots and on the street we swept until it was time to rehearse for our three humble offerings to Srila Prabhupada: two plays and a rock concert. After rehearsal we ate prasadm and went out to harinama. It was ecstatic, for some of us it was the biggest harinamas we had ever been on in our whole lives. We came back to the temple after the harinama to wash pots till 12:30am. All glories to Narada dasa, who washed pots for 2 hours by himself, I was lucky enough to help him in his last 15 minutes of glory on that Saturday night.
After 3 1/2 hours of sleeping, Nakula das jarred us awake and off to the showers and then to the morning program we scattered. LA Temple President, Svavas Prabhu, greeted us and after the morning program the HKY again served out Breakfast prasadam. As the line thinned out for breakfast we, one by one, dwindled off to take our share. With stomachs twice the size of their normal capacity, we headed to set up the booths for the festival were gathering, we took up 3 spaces. We had the biggest booth at the Prabhupada festival. Presenting our project, fundraise by selling Hemaguari's famous butter cookies, we sold our t-shirts, Lokanatha's videos, Sudhaa's tapes, and we distributed our newsletters. Many people were happy to see us and gave donations to support Srila Prabhupada's future. While 4 of us managed the booth, the Play crew of 8 HKY members rehearsed and 3 other HKY members prepared for the concert. The rest of the HKY was in the kitchen cutting up vegetables. I learned later that Vrindabana dasa helped cut up the "biggest mass of curd" he had ever seen.
Sunday was triumphant. We performed a Krishna Rock concert and 2 plays, the "Cobbler and the Brahman" and "The Boatman and Scholar." After the plays we helped served out the Sunday Feast. We sat together and ate until we were too full to move.
The next day we ventured off to Laguna Beach temple. Upon arrival, we went to the beach, played football, and did a harinama at night. In the morning, everyone woke up for Mangal Arati the rest of the morning program. Dvarkadish das gave the morning class and led a great gurupuja kirtana. This trip was successful. Harinamas, plays, concerts, prasadam, devotional service, fundraising, traveling, temple programs, ashram life, friends, and more made the first HKY trip successful. Plus we all gained an experience that we will never forget!