Spiritual Master / Guru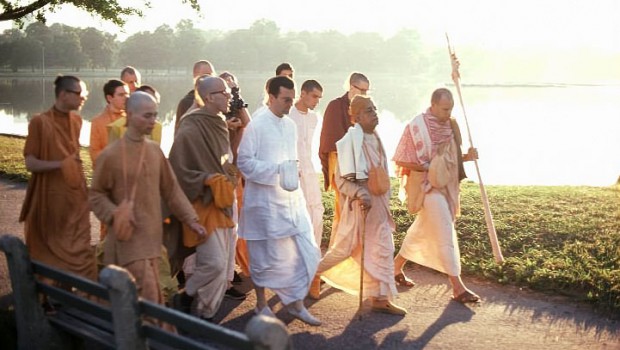 Published on March 23rd, 2023 | by Madhudvisa dasa
181
The Importance of Having a Qualified Guru
It may sound strange but the biggest danger to your spiritual advancement is if you accept as your guru a person who is incapable of guiding you back home, back to Godhead.
It is Kali-yuga and this age is called the age of quarrel and the age of hypocrisy. Almost everyone is cheating and almost everyone is presenting themselves as something which they are actually not. This is the age of the cheaters and the cheated. Practically every guru is a cheater and practically every so-called disciple wants to be cheated.

Most so-called spiritual seekers are not really prepared to surrender to Krishna or to surrender to Krishna's pure devotee and make the mission of Krishna's pure devotee their own mission in life. No they have their own program. And they want a guru who they can give some money to and guru will give them some blessings and assure them that everything they are doing is OK and they really don't have to change much in their lives at all. So they want to be cheated. They want a guru who will reassure them that it is OK to stay in illusion, it is OK to stay in maya, as long as they give the cheating guru some money, everything is fine…
This is the way of guru in Kali-yuga. Practically you can guarantee that any person you meet who is claiming to be a guru and claiming to be able to guide you back home, back to Godhead is cheating. In Kali-yuga it is safe to assume that anyone who is claiming to be a guru is bogus and is unable to actually help you reach the ultimate goal–shelter at Krishna's lotus feet.
The real guru is so rare. And in Kali-yuga cheating gurus are so common. That is why we are so incredibly fortunate to have Srila Prabhupada. Srila Prabhupada is 100% certain to be a pure devotee of Krishna and 100% qualified to guide us back home, back to Godhead. Therefore we should take this rare opportunity of associating with a pure devotee of Krishna in this human form of life and make our life a success by accepting Srila Prabhupada as our spiritual master and actually surrendering to him and serving him and by his mercy we can easily cross over this ocean of miseries which is this material world.
As I have already said in Kali-yuga it is safe to assume all gurus are bogus unless there is real proof to the contrary. And this is equally true even for ISKCON gurus. So you have to be very careful, they will say "Krishna, Krishna, Prabhupada said…" and take your money and not be able to give you Krishna at all… It is kali-yuga and the cheaters are everywhere.
Srila Prabhupada had a very special facility that no previous acarya in the Gaudiya Vaisnava tradition had. He had the ability to record the transcendental vibrations coming from his lotus lips and and he had access to book printing, publishing, and distribution systems that were not available to the previous acharyas.
In this way, in Srila Prabhupada's books and in his recorded lectures, conversations, etc, he has been able to make the transcendental sound vibrations coming from his lotus mouth eternal.
What is the basis of associating with a spiritual master and accepting a spiritual master? It is simply to hear the transcendental sound vibrations from his lotus lips and to accept these instructions and to make these instructions one's life and soul.
So now Srila Prabhupada is even more available to his prospective disciples and his current disciples then he ever was in his physical presence through his books and his recorded classes and conversations.
Some of the cheating gurus of kali-yuga are really very sincere and become gurus for all the right reasons.

The problem is because they really do not know they are not qualified to liberate others–only a liberated soul can help others to also become liberated soul.
So in a genuine way these devotees take up the position of guru but because they are not themselves pure devotees they can not guide their disciples in such a way that they can give up all their sinful activities and become properly situated as pure devotees in Krishna consciousness. Because these "sincere" gurus are unable to save their disciples and they have taken the responsibility to save them, they suffer so much bad karma. So ultimately they fall down and so do their disciples.
It is something like if someone has very good intentions and sees a drowning man in the ocean and out of real love and concern for the drowning man he jumps into the ocean to save this man–not even considering that he can not swim himself. So it is a very nice sentiment. But he will drown himself and he will not be able to save the drowning man–both of them will drown. So from this very nicely motivated action only disaster is the result.
The would-be lifesaver should have taken the time to consider the situation and instead of trying to save the drowning man himself admitted his inability to swim and found someone who can really swim and save the drowning man. If he can find some qualified lifesaver and connect him to the drowning man then he will save the drowning man and he will not drown himself.
We need to take a "reality check" and see the extraordinary qualifications of Srila Prabhupada and also see our very limited qualifications. And we can take the position of representatives of Srila Prabhupada. Just like the devotees did when Srila Prabhupada was physically present on the planet.
At that time the preachers in ISKCON were not trying to get disciples for themselves. They were acting as representatives of Srila Prabhupada, preaching the philosophy and encouraging the people who heard them to read Srila Prabhupada's books and develop a relationship with Srila Prabhupada.
Once we are hearing from Prabhupada by reading his books and/or listening to his recorded classes and conversations we are personally associating with Srila Prabhupada in a very personal and individual way. Prabhupada has the potency to guide us, to answer our questions and ultimately to initiate us into Lord Caitanya's Sankirtan Movement.
Of course for the practical running of Srila Prabhupada's world-wide preaching movement there is a need for qualified preachers to push the movement on all over the world. And this was the case in Srila Prabhupada's physical presence. Srila Prabhupada put responsible disciples in positions like Temple President, GBC and Sannyas and all these devotes had very responsible positions in ISKCON and all were acting as gurus to some extent for the devotees under their responsibility.
But it was very clear that everyone in ISKCON is Prabhupada's disciple and we are all godbrothers. Of course some are senior godbrothers and some a junior godbrothers but we are all one big family of disciples of Srila Prabhupada sitting together at Srila Prabhupada's lotus feet.
This mood and system needs to be reestablished in ISKCON so ISKCON can once again become the dynamic preaching mission it once was, spreading Lord Caitanya's Sankirtan Movement of Pure Love of God all over the world and engulfing the whole world in s tsunami of pure love of God…
In the meantime be very careful not to accept a conditioned soul as your spiritual master. Only a liberated soul, a pure devotee of Krishna, can guide you back home back to Godhead.

And remember accepting the wrong guru is the greatest stumbling block in spiritual advancement.