Krishna
Krishna Assures Arjuna that he is the greatest yogi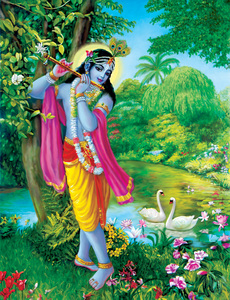 Towards the end of the Sixth Chapter of the Bhagavad-gita Arjuna is feeling a little dejected as he thinks that it is impossible for him to follow the system of yoga Krishna has described to him. In the previous article we discussed Arjuna's statement:
Arjuna said: O Madhusudana, the system of yoga which You have summarized appears impractical and unendurable to me, for the mind is restless and unsteady. The mind is restless, turbulent, obstinate and very strong, O Krishna, and to subdue it is, it seems to me, more difficult than controlling the wind. (Bhagavad-gita 6.33-34)
After this Krishna tells Arjuna that it is possible to control the mind by practice and determination and then goes on to discuss the position of a fallen yogi. A fallen yogi is someone who starts on the spiritual path but for some reason or other is unable to complete the path. Arjuna is thinking that such a fallen yogi has lost everything because he has not been successful in material life and also he was unable to complete the spiritual path. Arjuna compares the unsuccessful yogi to a 'riven cloud'. Sometimes we see that a small piece breaks off a big cloud and, because it is small, in the vast sky it simply fades away into nothingness. But Krishna assures Arjuna this is not the case, He stresses that any spiritual advancement one makes, no matter how small, is a permanent asset and will never be lost.
The Blessed Lord said: Son of Prtha, a transcendentalist engaged in auspicious activities does not meet with destruction either in this world or in the spiritual world; one who does good, My friend, is never overcome by evil. (Bhagavad-gita 6.40)
Krishna then goes on to explain to Arjuna that a fallen yogi, in his next life, will take birth in either the families of rich people or the families of transcendentalists. In either case, because of his practice of spiritual life in his previous birth, he will automatically be attracted to spiritual life and will continue his practice where he left off in his previous life.
So activities in Krishna consciousness are all auspicious. Even if we are unable to complete the path of Krishna consciousness, still any service we have rendered is our eternal asset. And once on starts on this path of Krishna consciousness he will complete that path. It may take some more time than others, but once started it will be completed.
Krishna concludes the Sixth Chapter by assuring His friend Arjuna:
And of all yogis, he who always abides in Me with great faith, worshiping Me in transcendental loving service, is most intimately united with Me in yoga and is the highest of all. (Bhagavad-gita 6.47)

So here Krishna affirms to Arjuna that the best yogi is the devotee who is always following Krishna's instructions and always worshiping Krishna in transcendental loving service.
The culmination of all kinds of yoga practices lies in bhakti-yoga. All other yogas are but means to come to the point of bhakti in bhakti-yoga. Yoga actually means bhakti-yoga; all other yogas are progressions toward the destination of bhakti-yoga. From the beginning of karma-yoga to the end of bhakti-yoga is a long way to self-realization. Karma-yoga, without fruitive results, is the beginning of this path. When karma-yoga increases in knowledge and renunciation, the stage is called jnana-yoga. When jnana-yoga increases in meditation on the Supersoul by different physical processes, and the mind is on Him, it is called astanga-yoga. And, when one surpasses the astanga-yoga and comes to the point of the Supreme Personality of Godhead Krishna, it is called bhakti yoga, the culmination.
Factually, bhakti-yoga is the ultimate goal, but to analyze bhakti-yoga minutely one has to understand these other yogas. The yogi who is progressive is therefore on the true path of eternal good fortune. One who sticks to a particular point and does not make further progress is called by that particular name: karma-yogi, jnana-yogi or dhyana-yogi, raja-yogi, hatha-yogi, etc. If one is fortunate enough to come to the point of bhakti-yoga, it is to be understood that he has surpassed all the other yogas. Therefore, to become Krishna conscious is the highest stage of yoga, just as, when we speak of Himalayan, we refer to the world's highest mountains, of which the highest peak, Mount Everest, is considered to be the culmination.
It is by great fortune that one comes to Krishna consciousness on the path of bhakti-yoga to become well situated according to the Vedic direction. The ideal yogi concentrates his attention on Krishna, who is called Syamasundara, who is as beautifully colored as a cloud, whose lotus-like face is as effulgent as the sun, whose dress is brilliant with jewels and whose body is flower garlanded. Illuminating all sides is His gorgeous luster, which is called the brahmajyoti. He incarnates in different forms such as Rama, Nrsimha, Varaha and Krishna, the Supreme Personality of Godhead, and He descends like a human being, as the son of mother Yasoda, and He is known as Krishna, Govinda and Vasudeva. He is the perfect child, husband, friend and master, and He is full with all opulences and transcendental qualities. If one remains fully conscious of these features of the Lord, he is called the highest yogi.
This stage of highest perfection in yoga can be attained only by bhakti-yoga,as is confirmed in all Vedic literature: "Only unto those great souls who have implicit faith in both the Lord and the spiritual master are all the imports of Vedic knowledge automatically revealed." "Bhakti means devotional service to the Lord which is free from desire for material profit, either in this life or in the next. Devoid of such inclinations, one should fully absorb the mind in the Supreme. That is the purpose of naiskarmya." (Gopala-tapani Upanisad 1.15)
Therefore Arjuna is the perfect yogi because He is always thinking of Krishna, always abiding by Krishna's orders and always worshiping Krishna in transcendental loving service. Krishna consciousness is the ultimate success that all the different types of yogis are aiming at. In Krishna consciousness we are able to directly and immediately reach the topmost platform of yoga by the mercy of Srila Prabhupada and Lord Caitanya and Krishna. Persons practicing other yoga systems, if perfected, will also ultimately reach the platform of Krishna consciousness. But these other yoga systems are not direct and it will take a long time. And particularly in this Kali-yuga it is not possible to successful practice any system of yoga except Krishna consciousness.
Chant Hare Krishna and be happy!
Madhudvisa dasa