Audio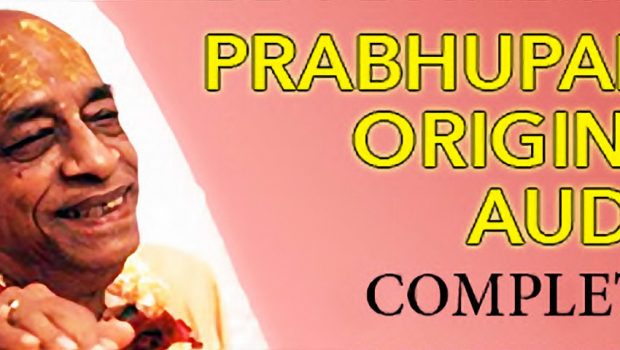 Published on September 26th, 2019 | by Madhudvisa dasa
14
More than 1,800 Hours of NEW PRABHUPADA AUDIO!
The complete collection of all original unedited Srila Prabhupada audio on a 128GB USB memory stick. more than 2360 hours of high-quality original Prabhuapda audio! It includes all existing already released recordings plus more than 1800 hours of new, never before released recordings of Srila Prabhupada!

Now digitally remastered with tape noise and hum digitally removed resulting in the best quality Prabhupada audio ever.
Available at:
https://krishnastore.com/original-prabhupada-audio-complete-on-128gb-usb-drive-h-krishna-3163.html
NEW VERSION [September 12, 2019]:
The Full Unedited Collection of Srila Prabhupada Recordings:
For the first time ever all the original unedited Prabhupada recordings have been released and now are available with the distracting tape hiss and hum dramatically reduced producing the clearest best quality Prabhupada audio that has ever been availabe.
More than 1,300 Hours of Never Released Prabhupada Audio:
This new original unedited Prabhupada audio collection contains more than 1,800 hours of never before heard Prabhupada audio. This includes well over a thousand completely new, never released Prabhupada recordings, plus in previous releases the recordings were edited or cut off, so this release contains all the full complete recordings from the original tapes. The previous Prabhupada MP3 set contained around 2,000 recordings compared to the 3877 recodings in this release. So you are getting an additional 1877 never-before released recordings!

Best quality Prabhupada Audio Ever!
Previous versions of "Original Prabhupada Audio" contained recordings with high levels of tape hiss and hum so in this new release we have used the current state-of-the-art noise reduction technology to dramatically reduce tape hiss and hum without damaging the underlying audio resulting in the best quality Prabhupada audio ever!
Greatly Improved MP3 Tags:
This new release contains vastly improved MP3 tags that make it easy to locate and play the audio you want.
Song: Date plus the description of the recording.
Artist: His Divine Grace A.C. Bhaktivedanta Swami Prabhupada
Genre: The location of the recording, eg: Los Angeles, Sydney, etc.
Album: Recording Type eg: Addresses, Bhagavad-gita 02, Morning Walks, etc.
Year: The year of the recording
This means you can listen to all the recordings in the chronological Sun, 13 Aug 2023 08:49:29 +0000 order, the order Prabhupada recorded them in, because the date is at the beginning of the name of the song. So if, on your MP3 player, you select 'songs' it will show all the songs sorted by name, which means by date, so if you play you will hear everything chronologically.
You can also select for example Bhagavad-gita 02 album and then get will get all Bhagavad-gita second chapter classes, listed chronologically. Another example is you could select the 'Los Angeles' genre and that would show all recordings from Los Angeles split up by album.

So one Album would be, for example, Morning Walks, and that would contain all the morning walks from Los Angeles sorted chronologically.
These improved tags will allow you a great deal of flexibility to find and select the Prabhupada recordings you want to hear.
Please order now at: