Audio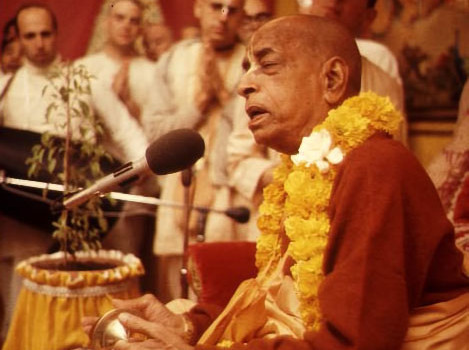 Published on February 13th, 2022 | by Madhudvisa dasa
44
New Prabhupada Hindi Classes — High Quality MP3s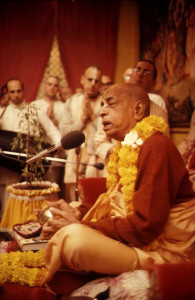 We have about seventy recordings of Srila Prabhupada preaching in Hindi which have never been presented nicely in MP3 format. Which means many Hindi-speaking people are unaware that we have so many wonderful recordings of Srila Prabhupada preaching in Hindi.
Many of them were released in the Prabhupada MP3 set but the Hindi recordings were presented in an unorganized and unsystematic way and in poor quality audio. Now we have organized them properly and tagged them with the proper MP3 tags so they will play nicely on iPods and other portable players. And the sound quality is very nice. So if you know Hindi yourself or if you know anyone else who understands Hindi these Prabhupada Hindi recordings will be very enlivening for them to hear.
You can listen to them at:
We have discovered 10 completely new Prabhupada Hindi recordings and they are just labeled as "New Hindi Class." So I would very much appreciate it if some Hindi speaking person could listen to these new classes and let me know what each one of them actually is so we can properly label the MP3 files.
These are the recordings we have are:
Hindi Arrival Talk Bombay 1973-09-18.mp3
Hindi Bg 7.1 Ahmedabad 1975-09-25.mp3
Hindi Bg 7.1 Bombay 1972-03-19.mp3
Hindi Bg 7.1 Chandigarh 1976-10-15.mp3
Hindi Bg 7.1 Vrindavan 1973-10-29.mp3
Hindi Bg 7.1 Vrindavan 1975-08-26.mp3
Hindi Bg 7.13 Bombay 1973-01-01.mp3
Hindi Bg 7.2 Vrindavan 1973-10-30.mp3
Hindi Bg 7.2 Vrindavan 1975-08-29.mp3
Hindi Bg 7.3 Janmastami Vrindavan 1975-08-30.mp3
Hindi Bg 9.3 Chandigarh 1976-10-16.mp3
Hindi Conv Bombay 1973-11-18.mp3
Hindi Conv Jakarta 1973-03-01.mp3
Hindi Conv with Lalita devi Bombay 1975-08-21.mp3
Hindi Conv with Mataji Jakarta 1973-02-28.mp3
Hindi Conv with Mrs Birla Bombay 1976-08-14.mp3
Hindi Evening Darshan Bombay 1976-08-15.mp3
Hindi Evening Darshan Hrishikesh 1977-05-10.mp3
Hindi Evening Darshan Hyderabad 1976-12-04.mp3
Hindi Lecture Ahmedabad 1972-12-10.mp3
Hindi Lecture Ahmedabad 1975-09-28.mp3
Hindi Lecture Aligarh 1976-10-10.mp3
Hindi Lecture Bombay 1972-03-20.mp3
Hindi Lecture Bombay 1975-11-02.mp3
Hindi Lecture Bombay 1975-11-15.mp3
Hindi Lecture Bombay 1976-01-12.mp3
Hindi Lecture Chandigarh 1976-10-13.mp3
Hindi Lecture Chandigarh 1976-10-14.mp3
Hindi Lecture Delhi 1972-11-13.mp3
Hindi Lecture Hyderabad 1974-04-19.mp3
Hindi Lecture Hyderabad 1974-04-23.mp3
Hindi Lecture Jaipur 1972-01-20.mp3
Hindi Lecture Jakarta 1973-02-26.mp3
Hindi Lecture Jakarta 1973-02-28.mp3
Hindi Lecture Pandal Ahmedabad 1975-09-28.mp3
Hindi Lecture Q&A Chandigarh 1976-10-14.mp3
Hindi Lecture Radhastami Vrindavan 1975-09-13.mp3
Hindi Lecture Sanand 1975-12-26.mp3
Hindi Lecture Sanand 1975-12-28 (1).mp3
Hindi Lecture Sanand 1975-12-28.mp3
Hindi Lecture Tirupati 1974-04-25.mp3
Hindi Lecture Visakhapatnam 1972-02-17.mp3
Hindi Lecture Vrindavan 1976-04-08 (1).mp3
Hindi Lecture Vrindavan 1976-04-08.mp3
Hindi Lecture Vrindavan 1976-11-14.mp3
Hindi Lecture Vyasa-puja Vrindvan 1975-08-31.mp3
Hindi Lecture-2 Sanand 1975-12-28.mp3
Hindi Press Conference Ahmedabad 1972-12-10.mp3
Hindi SB 1.2.10 Delhi 1973-11-15.mp3
Hindi SB 1.2.11 Delhi 1973-11-17.mp3
Hindi SB 1.2.5 Aligarh 1976-10-10 (1).mp3
Hindi SB 1.2.5 Aligarh 1976-10-10.mp3
Hindi SB 1.2.6 Calcutta 1975-03-21.mp3
Hindi SB 1.2.7 Calcutta 1975-04-22.mp3
Hindi SB 1.2.8 Calcutta 1975-03-23.mp3
Hindi SB 1.8.18 Calcutta 1977-02-06.mp3
Hindi SB 5.5.1 Bombay 1975-11-14.mp3
Hindi SB 5.5.1 Bombay 1976-12-24.mp3
Hindi SB 5.5.1 Delhi 1976-08-29.mp3
Hindi SB 5.5.2 Bombay 1976-12-26.mp3
Hindi SB 6.1.58-60 Bombay 1975-08-19.mp3
New Hindi Class 1.mp3
New Hindi Class 2.mp3
New Hindi Class 3.mp3
New Hindi Class 4.mp3
New Hindi Class 5.mp3
New Hindi Class 6.mp3
New Hindi Class 7.mp3
New Hindi Class 8.mp3
New Hindi Class 9.mp3
New Hindi Class 10.mp3
You can listen these new high-quality Prabhupada Hindi MP3 recordings at: