Free PDF Downloads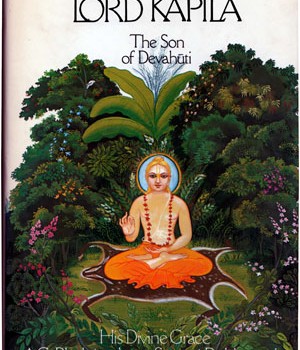 Teachings of Lord Kapila Free PDF Download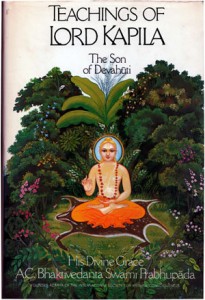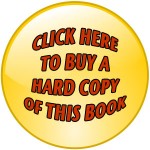 Kapila Muni, a renowned sage of antiquity, is the author of the philosophical system known as Sankhya, which forms an important part of India's ancient philosophical heritage. Sankhya is both a system of metaphysics, dealing with the elemental principles of the physical universe, and a system of spiritual knowledge, with its own methodology, culminating in full consciousness of the Supreme Absolute. Kapila, however, is not an ordinary philosopher or sage. According to Vedic tradition, the tradition of India's ancient scriptural literature, He Himself is an avatara (incarnation) of the Supreme Absolute Truth.
To download "Teachings of Lord Kapila" in PDF format please click on the book cover image on the left.
Kapila's teachings are originally inscribed in the Srimad-Bhagavatam, or Bhagavata Purana, one of the most important scriptural documents of Vedic theism. Within the Bhagavatam, Kapila's teachings comprise Chapters Twenty-five through Thirty-three of the Third Canto. This book, Teachings of Lord Kapila, the Son of Devahuti, is based on a unique series of lectures presented in Bombay, India, in the spring of 197 4, by His Divine Grace A. C. Bhaktivedanta Swami Prabhupada. In this series, Srila Prabhupada spoke from the Twenty-fifth Chapter, which contains the beginning of Lord Kapila's teachings. Srlla Prabhupada is the author of a celebrated multi-volume translation and commentary on the entire text of the Bhagavatam, and at the time of the Kapila lectures he had already completed his written commentary on the section of the Bhagavatam dealing with Kapiladeva's teachings. In these special lectures, however, Srila Prabhupada went into significantly greater detail in elucidating the verses and shed an even broader light upon these fascinating teachings.
The text begins with the words of Saunaka, the foremost of the sages of Naimisaranya, the vastly learned sages to whom Srimad-Bhagavatam was originally spoken some thousands of years ago. The sages have already heard about Lord Kapiladeva from Suta Gosvami:, an exalted spiritual master, and it is clear from Saunaka's words that they accept Kapila Muni as being an incarnation of the Lord Himself and as therefore being the highest authority on yoga and transcendental knowledge… (from the Foreword)