Krishna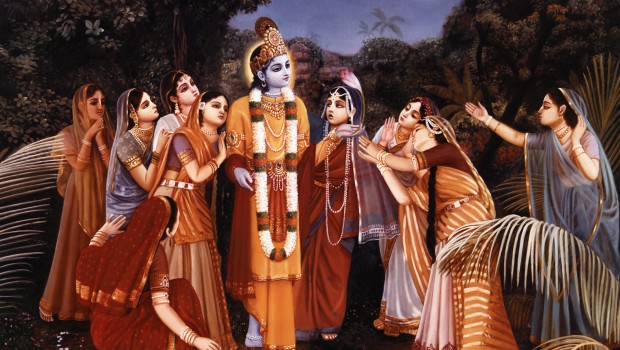 Published on December 22nd, 2015 | by Madhudvisa dasa
23
The Importance of Remembering Krishna
In Bhagavad-gita (Bg. 8.6) we learn from Krishna: Whatever state of being one remembers when he quits his body, that state he will attain without fail.
In the next couple of verses Krishna is giving Arjuna practical instructions that will enable one to remember Him at the time of death:
Therefore, Arjuna, you should always think of Me in the form of Krishna and at the same time carry out your prescribed duty of fighting. With your activities dedicated to Me and your mind and intelligence fixed on Me, you will attain Me without doubt. (Bg. 8.7)
This instruction to Arjuna is very important for all men engaged in material activities. The Lord does not say that one should give up his prescribed duties or engagements. One can continue them and at the same time think of Krishna by chanting Hare Krishna. This will free one from material contamination and engage the mind and intelligence in Krishna. By chanting Krishna's names, one will be transferred to the supreme planet, Krsnaloka, without a doubt.
He who meditates on the Supreme Personality of Godhead, his mind constantly engaged in remembering Me, undeviated from the path, he, O Partha [Arjuna], is sure to reach Me. (Bg. 8.8)
This is the third verse where Lord Krishna stresses the importance of remembering Him.One's memory of Krishna is revived by chanting the mahamantra, Hare Krishna . By this practice of chanting and hearing the sound vibration of the Supreme Lord, one's ear, tongue and mind are engaged.
This mystic meditation is very easy to practice, and it helps one attain the Supreme Lord.
The devotees can constantly think of the object of worship, the Supreme Lord, in any of His features, Narayana, Krsna, Rama, etc., by chanting Hare Krishna. This practice will purify him, and at the end of his life, due to his constant chanting, he will be transferred to the kingdom of God.
Yoga practice is meditation on the Supersoul within; similarly, by chanting Hare Krishna one fixes his mind always on the Supreme Lord. The mind is fickle, and therefore it is necessary to engage the mind by force to think of Krishna . One example often given is that of the caterpillar that thinks of becoming a butterfly and so is transformed into a butterfly in the same life. Similarly, if we constantly think of Krishna, it is certain that at the end of our lives we shall have the same bodily constitution as Krishna.
So from these three important Bhagavad-gita verses we learn the importance of remembering Krishna. In our materially contaminated state it is very difficult for us to think of Krishna. We have no attraction for Krishna in the beginning. Because we are attracted by maya. We are in a diseased condition.
There is a very nice example in this connection, if a man is suffering from jaundice he looses his taste for sweet things. To the diseased man the sweet things taste bitter and therefore he does not like to eat them. But it just so happens that the cure for jaundice is to eat these sweet things.
So the diseased man has to force himself to eat these sweet things even though, because of the disease, they taste bitter to him.
And gradually, as he becomes free from the disease, his correct taste will return, and he will be able to appreciate the nice taste of sweet things.
So because we are in a materially diseased condition we have no attraction to chanting the Hare Krishna mantra, even though chanting the Hare Krishna mantra is the sweetest thing. Therefore we must voluntarily agree to force ourselves to chant the Hare Krishna mantra regularly every day, and as this chanting of the Hare Krishna mantra is the cure for the material disease, gradually by this regular chanting of the Hare Krishna mantra, all the dirty things in our hearts will be cleared away and we will uncover our original pure taste for Krishna consciousness. Then chanting Hare Krishna will be our transcendental pleasure and we will never want to stop chanting Hare Krishna…
But to get to this stage we have to surrender to chanting Hare Krishna regularly, every day, even though we may have no taste at all for the chanting, even though chanting Hare Krishna may seem unattractive to us. This stage is called saddhana bhakti. It means following the orders of the spiritual master even though one may not have any taste or much spiritual realization. But by this simple process of surrender, service and chanting Hare Krishna very quickly our original Krishna consciousness will be awakened.