Science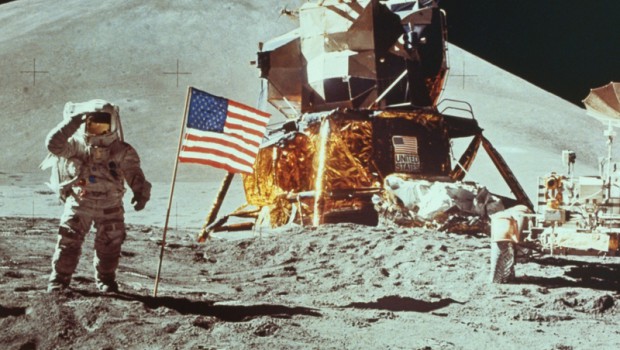 Published on May 17th, 2023 | by madhavananda-dasa-hdg-acbsp-1969 | Full size image
28
The Moon Missions: Oh Ye of Little Faith…
In the summer of 1969 we watched 'one small step for man, one giant leap for mankind' on our TV sets. 3 1/2 months later I was blessed to meet Srila Prabhupada in Boston as he arrived from England where he had been staying with his disciples and friends at Sriman John Lennon's estate. He was accompanied by Purushottama dasa his servant who was leaving the movement because Prabhpada was insisting "They did not go to the Moon."
Indeed SP instructed his students to write to the LA Times and he outlined 10 valid reasons why they did not go to Chandra Loka, the Moon planet. His students remember 3 of the points; (1) By it's own admission Nasa agreed the temperature on the moon to be 200 degrees below zero- *no human body could withstand that temperature even with 1969 technology. (2) The moon's surface according to Vedic conclusion, common sense, and scientific reasoning is made of a reflective substance; why then are there shadows in the video? (3) The international community of scientists at that time did not recognize the validity of the moonwalk, nor did they give credence to it.
Now a new documentary video has been produced by Mr. Bart Sibrel and was aired by Fox TV called A Funny Thing Happened On The Way To The Moon. This movie shows step by step the inaccuracies or anomalies of the TV event and the potential reasons for it.
For years we were questioned by parents, relatives, quests, and media personel in disbelief ;"you don't think we went to the moon??? Even today it is a much heated subject matter. Even today some's faith is tested by SP's bold 1969 declarations and by prevailing popular opinion.
In this time of need for open and broad minded, rational, discriminatory and wise use of our god given reasoning capabilities, we humbly suggest each person make up his/her own mind based on fact (and revelation) and not follow the crowd mentality, one side or another.
We humbly call upon Mr. Bart Sibrel, Mr. Oliver Stone and other bold producers to investigate this further while we continue to honor, appreciate and contemplate our beloved hero/teacher's courage, committment, and transcendental contributions to us and to all of mankind.
All glories to Srila Prabhupada Abhay Caranaravinda Bhaktivedanta Swami and Lord Shree Krishna Chaitanya Mahaprabhu. OmTatSat.
From Madhavananda dasa (HDG ACBSP 1969)